'30 Rock': A Baby, a Break-Up, and a Hostage Situation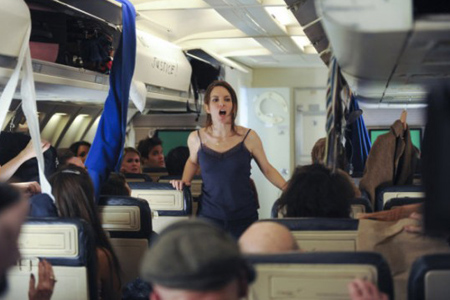 NBC
This was a big week in 30 Rock history. Jack and Avery had their baby, Liz and Carol broke up, and Tracy finally EGOT-ed. Though it was filled with plot-moving action, there was plenty of time for 30 Rock to both comfortably meet our expectations and surprise us with how it all went down. So, I present:
The to-be-expected:
1. Jack and Avery head up to Toronto for a romantic visit to the G8 economic summit. Jack's response to their arrival to the prime minister's suite in a hotel next to the summit's location: "Let's do it on the balcony."
2. Jenna sticks her hand in flame when Tracy EGOTs.
3. Tracy dislikes "the next level" he has attained in his career, which includes lunches with the Council on Poverty and commencement speeches at Cornell.
4. Avery and Jack have issues with the payment practices at the Canadian hospital.
The unexpected:
1. Jack and Avery commandeer a rolling meth lab as Avery continues labor. Avery commands, "Let's drive this bomb to Buffalo and get this little bitch out of me."
2. Liz and Carol's breakup was always going to be particularly painful, but this was something else. A flight to Raleigh-Durham turns into a runway hostage situation, culminating in a very intense breakup in the aisle of the plane.
3. The effort to drive Avery across the Canadian-American border is abandoned (or, as Avery says, Jack quit), and Avery gives birth in the hospital to their Canadian-American baby, who may or may not be able to run for president and "declare war on Germany like back when we were awesome."
Best random quote that has nothing to do with the show's plot: "Not only is your fly open, there's a pencil sticking out of it." - Jack Donaghy