With 'Downton Abbey', Masterpiece Grows Up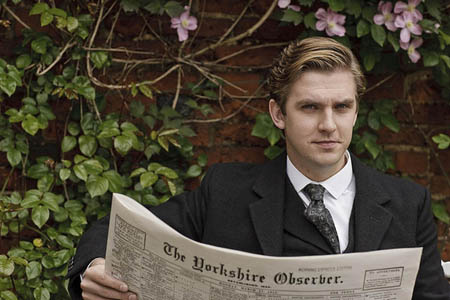 BBC
For 40 years now, PBS's Masterpiece Theater (now just Masterpiece) has been a reliable source of whodunit murder mysteries, English biopics, and Jane Austen adaptations. But lately it seems Masterpiece is on the verge of finding a new, more relevant style of programming in the form of modern creations conveniently disguised as classics.
Last fall, Sherlock—a reimagining of Sir Arthur Conan Doyle's detective series set in modern-day London—garnered a good amount attention when it endowed the detective genius with the powers of the Internet. And all through January, the U.K. import and English manor drama Downton Abbey—whose season finale aired last night—has been updating the tales of high-society England with a lot more sex and social mobility than you'd expect from, say, Charles Dickens.
In case you missed it (and you can catch up here if you did), Downton Abbey centers on an English estate that gets thrown into crisis when the noble Earl and patriarch Robert Crawley loses his male heirs in the sinking of the Titanic (the estate is part of an entail so it has to be passed down in its entirety to a male heir). When it's discovered that there is another heir apparent, Matthew Crawley, a distant cousin and middle-class (gasp!) lawyer, both the estate's family and servants are left to wonder at their fates. All the while, a modern era is creeping in, tempting servants with middle-class opportunities and ladies with women's rights.
Both Sherlock and Downton Abbey could mean a new phase for Masterpiece, one in which it can approach its classic subject matter in a fresh way. But that transition relies on Masterpiece's ability to pick programming that plays against type and steers clear of the plot developments we've come to expect of both classic literature and Masterpiece itself. Sherlock pulled it off by relocating a mystery staple to the digital age, and after Sunday's finale it's become clear that Downton's contribution to Masterpiece's transformation is the high quality of the series' writing. And things are looking good. Here's how the finale bodes well for a new kind of Masterpiece to come (Ed. Note: Spoilers ahead):
-Old people having sex almost save the day when the Earl's wife, Cora, discovers she's pregnant (if it's a boy, the family's future at Downton Abbey would be secure). This is a new twist on the inheritance conflict, the resolution of which—in the Austen tradition at least—is more commonly left to young, marriageable characters over their asexualized elders.
-Cora's announcement also throws a much-needed wrench into the Matthew/Mary storyline, which, after much pride and a rather hasty proposal, was in danger of going the way of an Elizabeth-marries-Mr.-Darcy ending. Matthew wants an answer to his proposal while Mary, the Earl's eldest daughter who is actually kind of falling for him, wants to wait and see if Cora's having a boy. If it is a boy, marrying Matthew would result in a significant social demotion but if it's a girl, their marriage would allow the noble Crawleys to stay at Downton. Needless to say, Mary's hesitation pretty much dooms their chances—and complicates the classic "marriage plot" that's a staple of so many Masterpiece programs.
-Meanwhile, Cora's vengeful and self-interested maid, O'Brien, proves that she may actually have a heart. In a misunderstanding worthy of a soap opera, O'Brien comes to believe that Cora is looking to replace her. She spitefully leaves a bar of soap on the wet bathroom floor while Cora, about four months pregnant, is in the bath. Cora slips, falls and loses the baby—a boy—and O'Brien experiences a rare pang of conscience. It was hard to sympathize with Oliver Twist's tormentors, but you feel for O'Brien when she realizes Cora was never looking to replace her and she's destroyed one of her and the family's only chances of staying at Downton.
-Finally, Sunday's finale solidified a sense that Downton is really more dramatic timeline than period drama. With a season that spans the years between the sinking of the Titanic and the beginning of World War I, Downton grounds the changes of pre-World War I England (the arrival of the telephone, servants leaving to become secretaries) in a story that relies on historical perspective, something that has long eluded even western literature's greatest writers. Dickens covered poverty and social injustice, and Brontë covered love and morality, but neither could have known what was ahead. The writers of Downton Abbey do. They know that while modern audiences may not relate to the strict social divisions of Edwardian England, they can relate to a maid's desire to improve her situation by becoming a secretary or a woman's desire to be free of the obligation of marriage for survival.
It's a modern-day relevance I never saw coming. Masterpiece has finally taken a wider-lens view to history and I, for once, am eager to see what it comes up with next.