Why the Dave Matthews Band Model Won't Save Music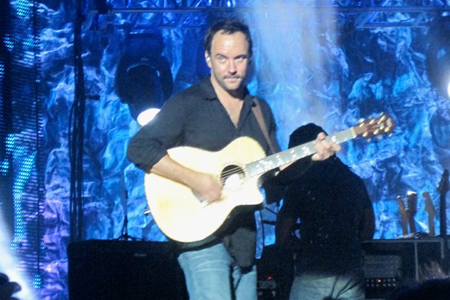 macangelamy/flickr
This week, Slate finally found the answer to the music industry's money woes. How the heck can anybody make money as a musician these days? Simple! Be Dave Matthews!
Analysts and executives have long lamented that the music industry is dying. That is not quite true—it is the record business that is clearly done for, and in its place, touring stands as the top moneymaker for many industry participants. The Dave Matthews Band lives to tour, making them not just popular, but very, very profitable.
The article then charts the DMB's years of consistent touring and ridiculous revenues, only to peter out with a mention of the band's upcoming 2011 concert hiatus. That leaves author Annie Lowrey's original point hanging in the air—that this "humble" rock band bucks the modern music industry odds of making dough.
But by rolling out all those impressive numbers, Lowrey affirms a sad truth in modern music: that sustainable, small-fry touring concerns have never been more fleeting.
If the Dave Matthews Band formed in the mid-'00s instead of the early '90s, then rose up this year as a breakout sensation, how might they fare? A tough hypothetical, maybe, but Spin's recent piece on 2010's "Little Big Bands" gets close to the answer. Take the article's chunk about upstarts Edward Sharpe and the Magnetic Zeros. When it makes the case that the band is a known entity, the resulting list is a drag:
Aw-shucks sing-along "Home" was used in an NFL commercial; the gospel-tinged "40 Day Dream" showed up on NBC's Chuck and HBO's Hung; the aptly named "Janglin'" soundtracked a Ford Fiesta ad.
No MTV. No radio chart positions. Not even a mention of a push by college or Internet radio stations. National music media has become so fractured, sometimes the best a modern rock band can do is shill for the right sponsor at the right time.
Compare that to Dave Matthews Band, whose singles "What Would You Say," Stay," and "Crash Into Me" coasted on hours of combined national airplay during their '90s heyday. The year's biggest touring acts all have this kind of pop mainstream legacy in common.
The critically acclaimed, smaller bands I'm friendly with can't say the same. Without a national network that loudly lauds their road-tested tunes, they can hardly net 60 heads a night touring as often as—or more often than—Dave Matthews' 60 to 90 concerts a year. Worse, smaller record labels no longer promote concert tours with the old "tour when the album comes out" model—because the records aren't selling as much—leaving bands stranded with neither support options nor stuff to sell on tour. And this isn't like the '80s or '90s, where indie bands could afford to dump gear into a van and cross the country on gallons of cheap gas.
Five-plus member outfits like Dave Matthews Band, who win huge swaths of fans over with equal parts tour and publicity, only become rarer. The mainstream will keep pumping out pop music lightning rods, but for the rest of us, the playing field has never been more uneven. Financially successful live music is going the way of pared down, acoustic shows in living rooms, or laptop-equipped sound manipulators throwing parties, or boring, predictable fare like Dave Matthews Band—whose aging fans probably reminisce about the days when MTV played videos.