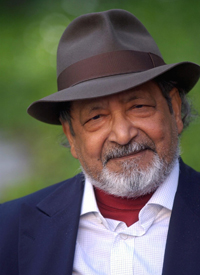 Pierre-Philippe Marcou/Getty Images
The muzak was irritating Sir Vidia. He sat in a hotel coffee shop in Cambridge, Massachusetts, on the last stop of his American book tour. We asked a server if the soft rock could be turned down. She explained that it was a "requirement" to play it just so. "It's a requirement," Sir Vidia echoed after she had gone, half asking, half judging—and considering, always considering.
Naipaul's longtime editor, George Andreou, sought to explain to Sir Vidia that a hotel coffee shop is a total concept: "If they violate the terms of the concept, everything falls apart." Naipaul considered this carefully. "Oh, I see," he said. "It becomes another kind of place."
This is how V.S. Naipaul lives: from observation to observation, sentence to sentence: life as the constant act of "working things out," as he calls it. He was in town to promote The Masque of Africa, a travelogue about the encounter between traditional African belief systems and the pressures of modernity. Our conversation in the hotel began with the most striking thing about the book for a longtime reader of Naipaul: the display of a sudden and unlikely sensitivity in the author. The Masque unmasks Naipaul—whose reputation for callousness toward humans is legendary—as a besotted, almost tender, lover of animals.