The Oprah Winfrey Network: All Oprah, All the Time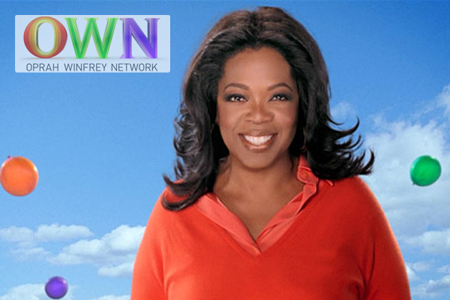 Oprah Winfrey Network
It can't be a coincidence that Oprah's new television network debuted on New Year's Day, when millions of Americans list the resolutions that will make them fitter, happier and more productive. As I sat on my couch, ready to start procrastinating on my own resolutions list, Oprah and her flowy white pants set reminded me of my vows to become a better me. With the Oprah Winfrey Network (OWN), Oprah offers me the tools to pursue that better self: an entire network devoted to teaching me how to live my "best life." Oprah Winfrey is a unique woman, and OWN is a unique network—but this isn't the first time Winfrey has ventured into creating a television channel: in 1998, she was part of the production team that launched Oxygen, conceived as an alternative to women's programming like Lifetime.
While Oxygen was never an Oprah-centric network—and it was sold to NBC Universal in 2007—the channel featured an "Oprah after the show" program from 2003-2006 (Winfrey sold her stake in the network soon after). Oxygen's current iteration is home to reality TV shows like Bad Girls Club and Dance Your Ass Off, and woman-friendly syndicated sitcoms like Roseanne and Living Single. It's successful, but the evolution from edgy women's programming to celebrity-heavy reality shows leaves a void that OWN appears ready to fill: programs and people with which the everyday woman can identify. As a co-founder of Oxygen, Winfrey's editorial input was fairly restricted. But she is chairwoman and chief editor of OWN; she's in total control of this venture, from the talent to the programming. OWN, in a real, tangible sense, is Oprah Winfrey.
If Oxygen was Winfrey testing the network waters, she has taken the plunge with OWN. With its programs devoted to weight loss, fashion, and beauty, Oxygen shows women as they want to be; style vehicles like House of Glam and Running Russell Simmons feature beautiful people and their glitzy lives. OWN's programming goes one step further and shows its audience as Oprah thinks it should be: Dr. Laura Berman's In the Bedroom helps regular women learn to charge of their sex lives. Anna and Kristina's Grocery Bag features two regular women on a quest to find the best cookbook recipes. Master Class is an hour-long interview with an influential and important "thinker" (the word "celebrity" seems to be forbidden) who shares his/her life lessons with the viewer. One of the more controversial shows, Miracle Detectives, pairs a skeptic neuroscientist with a journalist who claims first-hand experience with the unexplained; together, they travel the country and investigate extraordinary phenomena. OWN's programs reach out to the woman who wants to improve her own life, not passively watch the glamorous adventures of others.
"Every minute of this network has been hand-selected by me, for you, the viewers," Winfrey says, and it's very easy to believe her. She's talking to the women who have followed her and her decades-long transformation into a media omnipresence. And every program reflects the network's Oprahness: the winner of the competition Your OWN Show will host a talk show on the network. Her best friend has a live morning show on the network. While she appears on just a handful of shows, Winfrey's presence is palpable throughout.
Which is perfect for her built-in audience, those consumers whose tastes she shapes. But for the rest of us, OWN leans toward preachiness. Nearly every mega-expert Winfrey has had on her show appears on the network. Each of these shows—from the didactic to the frivolous—guides the audience toward Oprah-approved enlightenment.
There are traits these two women's networks share; both Oxygen and OWN rely on unscripted programs and some sort of expert-lead talk show. The thing that sets OWN apart is its relentless optimism, and encouragement. Oxygen's wronged-woman-gone-mad Snapped would never air on OWN—the images of broken, violent women clash with OWN's perpetual march toward happiness. The most sensational show on OWN is the upcoming "Breaking Down the Bars," a sort of Oprahfied version of MSNBC's Lockup. This women's prison reality show follows the self-discovery and redemption of a group of inmates. OWN isn't just free of ridicule, as New York Times critic Alessandra Stanley suggests. It's insistently inspirational. Glamour for its own sake has no place on OWN, nor do silliness or satire.
A more interesting aspect of OWN is its push for viewers to pursue their best lives, become their best selves—by watching Oprah's network. But what if your best life isn't Oprah's? This is where the network is taking a serious, but calculated risk: it's possible that viewers will stay loyal to Oprah and discard the flakier sentiments the shows on her network espouse. With 24 hours of programming, it's easier to just DVR what you like and ignore the rest.
Or, this could become a network devoted to the greatness of one woman, the idea that Winfrey can lead an army of women into her personal brand of happiness. Time may not be kind to this type of programming. Just a week into its launch, OWN seems to be captivating viewers—but just as Oxygen made the shift from featuring everyday women to celebrities, will OWN need to evolve to maintain its audience? And, could Winfrey accept and adapt to such a change in her audience's tastes?
No other media figure could create a network based solely on the (admittedly numerous) topics of a talk show—and that's because no other media figure has made herself such an integral part of American women's lives. Through her book club, her magazine, and her endorsements of self-help personalities, Winfrey has crafted a philosophy of power and optimism that's thrived for more than 20 years. OWN is more than a women's network: it is a powerful woman's network. By presenting herself as an example of a "best life," Oprah Winfrey has given her audience the ultimate gift: herself. With 25 years and one television show, Winfrey created an empire. Imagine what she can do with OWN.