The Curious Case of Ray LaMontagne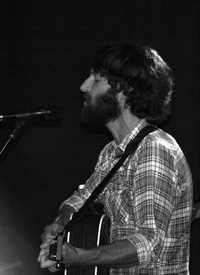 pink_fish13/flickr
Ray LaMontagne, the soft-spoken folksinger from New Hampshire, certainly seems like an odd candidate for success in today's music industry. He rarely gives interviews, considers the spotlight to be so abhorrent that he often performs from the side of the stage, and was well into his 20s before he even considered songwriting as a vocation. As if that weren't enough, LaMontagne chooses to ignore his growing celebrity, living in a farmhouse in the remote hills of Western Massachusetts. And, in contrast to many flagrantly public musical celebrities from which he has emerged, LaMontagne offers absolutely no chutzpah—no dresses made of red meat, a la Ms. Gaga.
Yet time after time, his songs and albums have continued to soar above his reclusive person, enjoying unusual success in a genre that has long since faded from the mainstream music market. He emerged onto the national music scene in 2004 with his debut album, Trouble, attracting attention both with his beautifully crafted songs and his raspy, mesmerizing voice. Working with producer Ethan Johns, LaMontagne then produced two more albums, Till The Sun Turns Black (2006) and Gossip in the Grain (2008). Both have sold over a quarter million copies, and many of the songs have been featured in television shows and major feature films.
Despite these achievements, LaMontagne still presents a perplexing marketing challenge to the corporate music world, and when he delivered his most recent album, God Willin' and the Creek Don't Rise, to the A&R executives at RCA, their response was decidedly negative. They told LaMontagne—who had produced the album himself—that it did not harbor even one single worth promoting, and instructed him to return to the studio to keep on trying. But LaMontagne, however introspective and quiet though he may be, would not be tossed around so easily.
"They told me to go back to the studio to give them a single," LaMontagne recounted in a recent interview on NPR. "I asked them what a single was, and when they couldn't tell me, I asked them to just get behind the record as much as they could and pick something, knowing that people who liked my music would either gravitate towards it or not." And gravitate they did.
God Willin and the Creek Don't Rise debuted at #3 in the Billboard Album Charts, receiving overwhelmingly favorable reviews, and is now up for three Grammy Awards, including one for Best Contemporary Folk Album and another for Best Song ("Beg, Steal or Borrow,") the single that RCA ultimately selected. To date, the album has sold 243,000 copies. When asked to comment on its success, RCA politely declined.
The success of this album—and RCA's initial confusion over it—seems to highlight how much the music industry has changed over the last decade. Gone are the days when the Big Four record labels could simply spoon-feed their audience whatever they deemed most "marketable." In this new era, one in which our favorite music never lies more than a mouse click away, it is mainly the fickle audience that determines the fate of new music, somewhat complicating the task of the A&R executives. To better understand this shift, I spoke with Dave Godowsky of Partisan Records. Prior to working at Partisan, Godowsky served as the A&R Director at Rounder Records when they released Raising Sand (2007), the Grammy award-winning collaboration between Robert Plant, Alison Krauss, and producer T-Bone Burnett. Raising Sand was one of Rounder's most commercially successful albums to date, selling over 1.5 million copies as of this month. To some extent, Godowsky insists, albums like Raising Sand and God Willin' and the Creek Don't Rise have had the opportunity to succeed because the music industry is moving toward a much simpler paradigm, one in which the Internet can break down the barrier between traditionally "commercial" and "non-commercial" music.
"In the age of the Internet," he explains, "there is a new commercialism for music because it is so much easier to reach out and connect with people who may or may not be the average Joe music fan." Godowsky believes that this enormous network has ultimately simplified the process of bringing music—even traditionally non-commercial music—to a large market. "When word of mouth is the way things spread, the only thing that really matters is that the music is of a really high quality and everyone likes it and talks about it. That's what happened with Raising Sand, and that's also what seems to be happening with Ray LaMontagne."
So how did the A&R executives at RCA miss this one by so much? The album that Ray LaMontagne brought to their table was undeniably of high quality, and it seems odd that these executives—paid for their ability to discern great music—did not recognize its potential to sell, even among his own fan base. "They were just wrong," Godowsky says. "But the truth is, these days, it is very difficult to know with a hundred percent certainty until the album reaches the market." So it seems, as Ray LaMontagne winds his way towards the Grammys with yet another successful album under his belt.