SAG Awards 2011: The Good, the Bad, and the Puzzling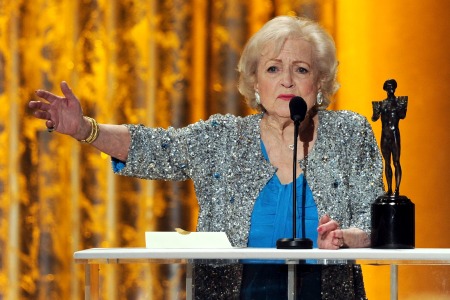 Getty Images
The Screen Actors Guild Awards is the most TV-friendly kind of awards show: one that only recognizes actors. It makes for a quick, star-filled night without those sluggish breaks for doling out technical awards to pesky unfamous people that tend to drag down other ceremonies. This year's show rewarded such bold-faced names as Christian Bale, Alec Baldwin, and Hollywood's hottest It Girl, Betty White; what's good, bad, and puzzling, about the event?
The Good:
As awards programs become increasingly overproduced and stuffed with montages, mildly amusing banter, and tributes, there's little time left to actually spotlight the work of the nominees who are being recognized. It was refreshing to see film clips introducing each actor during every category at tonight's SAG Awards. The brief clips were far more entertaining than any bits of stilted presenter dialogue, and showcased the fine work of actors like Robert Duvall, Jennifer Lawrence, and Annette Bening, whose performances in little-seen films like Get Low, Winter's Bone, and The Kids Are All Right deserve such a national platform.
None of those actors, however, were able to top the four winners in the film categories, the same quartet who also won at the Globes. At this point, it would be a major upset should Colin Firth, Natalie Portman, or Christian Bale not win the Oscar for their work in The King's Speech, Black Swan, and The Fighter, respectively. Whereas recent Oscars given to actors like Sandra Bullock and Alan Arkin have been qualified with statements like, "She was a great campaigner," and "It's more of a career-achievement honor for him," these three actors are truly the best in their categories. And with her win for The Fighter, Melissa Leo has officially turned what was once considered a wide-open category into a one woman show. Her speeches here, at the Globes, and at the Critics Choice Awards have been gracious, meaningful, and delightfully daffy—should she win on Oscar night, one could only imagine what a basket case she'd be. Bale also deserves credit for keeping his cool when the real-life Dicky Eklund, who Bale portrays in the film, stage bombed his acceptance speech.
There were much-deserved wins on the TV side as well. Undeniably the strongest comedic actors on TV, the cast of Modern Family gets bonus points for staging a perfect family portrait pose behind Ed O'Neil while he gave his (surprisingly dry) acceptance speech for the show's Best Comedy Ensemble win. Julianna Margulies deserves every accolade she's received for The Good Wife, for proving that procedural dramas don't have to be boring and repetitive. On top of that, her acceptance speech was—as Hillary Swank was shown mouthing after its conclusion— just so sweet. Speaking of sweet, this marks the last awards stop for Claire Danes, who, beyond giving a transcendent performance in Temple Grandin, has been a consummate charmer during her trophy season domination. In tonight's speech, she made hanging out with Temple Grandin co-star Catherine O'Hara seem as fun as you imagine it would be.
The Bad:
Like last year, the film's acting races seems pretty much sewn up already, which will make for a depressingly unsuspenseful Oscar night. Still, there was no bad win in the film categories, though it would have been a treat to see the motley crew of actresses that played the seven sisters in The Fighter rush the stage for a Best Ensemble victory for that cast. But there's no denying that the actors from The King's Speech deserved that award, particularly after Geoffrey Rush's eloquent homage to his less famous co-stars who were not invited to the ceremony. Not as classy: Mark Wahlberg improvising his way through an intro to a Fighter film clip, muttering unrelated, self-gratifying asides that had co-presenter Amy Adams looking visibly uncomfortable.
There were, however, wins to be upset about from the television portion of the evening. It's maddening that a miscast Steve Buscemi on Boardwalk Empire won Best Drama Actor over Jon Hamm's best work yet on Mad Men and the electrifying-as-ever Bryan Cranston on Breaking Bad. And sure, if my beloved Sofia Vergara was going to lose to anybody for her performance in Modern Famiy, at least it was to Betty White, who won Best Comedy Actress for Hot in Cleveland. But still, enough with Sofia Vergara losing awards—she's bar none the funniest woman on television right now.
The Puzzling:
The Oscars routinely open with musical numbers and Best Picture parodies. This year's Globes kicked-off with a polarizing, vicious monologue from Ricky Gervais. The SAG Awards went neither route, opting instead to open with a deliriously cheesy roll call of the celebrities in attendance set to what can only be described as bad '80s elevator music. A few gems from the pointless, campy-in-the-bad-way sequence: "Va va voom Modern Family's Sofia Vergara! Hey there, it's 30 Rock's Tracy Morgan! With a pose and a smile, Mila Kunis! Mark Ruffalo knows the kids are all right!"
The segment segued into SAG's traditional "I am an actor" vignettes, in which nominated thesps tell a brief anecdote about what they enjoy about being in the profession. The gimmick has been entertaining in the past—Jane Krakwoski's ode to being able to transform into anybody: "My name is Johnny Depp and I am an actor," for example—but testimonials from Leo, Margulies, and Julia Stiles this year were more awkward than amusing. Why would a ceremony that airs on cable networks (the SAG Awards are broadcast simultaneously on TNT and TBS), thwart its opportunity to be edgy and revert to such classically boring routines to open the show with?
And while none of the wins were puzzling, per se, there was one suspect reaction from a winner. Alec Baldwin has won five SAGs in a row for 30 Rock. Why bother feigning surprise, tears, and humility at this point? His histrionic reaction when his name was called was not humble or gracious—it was just off-putting. You're a good actor, Alec, but no one buys that you're that shocked.
Read the full list of SAG Award winners.