'Parks and Recreation': Comedy Imitates Life (Sort Of)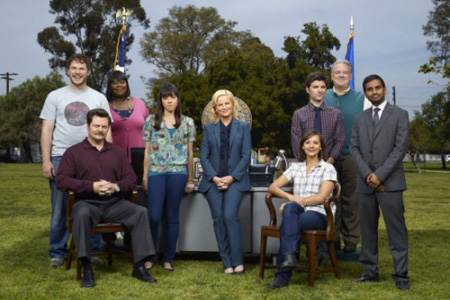 NBC
Parks and Recreation returns for its third season tonight and the fictional government of Pawnee, Indiana, hangs in the balance with a deep budget crisis—just like the real world. But unlike real local and state governments across the country, the audience can probably rest assured that kookiness will save the day.
Like its predecessor, The Office, Parks and Recreation succeeds with a magical ability to get the audience invested in characters that are, from any objective standpoint, some combination of jerks, idiots, and children. But while The Office at least anchored itself on the purely relatable Jim and Pam, Parks and Recreation gives us Leslie Knope.
Amy Poehler's Leslie Knope is the least cynical government employee in existence. She navigates an endless sea of local bureaucracy with an impossible perkiness crossing into obliviousness. She should be irritating as sin—but she's not. Poehler is so honest that it doesn't matter. In the end, she likes people, and thinks they should have parks. And that's admirable.
In the last episode of the second season, the Pawnee government had been shut down, and nearly all of the characters are away from the office. Knope, deemed non-essential, is doing her best to get back inside. In two days, she attempts to schedule fourteen separate meetings with one of the budget consultants (Adam Scott).
Knope's libertarian boss, Ron (Nick Offerman), who protests the existence of government by ensuring that his department does as little as possible, has other ideas for slashing the budget. For example, turning city hall into "a large gas station" or selling the zoo animals to "weird restaurants." But when it comes to Knope, even he takes a stand.
"Every department is losing a Leslie Knope," the budget consultant tells him.
"They haven't got one to begin with," he responds.
Parks and Recreation is a TV show, and real people aren't Leslie Knope. But anyone who has worked in local governments knows that things like the half-demented screams that the citizens lob at public meetings in the show ("My dog ate another dog's feces in one of your parks, and I'm suing you for that!" or "I found a sandwich in one of your parks, and there was no mayonnaise on it!"), aren't that far off from reality.
Not surprisingly, Pawnee's budget crisis mirrors reality too. Local governments across the country are slashing jobs, and something that seems so superfluous as a parks department makes for an ideal target. Easier than those flashy sanitation guys or those devious bastards with the library.
The New York State parks department cut $35 million from its budget last year, and was only able to keep most of its parks open after an emergency $11 million was restored due to public outcry. It's been a similar story in states, cities and towns across the country since the economic crisis of 2008. In Georgia, the parks department lost almost 40 percent of its budget, Baltimore's, a third. Illinois closed 11 state parks in 2008, and California seems like it will announce closures by the end of the month. A quick Google search for smaller cities like the fictional town of Pawnee yields plenty of results.
But despite the cuts, many parks do continue to run a shoestring budget. And for Erik Kulleseid, director of the advocacy group Alliance for New York State Parks, and a former member of the executive office of the New York State park department, if there's a reason more parks haven't closed than have already had to, it's because parks people actually are sort of like Leslie Knope. "We've got these cuts, and it's been cut after cut after cut, and the agency has not been flush for decades," he says. "But there's something about a parks agency where people are so devoted that despite the cuts they want to keep it open—they can't not do it."
Despite the government shutdown, at the end of the last season Knope is able to put on a children's concert in the abandoned lot she's been trying to turn into a park due to a quick deus ex machina. There are some cabins in Allegheny State Park that Kullesseid says are literally held together with duct tape and wire.
"You've got people who work well past the allowable retirement ages just because they care about the system," Kulleseid continues. "You talk to people who have maxed out their pensions and they continue to work. It's become their life's mission." In the show, Leslie Knope is going to have a job. All of the main characters, in fact, will likely have jobs, because they are funny and on TV. For real government employees, taking diligent notes as people scream at them about dog crap, the future is a lot less certain.