How to Predict This Year's Oscar Nominations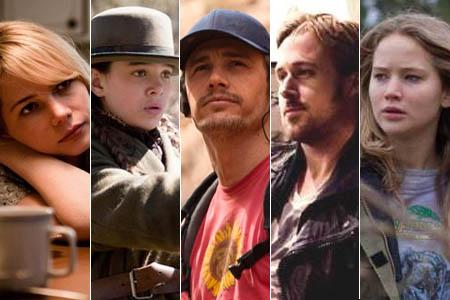 Hunting Films/Cloud Eight Films/Paramount Pictures/Anonymous Content
The 2010 Oscar nominations will be announced Tuesday at 8:30 am Eastern, in a televised ceremony hosted by Mo'Nique—last year's best supporting actress winner—and Academy president Tom Sherak. Oscar experts are falling over themselves putting up their predictions, but there are unique rules when it comes to the Oscar ballots that affect the nominations unlike any other awards shows.
What are those quirky rules, and how will they play into this year's race?
1) Voters rank their ballots
When filling out their ballots, nominators rank their preferences from 1 to 5 (or in the case of Best Picture, from 1 to 10). This doesn't mean the ballots are weighted, with a voter's top-ranked film getting 10 points and the next pick getting nine points. It means academy members are essentially voting for one movie; each member's ballot is counted towards one film, their number one vote. If that film receives the fewest amount of number one votes, then it's the second pick that counts, and so on down the ballot so that the ballot is attributed to exactly one movie or performance.
Therefore, in order to be nominated, a film or actor doesn't need to be considered "good" by everybody, but instead "the best" by a few. A faction of passionate voters helped films like The Reader and A Serious Man and dark-horse candidates like Melissa Leo for Frozen River and Maggie Gyllenhaal for Crazy Heart win nominations. It also explains why mass appeal movies—most famously The Dark Knight—miss the cut. Christopher Nolan's 2006 film may have appeared on every voter's nomination ballot, but perhaps further down in the rankings. Everyone might have thought it deserved a nod, but it was not their top pick of the year.
This year, Blue Valentine and its leads Ryan Gosling and Michelle Williams could benefit from this rule. The film itself hasn't had a huge box-office take, but those who have seen it are rapturous in their praise, particularly for the gutting performances by Gosling and Williams. Similarly, Mike Leigh's Another Year hasn't had a huge audience, but the film and its star Lesley Manville are loved by the few who saw it. The gritty indie Winter's Bone is considered a dark horse for a Best Picture nod, despite the fact that it doesn't boast the popularity of The Social Network and The King's Speech, because it has such an enthusiastic block of voters supporting it.
2) Voters place actors in whichever category they deem appropriate
Much hoopla is made about an actor's category placement, with studios and representatives strategically campaigning performances that could be deemed either lead or supporting in the category that is considered "weaker." But with the Academy Awards, unlike kudos handed by other organizations, the voters choose which category they want to vote for an actor's performance in—not always lining up to the one that was campaigned for.
Kate Winslet won the Best Actress Oscar for The Reader, despite winning supporting Globes and SAG awards for the same performance. Keisha Castle-Hughes was nominated in lead for The Whale Rider in 2004 after being campaigned in supporting, and Catherine Zeta-Jones (Chicago) and Jennifer Connelly (A Beautiful Mind) won Best Supporting Actress Oscars after lead nominations at the Golden Globes and SAG Awards, respectively. This rule often hurts the chances of actors whose performances are subject to category confusion, causing them to be snubbed altogether: Scarlett Johansson (Lost in Translation), Renee Zellweger (Jerry Maguire).
The two people this most affects this year are True Grit's Hailee Steinfeld and Another Year's Lesley Manville. Steinfeld's character in the Coen Bros. film drives the story and may even have more screen time than Jeff Bridges's Rooster Cogburn character, yet Steinfeld—likely due to her young age—has been aggressively campaigned in Supporting. She's won Golden Globe and SAG noms in a field that is considerably weaker than Best Actress, but the BAFTAs wised-up to the true nature of her role and nominated her in the leading category. Some Oscar gurus are predicting that the Academy will do the same.
Manville's category placement has been similarly vexing: her performance in Another Year is the one that sticks with you the most, but she shares an equal amount of screentime with her two co-stars. She's been pushed all season in Lead, but has failed to score major nods even though she's won Best Actress prizes from several critics' groups. The BAFTAs nominated her in supporting, hinting that if the Academy does the same, she'll have a better shot at a nod.
3) Only branches nominate in their respective categories
There are 15 branches of the Academy—actors, writers, directors, etc.—and it's these branches that vote for the nominations in their applicable categories. This is why the eventual Oscar nominees tend to closely mirror the guild awards: SAG for actors, DGA for directors, WGA for writers, and so on. These bodies don't overlap with the groups who vote on the Golden Globes, for example, which is why those awards don't serve as good prognosticators.
Frequently people on the bubble for Oscar nods even win Golden Globes and are then snubbed by the Academy, like Happy-Go-Lucky's Sally Hawkins in 2009. To compare, last year 19 of the 20 actors nominated for SAG Awards repeated with Oscar nods.
This doesn't bode well for Paul Giamatti, who just won a Golden Globe for Barney's Version, but didn't pick up a SAG nomination. Likewise, Gosling and Williams didn't receive SAG nods, making their Oscar odds a bit lower. Danny Boyle and the Coen Bros. failed to get recognized by the DGA (for 127 Hours and True Grit, respectively). Both former Oscar-winners, they may also be Oscar snubs this year.