'How I Met Your Mother': 50 Gimmicks and One Death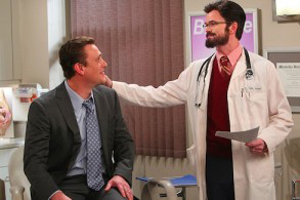 CBS
How I Met Your Mother returned this week after a three-week holiday hiatus with a gimmick and a tragic ending in "Bad News." From the beginning of the episode, numbers start appearing in every scene counting down from 50 (48 brand hot sauce, room number 39 at Worldwide News, basketball jersey number 24, a high five between Barney and Marshall, etc). Once you realize what is going on (I had the benefit of a DVR and two particularly observant viewing companions), it becomes difficult to concentrate on anything but spotting and announcing the next number. It even seems like the type of thing the HIMYM characters would have turned into a drinking game were it not 50 numbers in a 21 minute episode.
Here's a clip that includes numbers 35 through 26:
With all the fun of the numbers, Lily's anxiety about the fertility specialist that looks like Barney, Robin's troubles with an office tormentor, Barney's quest to find friend for laser tag, and Ted's announcement that he calls his secret weapons "common sense and reasonable discourse" ("They're my feet. I'm actually more of a kicker"), the bad news at the end is random, abrupt, and gravely serious. Lily steps out of Taxi 001 to inform Marshall that his dad has died, and the episode finishes with them crying on the sidewalk.
The HIMYM writers are fans of juxtaposing good and bad news as a method to end episodes, the most obvious of which is the Season 1 finale when Robin and Ted get together while Lily and Marshall break up. Though the death of a fun supporting character might have been a somewhat callous thing to spring on an unsuspecting audience and poor Marshall (who had just confirmed that he is able to get Lily pregnant) we can hope and expect that tragedy will turn to levity in the coming episodes. Turning Marshall into some sort of mournful sad sack would be a terrible use of the cheerful Jason Segel.