Everything You Need to Know Before the 'Jersey Shore' Premiere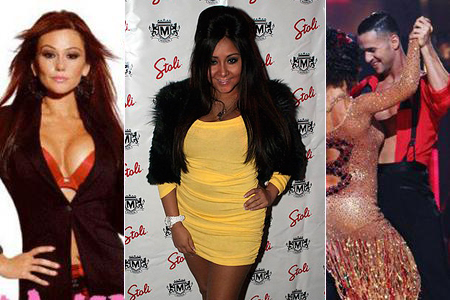 William Morrow/Wikimedia Commons/ABC
Jersey Shore's Snooki, MTV's star tequila-swilling Oompa Loompa, rang in 2011 by recreating her own version of the Times Square ball drop. Like "a fricken NYE hamster," Snooki (whose real name is Nicole Polizzi) stepped into a lit-up glass sphere—barely large enough to contain the 4' 9" reality star—and with red SOLO cup in hand descended on a cheering Seaside Heights, NJ, crowd.
Her castmates gathered in MTV's midtown Manhattan studio to watch footage of the Snooki drop, a bonding experience of sorts for the group as they prepare for their new year, one that most notably kicks off with the third season premiere of their reality hit tonight on MTV. Though the show has been off air for three months, its stars, in all their shades of orange, have never really left us. From channeling Jackie Collins to paling around with a Palin, here's a look back the Guidos' and Guidettes' best pop culture moments from the hiatus.
In their downtime, much of the cast have become auteurs. Both Mike "The Situation" Sorrentino and Jenni "J-Woww" Farley penned "self-help" books. Here's the Situation is Sitch's (Sorrentino has a nickname for his nickname) "Guide to Creeping on Chicks, Avoiding Grenades, and Getting in Your GTL on the Jersey Shore." Described as "the literary equivalent to an Ed Hardy tee," the book boasts chapters with titles like "Creeping in da Club and Elsewheres" and "Wingmen and Grenades," and includes instructions for dance moves (to Beat Up the Beat, "Close your eyes and start furiously pumping your fists at the air...not into the air, but at it.") and embodying a personal sense of style:
If you want to bust out a deep-V that's safety-cone orange because you think that's your color, then wear the hell out of that fruity shirt so everybody in the club knows that nobody owns it like you do. Set the trends, don't follow them. I wear what makes me feel good because I'm at the tip of the spear—the cutting edge of fashion that's fresh to death.
J-Woww, on the other hand, took more of a Dr. Ruth route, putting her own Shore-inspired spin on the dating girl's classic The Rules, titled The Rules According J-Woww: Shore-Tested Secrets on Landing a Mint Guy, Staying Fresh to Death, and Kicking the Competition to the Curb. What lessons can we expect when the book hits shelves in February?
"Learn to spot a man whore a mile away."

"Rule No. 17, Bust his balls a little."

"Rule No. 52, Hair belongs on your head . . . nowhere else."
Not content with merely doling out personal wisdom from a first-person perspective, Snooki (excuse me, Nicole) is releasing the first Jersey Shore endeavor into fiction. Her debut novel, A Shore Thing, chronicles the life of one Gia Spumanti, a "curvy party girl who buys false eyelashes in bulk and dreams of a summer fling with a sexy juicehead." It promises to be a harrowing tale, one that finds its heroine encountering such things as "guido juicehead gorillas" and struggling with plights like tequila-pickle breath and sneaky farts.
But not all Shore side projects have been literary. Sorrentino pushed himself to the limits as a member of the most recent cast of ABC's Dancing With the Stars, and couldn't help but be disappointed when he was only the fourth star to be voted off: "I actually stormed off upset because I tried so hard. I really did. I changed my haircut." Here he is beating the beat up to a fox trot interpretation of the Black Eyed Peas' "Boom Boom Pow" (yup):
All the mingling with celebrities on the show must have opened the door to public service for Sorrentino, because Sitch made quite a splash collaborating with fellow Dancing contestant Bristol Palin on a PSA promoting abstinence. For real? For real, for real.:
As for the other contestants, Paul "Pauly D" DelVecchio's career as a DJ has taken off, a development that will be followed on a MTV spin-off reality series about his life. Vinny Guadagino is officially pushing off his plans to attend law school in order to capitalize on his current fame with acting opportunities, something co-star Ronald "Ronnie" Ortiz-Magro may be regretting. Recently indicted on one count of assault for punching a man during the show's first season of filming, Ortiz-Magro may have benefitted from Vinny's legal expertise as he now faces up to five years in prison.
What is it about the cast—who all also make guest appearances in Enrique Iglesias's video for his hit single "I Like It"—that keeps up an insatiable public appetite for their projects? As Sady Doyle wrote for The Atlantic's culture channel back in July, it's a topical relatability. "We are all Snooki":
Of course Snooki is loud, crude, and strange-looking. That's what they pay her for. But she also has an impressive gift for commanding attention...

...Of course, celebrities have always been products, and they've always had to create marketable public images in order to succeed. But learning how to exist publicly is not just for celebrities any more. Thanks to the Internet, it's everybody's job. Professionals are increasingly required to have Facebook profiles, or Twitter accounts, or both: To "be themselves," in public, or at least a version of themselves that will generate business...

...But before we take Snooki's persona at face value, we should consider the extent to which we're all playing Snooki's game...In fact, given the seamlessness of her act, she might just be the best performance artist of us all.
Read more of Doyle's article, which also compares Snooki to James Franco and Lady Gaga here: "We Are All Snooki." The third season of Jersey Shore premieres tonight at 10 pm on MTV.