'Downton Abbey': The Best TV Show You Might Never See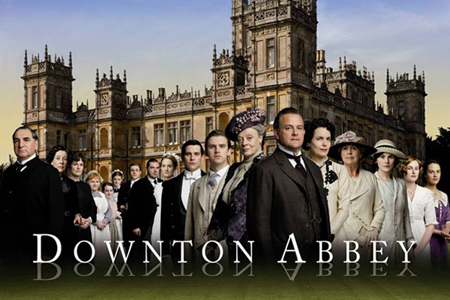 Carnival Films
Sunday night sees the launch of Downton Abbey, the UK TV phenomenon of 2010 and one of the best British series of the last ten years. But chances are you won't get to see the show. The reason? It's been relegated to PBS, and shoehorned into the dreary Masterpiece Theater slot where it's likely to disappear among the Jane Austen and Charles Dickens adaptations the network endlessly churns out.
I've been raving about Downton Abbey for the last few months on my website Remote Patrolled and I'm surprised myself by how much I love the show. As an ex-pat Brit I can be quite snobby when it comes to UK TV in general (too many soaps in prime time, bad sitcoms, glacially paced dramas) but for me Downton Abbey is EXACTLY the kind of show the UK does terrifically well. It's classy, smart, beautifully acted, and utterly gripping.
Abbey is set in a sprawling manor house owned by Robert Crawley, the kindly Earl of Grantham. The Earl is married to an American woman, Cora, and has three daughters. And therein lies the problem—due to an outdated inheritance law called "the entail," no one can inherit the estate after the Earl dies—so the whole family fortune is due to pass to a distant cousin, Matthew.
There are delicious tensions within the Crawley family—particularly warring sisters Mary and Edith who viciously try to undermine each other. Meanwhile middle daughter Edith is undergoing a political awakening, fighting for women's rights. And Maggie Smith, as the family matriarch, is always on hand to stir up trouble as only Smith can.
Meanwhile the Abbey requires a veritable army of staff to keep the estate running smoothly and there's plenty of drama behind the scenes as servants jockey for favored positions, become embroiled in romantic liaisons and plot to help (and sometimes hurt) their employers.
In the servants quarters we've two terrific villains in the form of gay footman Thomas and Lady's Maid O'Brien. They're out to undermine Bates, the valet, who has a mysterious past and a blooming relationship with heroic head housemaid Anna. Then there's the fiery cook Mrs Patmore, put upon kitchen maid Daisy and stiff but well-meaning butler, Carson.
It all adds up to a true TV addiction. For me Downton Abbey is as complex and fascinating a study of the early 20th century as Mad Men is of the 1960's. Both shows are visually beautiful and have a sophistication and style all their own. The key difference is that Downton is pulpier and less dialogue-driven. But it's also more accessible.
I also love how Downton doesn't take the obvious route with its characters—all of whom are layered and surprising (well, except for Maggie Smith who basically plays her typically haughty Maggie Smith role). It would have been very easy to paint the rich characters as unsympathetic prigs and the servants as righteous and downtrodden but Downton avoids any such stereotypes. Housekeeper Mrs Hughes is sharp-tongued but sympathetic, wondering if her life of servitude has cost her personal happiness. Unwilling heir Matthew rebels against his new wealth, but is also trying to fit in. And father figure Robert is a good man trying to do his best in difficult circumstances.
Downton is written by Oscar-winning writer Julian Fellowes, the man behind Gosford Park, and you can tell in the quality of the scripts that this is a class act all 'round. What's most heartening about the show is how it scored such strong ratings in the UK, building to a finale viewed by over 10 million viewers (a sixth of the UK's population), directly following pop culture smash The X Factor.
With so much critical acclaim and ratings I had high hopes the show would be picked up by the likes of History, BBC America, or even AMC, networks that would have lavished the show with an expensive advertising campaign. But deep down I knew the show would end up stuck on PBS, a channel that for me always feels like homework rather than entertainment.
I hope I'm proven wrong and Downton does blossom into a big hit for PBS. But I doubt it. You still can barely find the show on the network's website—or what time it airs (9 pm Eastern on Sunday). Plus I fear the series will get lost in the shuffle up against the likes of noisier Sunday night shows like Desperate Housewives and Undercover Boss.
But do yourself a favor. Wait a few weeks and buy the DVD. You won't be disappointed. Who knew pre-World War I England could be so gripping?