Casting 'The Dark Tower': Can Javier Bardem Play Roland?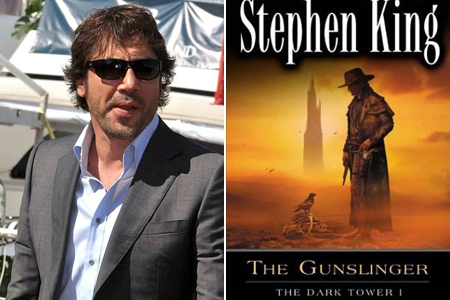 Wikimedia Commons/Viking Adult
When NBC/Universal announced last September that Ron Howard would helm an unprecedented film and TV adaptation of Stephen King's Dark Tower series, the consensus among fans of the books was pretty much the same: this project will either be a history-making blockbuster or a colossal failure. The seven-novel series has a devoted following, but it's not the story for which the horror writer is known, and the mythology King created with the series is sure to pose challenges to live-action translation. Three feature films and a television series give Howard and his team (screenwriter Akiva Goldsman and producer Brian Grazer) enough space to tell the full story, but it's a rich, tightly woven saga with dozens of narrative threads that could be unraveled or lost on the big or small screens.
The success of this adaptation will depend on the strength of its architects, but the casting of its protagonist, gunslinger Roland Deschain, is critical. The man who plays Roland will introduce the character to millions of viewers who have never read the series, and will carry the burden of making the role compelling enough to retain those viewers for years. Academy Award winner Javier Bardem has been offered the role, and the choice brings at least a small amount of focus to a massive, risky project. (He's also reportedly been offered a role in the next James Bond movie, but Stephen King's official Dark Tower website lists Bardem as playing Roland.)
Part Arthurian knight, part Eastwood's "Josey Wales," Roland is the last of a line of noble gunmen on an endless quest to find and save the Dark Tower, the center of all existence. His character is as intricate and layered as the story itself: Roland is a father figure, a diplomat, an assassin—sometimes all at once. As the series progresses, we watch Roland reject his self-imposed solitude and create his own family, strange and deadly as it is; we also watch him kill with soulless precision and betray those he loves for the sake of his quest. It's that depth and plurality of character that an actor will have to master.
Speculation about who would play the gunslinger included names like Christian Bale and fan favorite Viggo Mortensen—two fine actors with strong résumés. Mortensen had the advantage of playing characters similar to Roland (the Man in the post-apocalyptic film The Road and warrior king Aragorn in the Lord of the Rings films); he also has an angular look that could fit Roland's written physical description. Christian Bale appeared out of nowhere last week and was named a front-runner for the role; the intensity he's brought to past characters (Batman, Trevor Reznik in The Machinist, Dicky in The Fighter) would have served well in Roland's colder, scarier moments. Both actors have also starred in westerns, the most prominent genre element in the series.
But The Dark Tower is more than a western, and Roland is more than a cowboy. Javier Bardem is an inspired choice; he's done an incredible job of playing a stone-cold killer (Anton Chigurh in No Country for Old Men), but he's also played characters with great empathy and vulnerability (Cuban poet Reinaldo Arenas in Before Night Falls). And Bardem's strong features and olive skin—in contrast to his Anglo counterparts—could be Howard's way of pulling back from the American western stereotype. By choosing Bardem, Howard may believe he has the ability to stay truer to the text of the story, rather than bending the narrative to suit an image another actor might bring with him.
But there are challenges here, largest among them the sheer volume of screen time Bardem will have. Bardem, who has never performed on a American television series, will need to be versatile and adjust to different shooting schedules and styles. He will also have to be in it for the long haul—just as the actors in the Harry Potter films were shackled to their characters, Bardem will be chained to Roland. And as a three-time Oscar nominee and A-list actor, making such a commitment means locking himself into a franchise that could either propel or stall his career in Hollywood.
A character so essential to The Dark Tower requires an actor who can fit the image that readers have created in their mind's eyes, as well as sell new viewers on the labyrinthine story. Bardem's job is to navigate the nuances of Roland's character—and to make this movie/TV project a huge hit. Bardem's casting as the gunslinger could turn out to be a major factor in the project's success, for readers and viewers alike.