Before 'The Green Hornet': Michel Gondry's CGI-Free Documentary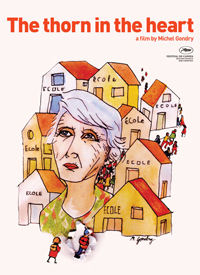 Partizan
The radio-serial vigilante the Green Hornet arrives in theaters nationwide today, courtesy of co-writer/star Seth Rogen and director Michel Gondry—a peculiar pedigree, to say the least. Especially for a 3-D superhero spectacle like The Green Hornet. The project has long been plagued by bad buzz—perhaps in part due to the personnel involved—but ahead of its release, after a round of reshoots and a full-scale marketing rethink, the movie has been tracking fairly well. Maybe Gondry's first foray into very-big-budget filmmaking won't prove a disaster after all.
The endeavor seemed ill-fated in part because Gondry, who made a name for himself by deploying amiably lo-fi special effects in music videos for such acts as Björk and the White Stripes, has always seemed allergic to streamlined CGI: He often likes the seams to show—or, rather, the strings. Gondry's feature films, starting with 2001's Human Nature, have also displayed his patented mad-inventor aesthetic, to variable degrees of success. The filmmaker turned writer-director on The Science of Sleep (2006) and Be Kind Rewind (2008), but Eternal Sunshine of the Spotless Mind (2004), from a script by Charlie Kaufman, remains his masterpiece. An unfairly overlooked section of the director's filmography, though, lies between these life-of-the-mind fantasies and The Green Hornet.
In The Thorn in the Heart, a feature documentary (Gondry's second, after Dave Chappelle's Block Party) barely released stateside last year and currently available to "watch instantly" on Netflix, Gondry turns the camera on his own family. The documentary focuses on Gondry's aunt Suzette, a teacher touring the French-countryside schools where she taught 20 years after her retirement, and his cousin Jean-Yves, Suzette's son. Both relatives recount struggles of a very different order: Suzette with her agitating for gender equality and unorthodox techniques in postwar classrooms, the homosexual Jean-Yves with acceptance from his mother and father. They still live together, but relations between Jean-Yves and Suzette remain strained, a dynamic Gondry explores in an atypically unhurried fashion.
The story that The Thorn in the Heart tells is modest in the extreme, but it's remarkable for that, not in spite of it. Gondry has always displayed a singular knack for handmade whimsy, something that's also intermittently on display here (notably in model-train interludes, and a classroom visit during which kids put on suits that make them "invisible" in front of the camera). His latest documentary, though, brings to light a side of his unique aesthetic that isn't as often remarked upon: the faith that everyday materials have value beyond what they first appear to. In Gondry's world, a found object can function as a representation, an effect (the Be Kind Rewind remake specialists' use of pizzas as pools of blood comes to mind), or a piece of family history can double as a simple story worth telling—and also as a consolation for the viewer, who will likely be spurred by The Thorn in the Heart to ponder his or her own family history.
Before that documentary, Gondry contributed the tone-setting opener to Tokyo!, a 2009 omnibus film also including the work of another Frenchman, Leos Carax (Pola X), and the Korean director Bong Joon-ho (Mother). Each of the three shorts tells a somehow Tokyo-specific story. Carax's section, a sort of Neanderthal Gojira variation starring the French actor Denis Lavant as a city-terrorizing sewer monster, is the most immediately attention-grabbing. But Gondry's "Interior Design"—in which a young woman, Hiroko (Ayako Fujitani), searches for purpose in the shadow of her budding-filmmaker boyfriend, Akira (Ryo Kase)—is the highlight.
Akira's film, the exhibition of which has brought the couple to Tokyo, appears to be a combination of futuristic sci-fi (the film opens with the line "There are so many lives in the future") and exploitation (a skull-headed figure on a motorcycle appears to project a swastika) rendered in the Gondry home-movie style. When Akira finally shows the movie, in a disreputable theater, he attempts to enhance the atmosphere via smoke machine; the audience merely coughs. Gondry seems to have put more than a bit of himself in Akira, though perhaps that's simply a result of the director's relatively restrained storytelling here. The wilder fabulist flourishes are, at least until the conclusion, kept largely to the fringes. The approach works well: "Interior Design," with its fantastical and bittersweet breakup scenario, recalls Eternal Sunshine.
While Gondry has heretofore been chiefly regarded as a stylist, both The Thorn in the Heart and "Interior Design" attempt to peer behind style, examining, at least in part, visual and narrative techniques and their roots in real life. The director is certainly entitled to his dalliance with the blockbuster, but it's hard to shake the impression that he does his best work in the markedly intimate, even confessional, mode of these two films.