'30 Rock': Mel Gibson Telethons and Reality TV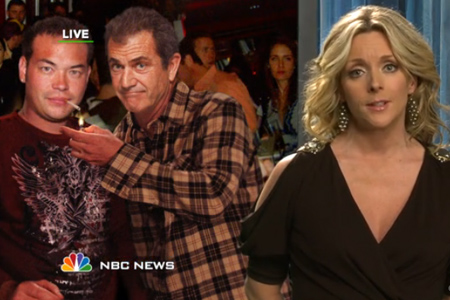 NBC
"Now it's on to phase two."
Jack says that to Liz while they're watching the GE sign on 30 Rockefeller Center switching off, and Kabletown's sign turning on in its place, and the line sets the tone for the entire episode.
The whole staff of TGS is thrust into two "phase twos" in this episode, both prompted by Jack in a bid to make money for their new employer.
Operation Righteous Cowboy Lightning is Jack's attempt to preempt any natural disaster by pre-taping a charity call-a-thon, and he sets the TGS writers on coming up with the next big disaster. Among other things, they come up with a tornado that hits a handgun factory and a cyclone in Brooklyn (destroying two vintage clothing store and a banjo), and bring Robert De Niro on set to pre-tape a series of these possibilities. What no one expected was how soon a major event would take place and how quickly they could react.
The second major "phase two" of the episode was everyone's involvement in Tracy's wife's reality show. Though Liz thinks we're in a new golden age of scripted television, she and Tracy and their series of conflicts becomes reality TV fodder. Ultimately though, the scripts win out.
We've started to see how things are shifting in 30 Rock under Kabletown's rule, and everything Jack has proposed has been successful so far. Let's hope that Liz gets to take a new ID badge picture, and something goes hilariously wrong.
Best random quote that has nothing to do with the show's plot: "I wasn't going to buy two blimps and crash them together just to hear the sound they make." - Tracy Jordan