'Winter's Bone': This Awards Season's Indie Favorite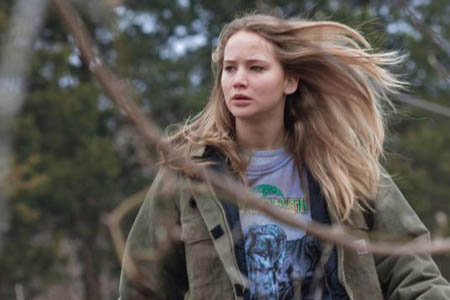 Anonymous Content
It's been a good week for Winter's Bone. On Monday night the Ozark-set indie darling won top honors at the Gotham Independent Film Awards, and Tuesday morning word came that the film garnered a pack-leading seven Film Independent Spirit Award nominations.
An impressive haul in its own right, but the Gotham Award win in particular bodes well for the film's Oscar prospects, which had otherwise seemed to be waning. Last year's recipient of the same award was eventual Best Picture winner The Hurt Locker, and past Gotham Best Feature winners include Frozen River (2008), Into the Wild (2007), Half Nelson (2006), and Capote (2005)—all of which were eventually cited by the Academy, particularly for their lead performances. One might be excused for wondering whether Oscar voters look exclusively to the Gothams in order to learn which déclassé American independents are safe to recognize.
Winter's Bone, which opened on stateside screens in June and was released on home video at the tail end of October, also happens to boast a standout lead performance, by Jennifer Lawrence—as well as a raft of convincingly menacing turns by the a host of gaunt and grizzled journeyman character actors, most notably Deadwood co-star John Hawkes. The story—adapted from a Daniel Woodrell novel by Anne Rosellini and Debra Granik, who also directs—concerns the spitfire Ree's search for her crank-cooking father; the 17-year-old dropout is single-handedly raising both her younger brother and sister, and Dad has put their house up for his bond. And then jumped bail. The rest of the movie essentially takes the form of a detective movie, with Ree ruffling feathers—and risking getting roughed up—by bravely running afoul of patriarchal codes of conduct. But this is not the stuff of against-all-odds clichés: For instance, there is a crushing (and slightly more awkward than necessary) scene in which an Army recruiter actually talks Ree out of enlisting, instantly dashing her long-held windfall scheme.
Though the tough-as-nails Ree's search for her father cycles her through a series of intense standoffs with family, neighbors, and lawmen—and involves such self-consciously cutthroat characters as leather-jacketed bail bondsmen, loose-cannon meth-heads, and those who punctuate conversations by spitting—this is also not merely a showpiece shouting match. Granik, who made her debut in 2004 with the addiction saga Down to the Bone (the titles of her first two features give the amusing impression that she has taken the term "body of work" very literally), skillfully sustains the atmosphere, climaxing with a viscerally eerie light-of-the-moon boat scene that more resembles the work of the French festival-circuit lightning rod Philippe Grandrieux than a thuddingly well-intentioned American life-on-the-margins narrative like Frozen River.
On first viewing, I actually found the confidence of the filmmaking in Winter's Bone to be more than a little off-putting: Were the director and her small crew pawning off their handsomely austere movie as a definitive look at a hardscrabble way of life that was not their own? This feeling was roused ever-so-slightly by a Gotham Awards news recap: "We just felt very lucky that we came across this beautiful story" went the Granik quote in a brief Times dispatch from the ceremony—on its face a gracious thing to say, but something that can also be seen as an attempt by the director to distance herself from the material, as if she were only the conduit through which the real essence of the backwoods locations passed, and not a force active in shaping the way in which they were depicted.
But revisiting the film, I was irked less by any perceived preening desire to be "authentic" than I was absorbed by the power of its story—though the movie's one go-for-broke stab at regional poetry, a black-and-white squirrel-centric dream sequence scored to a chorus of chainsaws, still falls completely flat. But all in all Winter's Bone is a moving, challenging film—one well worth rooting for down the awards season's home stretch.