Why the World Still Needs Whit Stillman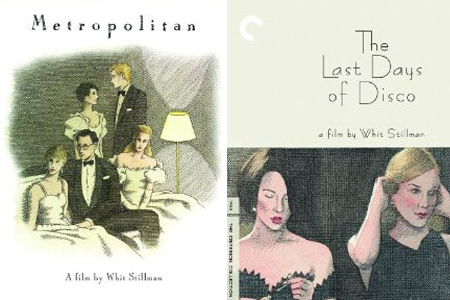 Westerly Films
Rejoice, all members of the urban haute bourgeoisie: 58-year-old director Whit Stillman, modern master of the comedy of manners, has finally, after a dozen years of waiting, filmed his fourth movie.
Stillman's first three films came in a burst, all in the '90s, and all tapping the same style and often the same cast of actors. Most notable was Chris Eigeman, who appeared in each and lent a most effective voice to the delivery of Stillman's deadpan, sardonic lines. Cinephiles called the original trio of pictures—Metropolitan, Barcelona, and The Last Days of Disco—the Yuppie Trilogy for reasons immediately obvious to his audience. Polished, nostalgic, vaguely conservative in the intellectual tradition, Stillman and his films pioneered a new aesthetic.
First came Metropolitan in 1990, a spare independent production looking at the romantic foibles of preppy Manhattanites (who dub themselves UHB—urban haute bourgeoisie); then perhaps his strongest film, 1994's Barcelona, a film set near the end of the Cold War in Spain, pairing two Americans against anti-American sentiment to hilarious effect; and finally 1998's The Last Days of Disco, an uneven portrayal of club-obsessed young women in publishing (Chloë Sevigny, Kate Beckinsale) but charmingly complex in its own right. Stillman seemed at the top of his game.
And then years crawled by. Rumors faded in and out: talk of a film set in 1960s Jamaica, of financing difficulties, a Christopher Buckley adaptation, and more. Nothing materialized. An entire decade passed without a Stillman movie.
The wait, we learn recently, has ended. Whit Stillman revealed in a November New York magazine interview that he has filmed his next movie: Damsels in Distress, starring Adam Brody and Greta Gerwig, a "collegiate comedy" already shot this past October and slated for a 2011 release. And although Stillman says Damsels in Distress will not be a repeat of his earlier films, there may be the entirely appropriate Chris Eigeman cameo.
Why should we care about Damsels? Precisely because Stillman has marked himself as one of the more original voices to emerge from American cinema. Stillman never accomplished mainstream success (the trilogy collectively grossed around $13 million), but a cult slowly grew around his films, which were quiet and strange, hilarious and utterly unconventional. Critics noticed as well—his debut earned him an Oscar nomination for Best Original Screenplay, and handsome Criterion editions celebrate the three initial releases. Stillman's style captured the imagination of fellow filmmakers like the now better known Noah Baumbach (Greenberg, The Squid and the Whale), whose first films Kicking and Screaming and Mr. Jealousy cribbed heavily from the Stillman playbook (not to mention lead Stillman actor Chris Eigeman in both).
What characterizes a Stillman film, exactly? Consider the dialogue a moment. From Metropolitan: "I don't read novels. I prefer good literary criticism. That way you get both the novelists' ideas as well as the critics' thinking." Or this exchange from Barcelona: "You can't say Americans are not more violent than other people." "No." "All those people killed in shootings in America?" "Oh, shootings, yes. But that doesn't mean Americans are more violent than other people. We're just better shots!"
All deadpan, understated, and existing within a special, timeless Stillman world. Few people will ever utter these sorts of lines in real life. A Whit Stillman film is distinctly a Whit Stillman film, and a watcher who knows Stillman knows within seconds. These characters are bourgeois, educated, and not particularly recognizable. "Finally...A film about the downwardly mobile," the tagline for Metropolitan declared. These films stood in opposition to their contemporary slacker and grunge movements, to the notion of cinéma vérité.
The Stillman style is conscious, artificial, manufactured, and often delightfully so, full of passive-aggressive maneuvering among a dilettante cast, elevated status symbols, and serpentine social lives that slowly dominate the films' foreground. Custom and decorum float in Stillman's universe as layers of critique and friction among its residents—the smart, silly jumble of details and poise calls to mind the Guermantes parlor of Proust or Tom Wolfe's fashion-conscious journalism of 1960s Esquire more than any film. Harsh, witty ripostes drive a social fabric that veers from bashful sensitivity to bold assertion. Ego battles manners, idealism struggles with pretentious formality.
Yet the fantasy atmosphere of Stillman films—both patrician and anachronistic—hardly glosses over real-world ugliness. His characters binge-drink to the point of vomiting, debate their sexual trysts, encounter cocaine and mental illness, and joke about sadomasochism as well as quirkier tangents, such as the gender politics of the Disney film Lady and the Tramp ("Except for some superficial bow-wow stuff at the start, the dogs all represent human types, which is where it gets into real trouble," says a character in The Last Days of Disco). Stillman has not crafted a reality without moral failings.
The real conservative spirit of the films is one of loss, of disillusionment with a crumbling past, empty morality, lost honor. As Chris Eigeman muses at the end of The Last Days of Disco: "You know that Shakespearean admonition, 'To thine own self be true'? It's premised on the idea that 'thine own self' is something pretty good, being true to which is commendable. But what if 'thine own self' is not so good? What if it's pretty bad?" Little conventional dramatic narrative knits together the lackadaisical moments in Stillman's movies. But serious, insightful moments frequently emerge, a reminder of the mind behind the scripts. Their ironic style combined with the highly unusual urban-haute bourgeoisie perspective remains a memorable blend.
Stillman is his own filmmaker, and Damsels in Distress marks the return of a significant voice to American movies. What form Damsels will take remains to be seen, but actors Adam Brody and Greta Gerwig are ideal choices for vocalizing the talky, neurotic personalities of a Stillman flick. And who knows—maybe we won't have to wait another decade for the next. In interviews, the director has alluded to penning various scripts throughout recent years. Perhaps an urban haute bourgeoisie revolution is on the way ... perhaps even a resurrection of prep? The ball, Mr. Stillman, is in your court.