Why No One Goes to the Racetrack Anymore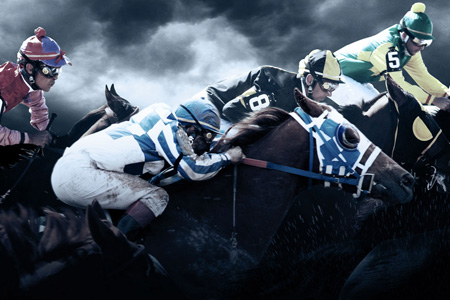 Walt Disney Pictures
It is not often that real life provides the chance to run a controlled experiment, but the recent history of horse racing has proven to be such a case. Since time immemorial there was room to debate whether the large crowds flocking to race tracks were there for the colorful spectacle afforded by the "sport of kings" or just there for the more mundane purpose of placing (and sometimes cashing) a bet. Were the habitues of the turf dedicated to—as the saying goes—"improving the breed" or just looking for some easy and blessedly legal (assuming the taxes were paid, probably a big assumption) money without working?
And make no mistake, they were indeed big crowds. It can be a sobering experience for anyone researching the history of sports to pore over ancient newspaper sports pages and discover that however historic the occasion in, for example, New York baseball history, the odds are good that attendance was greater at one of the local race tracks than the city's ball parks that day. On the afternoon in April 1947 when Jackie Robinson was making not only baseball history but American history by breaking major league baseball's color line, there were fewer people at Ebbets Field than at Jamaica Race Track for what was nothing more than a routine midweek card that day.
Well, ever since off-track betting was legalized in New York four or so decades ago, the experiment has been run and the results are in. As a report in yesterday's New York Times from Aqueduct Race Track in Queens confirms, "despite repeated government efforts to prop it up, horse racing has lost much of its appeal. The racing association says that total attendance at its three tracks last year was 1.6 million, about one-third what it was two decades ago." The betting handle at the track itself is down to about one ninth of that bet on the races from all sources.
And racing itself, wherever the bets are placed, has itself long been under siege from the proliferation of other forms of legal betting—casinos, lotteries and so forth -that have broken horse racing's long time monopoly on above board wagering in most states until recent decades. As attendance dwindles away at Aqueduct, the sport of kings is no longer the sport of Queens. And it is no consolation that New York's Off Track Betting Corporation has now itself fallen by the wayside, overtaken by Internet horse wagering opportunities. Or does the insolvency of that operation simply testify to the inability of government to make a go at a venture that has kept bookies in the chips since the time of the Pyramids?
A few years ago there was some buzz that the best-selling book and motion picture Seabiscuit would rekindle interest in the sport of horse racing—which is indeed a thrilling one to experience first-hand—and summon forth a new wave of fans for racing in the flesh. But that proved a forlorn hope as live attendance continued its downward trend to the point of near invisibility on weekdays at even the most prominent race tracks. It was noteworthy that no such claims were repeated when the quite excellent movie Secretariat was released recently. Today the interest of the American sports public in horse racing doesn't extend beyond the first Saturday in May. The Kentucky Derby is now a Super Bowl without a regular season.