Why I Don't Care About Rex Ryan's 'Foot Fetish'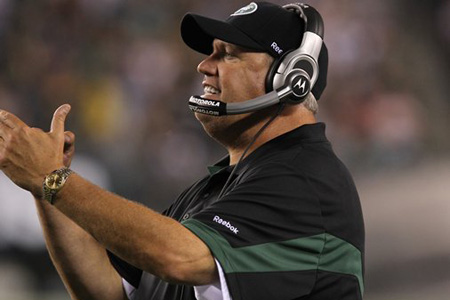 HBO
Could someone please explain why Rex Ryan's sex life is news?
If you have been busy not wasting your life , you might have missed the latest gossip about New York Jets head coach, Rex Ryan. The website Deadspin, always a bastion of hard-hitting investigating journalism, posted a story about the existence of some very mild foot-fetish videos starring a woman who looks like Ryan's wife and a voice-over cameraman who sounds like Ryan. The New York Daily News put a still photograph from one of the clips on the front page. Apparently, the Daily News believes that the sex life of a 48-year-old man and his wife is the single most important issue facing its readers. Can a brutal Saturday Night Live sketch playing off the "foot" in football be far behind?
So, in the midst of preparing for a huge game against the Chicago Bears, Ryan spent all Wednesday answering questions about his wife's feet. Or, rather, he spent all Wednesday not answering questions about his wife's feet. Usually pugnacious, Ryan couldn't have been more cordial.
The coach even expressed an understanding that reporters asking him about the tapes were only doing their jobs—a charitable characterization at best.
But Ryan rightfully refused to directly address any questions about the tapes. In a morning conference call with Chicago reporters, no matter many times and in how many ways he was asked, Ryan said the issue was "a personal matter," and he wouldn't discuss it. Later, in his Wednesday press conference, Ryan deflected every question by describing it as "personal matter," and refused to discuss it. When Jets general manager Mike Tannenbaum issued a statement in support of Ryan, he described the story as "a personal matter."
Later on Wednesday, NFL spokesman Greg Aiello said the league considers the issue "a personal matter."
Gee, at the risk of stating the obvious, maybe this is a personal matter?
There's nothing inherently wrong with covering a sports figure's sex life. Brett Favre's alleged harassment is newsworthy, for instance, because there could be real wrongdoing involved. Stories of how Lawrence Taylor would send escorts to opposing player's hotel rooms the night before big games are sordid but delicious. They add to our understanding—if not our admiration—of the men who play the game. The minor sexual peccadilloes of a Ryan and his wife simply aren't relevant in any way.
Absurdly, but not surprisingly Ryan was asked if the incident would be a distraction for the team. As though it would be addressed in team meetings. Ryan refrained from pointing out that strange phenomenon of modern media life, where reporters both create a distraction by constantly asking about an issue and report on that distraction as though it were some outside, alien force.
Almost as galling as the snickering voyeurism passing for journalism is how football fans are being shortchanged by it. Suppose you are a reporter in Chicago. You have the opportunity to ask Rex Ryan absolutely anything you want about the upcoming Jets and Bears game. You can ask about containing Devin Hester or how you handle Brian Urlacher. If you want a puff piece, you could ask Ryan—a noted gastronome—to discuss the merits Chicago-style hot dogs and pizza. Instead, you decide that what your readers really need to know whether if the coach and his wife dig feet.