Why Aren't More Sports Stars Fighting in Afghanistan?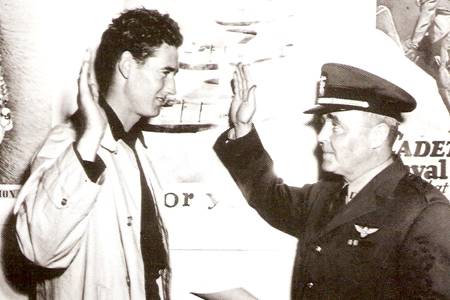 Wikimedia Commons
In this time of war, it's entirely appropriate that the passing of Cleveland Indians pitching great Bob ("Rapid Robert") Feller was marked by considerable attention to his World War II military service. Although it cost him four years during his prime, he recollected his time in the Navy with pride and without regret. It was also a reminder that war today is a very different business than it once was in terms of the ways in which it impacts—or rather does not impact—the lives of anyone other than service men and women and their families.
And it was not only World War II that cut into the rhythms of normal life of a broad swath of society, with the military draft upending the peacetime occupations of millions of civilians throughout the 1950s and into the 1960s, most definitely including some of baseball's greatest stars. "In military service" was a common line item in the records appearing on the back of a player's baseball card back then. Willie Mays' "reward" for being named the National League's Rookie of the Year in 1951 was a two-year stint in the Army. Brooklyn Dodger pitcher Don Newcombe won 20 games in the 1951 season—and was in the Army for the next two. New York Yankees infielder Billy Martin followed up his starring role in the 1953 World Series with a year and more in the military immediately thereafter. In October 1955, pitcher Johnny Podres, was the hero of the Brooklyn Dodgers' first ever World Series win in 1955. The following spring he was inducted into the Navy.
As everyone knows, Red Sox batting great Ted Williams was recalled to combat service as a fighter pilot in Korea and lost the better part of two seasons (compounding the years he had lost during World War II). When injury-ridden Mickey Mantle was exempted from the draft, it aroused considerable controversy, as related in Jane Leavy's new biography. Far from getting a free pass, some even felt that sports stars were being targeted by the military. Ted Williams himself complained that "gutless politicians, gutless draft boards and gutless sportswriters" were to blame for Podres's reclassification to 1-A after first being classified 4-F and charged that Podres was "paying the penalty for being a star."
Perhaps most remarkable—and from today's vantage point unfathomable—of all, pitcher Curt Simmons of the Philadelphia Phillies was called to active duty in the middle of September 1950 as the "Whiz Kids" were battling for their first National League pennant in 35 years. Suddenly bereft of their ace 17 game winner, the Phillies staggered to the finish, dissipating the six-game lead they held when Simmons left the team. But on the strength of a final day victory over the Dodgers, the Phils did manage to stagger home in first place by just one game, although they were then swept by the Yankees in a World Series. Simmons was granted a brief furlough for the Series but was unable to pitch other than in batting practice in light of his recent inactivity.
That was then, this is now. Truth to tell no one really expects professional athletes—or the great mass of those less athletically accomplished, either—to flock to the colors as Bob Feller did two days after Pearl Harbor. Today, it is all too easy for anyone who is not directly concerned with fighting it, and paying its price, to put the war in Afghanistan out of mind, even to consider it, in the words of Neville Chamberlain, "a quarrel in a far away country between people of whom we know nothing." Our lives go on at home, at work, at play, in the blogosphere, without the war in Afghanistan imposing the kind of demands that were once embraced, or at least accepted, however grudgingly—Billy Martin, drafted after the armistice in Korea, railed about "having to go into the fucking Army when there's no fucking war"—when our country was at war, whether hot or cold. If that war is lost, perhaps we should look here and not there for the reason.