The Year in Fail: 2010's Most Pathetic Sports Stories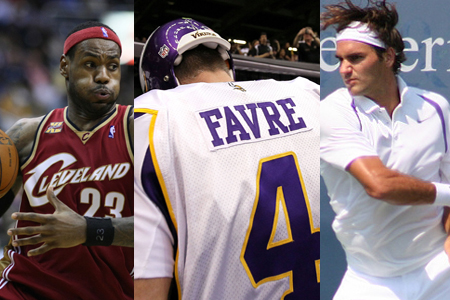 flickr/Wikimedia Commons
Each December, newspapers, magazines, and websites fill the mediasphere with year-end top ten lists, retrospectives and "Best of" awards. For 2010, though, it doesn't make much sense to celebrate the winners. This wasn't a very good year for victory.
This was a year for blowback—when the lofty ideals of hope and change met the gritty realities of an oil spill and midterm elections. It was a year for retreads, when seven of the ten top grossing films were remakes or sequels, and the hottest show on TV was about a group of high school misfits—with a show logo using a finger-and-thumb shaped "L" in case anyone missed the point. In a delightful irony that sums up the past 12 months nicely, Glee often doesn't even win its own timeslot, ratings-wise. This week's much-heralded Christmas episode was beaten, appropriately enough, by The Biggest Loser.
2010 in sports was no exception. This was a year when the winners lost and losers won—when Tiger Woods didn't win a tournament, and the Yankees didn't win a pennant, but the forever downtrodden Saints won a Super Bowl for their beleaguered city. This was a year of letdowns, when marquee events were usually defined by what didn't happen, when the biggest news was outside the lines, and the most dominant athlete was usually "Nobody You Know." It only seems right that a year-end column would celebrate what went wrong—the mishaps, breakdowns, blowouts, disappointments and epic disillusionment that made 2010 Year of the FAIL.
Anticlimax of the Year
The biggest build-up often leads to the biggest letdowns, and all the nominees for the highly coveted AOY award did a fantastic job of getting fans' hopes up, only to dash them.
The BCS National Championship game between Texas and Alabama gave us weeks of hype, only to have Longhorns quarterback Colt McCoy get hurt in the first quarter, all but giving the title to the Crimson Tide.
The World Series promised a Fall Classic free of East Coast big spenders—the Phillies and Red Sox, and especially those villainous Yankees. As it turned out, a little villainy might have helped. Coming off their emotional win over the Yanks in the ALCS, the Rangers looked flatter than West Texas against the Giants, got beaten badly in the first two games and never looked like they were even in the series.
Michael Schumacher, for years the best racer driver in the world, made a much-heralded return to Formula 1. Apparently, he wanted to definitively prove that he is no longer the best racecar driver in the world.
LeBron James was nothing but pure anticlimax in 2010. From quitting on his team in Game 5 against the Celtics, and the unwise choice of televising The Decision, to his consistently uninspired play in Miami, James has been one of the year's most impressive underachievers, reliably underperforming and underwhelming at every turn.
But the winner of 2010's Anticlimax of the Year was never in doubt. Congratulations, Canada! (There's something you don't hear that often.) The Opening Ceremonies of the 2010 Vancouver Olympics is this year's biggest anticlimax—by a long shot. When you spend a decade working for a single, climactic event where the whole world watches, and when that event is called a "torch-lighting ceremony," but all the torches don't light, you deserve every award that you get.
The Snooki Sex Tape Trophy for Least Scandalous Scandal
2010 had a long list of non-controversial controversies, and it was a challenge narrowing it down to just three nominees. Who could forget how the nation was left so profoundly unmoved by the Tony Dungy/Rex Ryan made-for-TV feud? Who could forget how unscandalized we were in January when nude pictures of Portland Trailblazer Greg Oden appeared online? Or a month later when a nude picture of Spurs' guard George Hill surfaced? And what of a few months after that, when someone leaked nudes of the Dallas Cowboys' Martellus Bennett?
But we finally found our three nominees for the year's most meaningless media kerfuffle—the John Wall Dance hullabaloo, the non-handshake between Todd Haley and Josh McDaniels, and your 2010 winner for Least Scandalous Scandal—for the second straight year—is Any Athlete in Trouble with Twitter. The illustrious list includes Terrell Owens, Chad Ochocinco and Michael Oher—all fined for tweeting when they shouldn't have—and the bizarre, but ultimately stupid Twitter spat between Denver Nugget's star Carmelo Anthony and a notorious Rap groupie, Kat Stacks.
The Win By Losing Award
Duke won another Final Four, but the big winner lost. Indiana's Butler University Bulldogs were utterly Hoosiers-esque in their run to the Final Four, becoming the best-loved team no one had ever heard of.
On May 9, Dallas Braden of the Oakland A's pitched only the 19th perfect game in the history of Major League Baseball. Three weeks later, Roy Halladay of the Phillies pitched the 20th. Then Detroit's Armando Galarraga bested them both by not pitching number 21, getting 26 of 27 Cleveland hitters out before umpire Jim Joyce called the last batter safe on an infield grounder, apologized immediately after the game and turned Galarraga into a strange sort of hero.
But there can be no doubt who won the most by losing in 2010. Over a record-setting run of 18 consecutive losing seasons, the Pittsburgh Pirates have never let defeat stand in the way of making money. In fact, the Bucs have proven that losing is a winning business plan. According to documents leaked this summer, the Pirates turn a profit of nearly $30 million a year—mostly by losing games and therefore raking about $60-$70 million per year in MLB's shared revenue designed to help them win.
Best Performance in a Sport That Used to be Bigger
In horseracing, which was popular before cars, Zenyatta was the big story. A New York Times headline called her "Hard to Beat." Yet Blame did just that in the Breeders' Cup Classic. At the Indianapolis 500, popular before NASCAR, Dario Franchitti won, took the season points crown, and remained married to Ashley Judd. In tennis, popular back when American men could play it, the invincible Roger Federer looked pretty vinceable. The Swiss star won the Australian Open, but Rafael Nadal took the French, Wimbledon and the US Open—respectively beating Robin Söderling, Tomáš Berdych, and Novak Djokovic—mostly just to mess with the booth announcers.
The award for best performance in a once beloved sport, though, goes to boxing—popular before Don King ruined it—where Manny Pacquiao beat Joshua Clottey and crushed Antonio Margarito, becoming the first fighter ever to win belts in eight different weight classes—and to have his victories overshadowed by a political career, a singing career, and The Fight That Wasn't with Floyd Mayweather, Jr.
At last we come to our most important and final award—the single most coveted prize in all of sports FAILdom—Most Disappointing Athlete of the Year. An extremely prestigious group of 2010 nominees includes true legends—first ballot Hall of Famers, national heroes, inspirations to millions.
Lance Armstrong with an ugly, unwarranted comeback and mounting legal trouble, showed deep cracks underneath his all-American façade.
The entire USC football program was shown to be corrupt—but is anyone all that surprised at corruption in college football? The Heisman Trophy Reggie Bush gave back was just handed over to Cam Newton.
Brett Favre has gone beyond tarnishing his legacy in Minnesota. He not only has embarrassed himself as a football player with selfish play and a failure to lead his team in anything but outburst of ego, he has embarrassed himself as a human being with multiple allegations of super-douchey sexual misconduct.
The winner for biggest loser, though, is unquestionably Tiger Woods. With his plummet from public grace, the divorce, monumental futility on the links, and various Nike-fueled rebranding efforts, Tiger was clearly the most epic sports FAIL of 2010, and his struggles nicely capture the year's tepid and desultory zeitgeist. Tiger's scandal had no real villain. He committed no great crimes beyond those of the heart. It was just a sex scandal—and one without sizzle at that. The facts, as they emerged seemed somehow robotic, just as rote and passionless and his progression through the all-too-familiar, marketing-driven rituals of seclusion and public abasement. There didn't seem to be any great lessons to be learned, anything gained to make up for the innocence lost. Like 2010, it just sort of happened, and the best thing you can say about it is that it's almost over.