The Valiant Death of Mario Monicelli
The Oscar-nominated filmmaker threw himself out of his hospital window at age 95—which his fans see as an act of courage.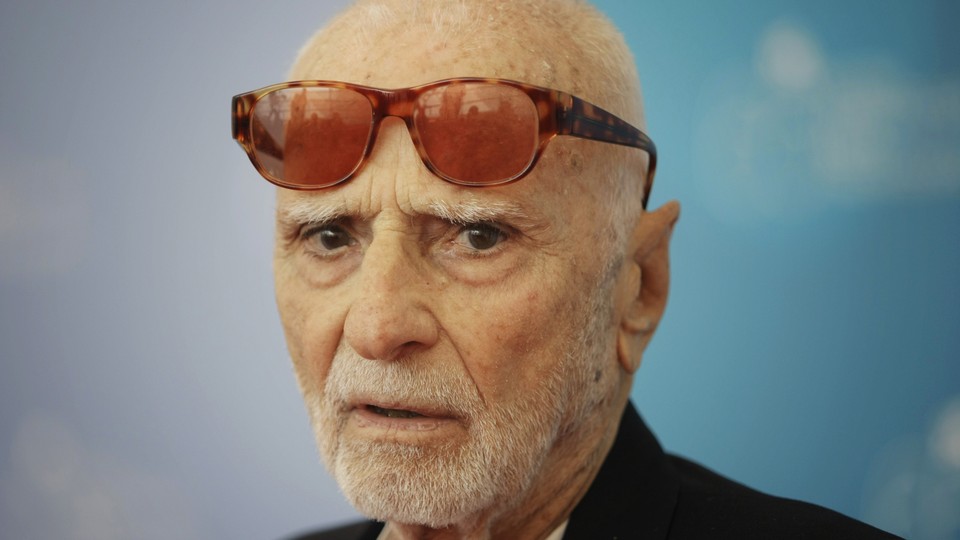 For days the skies above Rome had churned out batterings of rain and merciless gusts of wind, rendering umbrellas almost useless, notions of sightseeing ridiculous, and, amazingly, not deterring the occasionally rowdy student demonstrations underway over proposed reforms to the state educational system. Then, on the evening of November 29, at the height of the storm, I listened as Italian television announced the initially shocking news: Mario Monicelli, one of the most popular, talented, and prolific of the country's old-guard comic-satiric film directors and screenwriters, the man behind such Oscar-nominated films as La Grande Guerra and I Compagni, had just hurled himself to his death from the balcony of his fifth-floor room at Rome's San Giovanni Hospital. He was 95, and he'd been undergoing treatment for prostate cancer.
Monicelli left no suicide note, but the volitional power and intent of his final gesture was clear and cogent: he would not complain, he would not waste away, he would not submit himself or his loved ones to the pointless, hopeless torture of a protracted demise. Monicelli was not entirely a stranger to me. While studying at university in Florence 28 years ago, I had seen and enjoyed a couple of his films. Just which ones—I Soliti Ignoti? Un Borghese Piccolo Piccolo?—I can no longer say. But I do remember their spirit—funny, farcical, and sad all at once—accorded with so much in Italian life that was new to me then.
Monicelli had worked with, and even launched, the careers of many cinematic legends, including Marcello Mastroianni and Vittorio Gassman. He had turned 70 flicks in a career that began in the 1930s. But his death gave me personal reason to pause. I had just undergone successful treatment in Italy for a relatively minor form of skin cancer, and had, thus, slipped the executioner's grip, in my own small way. (There was a chance my cancer was of a more lethal variety, but a biopsy ruled this out.) So I pondered his courage and approved his act, hoping that I would have the fortitude to do as he had, should the occasion ever arise, which no longer seemed remote or unfathomable.
I mentally filed away the news and got on with my chores in Rome. At about ten in the morning two days later, my duties were done, and the sky granted the city a brief respite from rain-laden winds, without threatening to bathe it excessively in the solar radiation I and all skin-cancer survivors have to be wary of. I decided to visit the Galleria Borghese, one of Rome's most acclaimed art galleries.
A brief metro ride left me at the Flaminio station. I walked off Piazzale Flaminio through stone arches into the exquisite park and gardens of Villa Borghese. Beneath the high-canopied umbrella palms surrounding Largo Marcello Mastroianni, I caught sight of Rome's Casa del Cinema. I asked a policewoman there where the museum was, but she couldn't tell me, and turned to focus her attention on the flashy blue and black cars pulling up, the last one of which turned out to be a hearse. Men with cameras on their shoulders rushed past me, along with journalists I recognized from various RAI newscasts I have watched for years. Six pall-bearers hauled a diminutive glistening oaken casket from the hearse's back doors, heaved it to their shoulders, and, to a burst of applause, marched into a side entrance.
"Il regista?" (The director?) I asked the cameraman next to me. He nodded. The doors shut, and I noticed a giant photograph of Mastroianni looking down from a picture window onto the gathering. Monicelli had favored Mastroianni with some of his first major roles. The renowned director, the bearded and jovial Paolo Virzì, emerged to praise Monicelli for the assembled cameramen and microphones, and disappeared back into the Casa.
So, I trod on. Two hours later, after visiting the Galleria, I was passing the Casa del Cinema on my way back to the metro. All around me stood gorgeous Italian women and handsome, fashionably disheveled Italian men—actors all, many with faces I found familiar, if I did not know their names. The doors of the Casa opened, and members of a security detail out front parted. I followed the crowd between them, inside and up the stairs, expecting to be stopped, but I wasn't. In the velvety dark of the movie theater on the second floor, I saw, beneath Monicelli's projected image on the screen, the coffin sprinkled modestly with flowers. He was giving the lens a coy look, from beneath a scarlet scarf, wrapped curiously around his head as a hijab might be. The camera ardente ("blazing room"), they call it in Italian, in reference to the torches or candles that once illuminated the casket of the departed with flickering gilt rays. The term still fits: a spotlight above lit the coffin alone, calling to mind a glowing phoenix set for a heavenward lift-off.
I wondered if I had the right to be there, and was entirely ready to excuse myself if asked to leave. But then a new security detail arrived—tall broad men in dark raincoats crossed the stage and positioned themselves at the aisles. Then entered an elderly, dignified, balding man in glasses, whom I recognized instantly as Giorgio Napolitano, the President of Italy. Surely they had been comrades in arms, of a sort: both were from the old Italian left; Monicelli, an outspoken critic of the rightist Prime Minister Silvio Berlusconi; and Napolitano, once a communist who transformed himself into a social-democrat, and has held office since 2006.
"President," a young man jumped up and shouted in a clarion tenor, "we don't like seeing Rome militarized, as it was yesterday! I'm launching an appeal to you for—". He was interrupted by an airy but insistent chorus of "sh sh sh!" and "Have respect!" He sat down. The already low lighting dimmed further, and excepts from an interview with the witty Monicelli flashed on the screen, evoking mild laughter. The final scene: the audience in the clip is applauding him, and he rises, and applauds them, and the picture freezes on his last valedictory gesture, cheerful and heartening.
The crowd, smiling, regarded Monicelli in amused silence. Napolitano, I learned later from the news, had delivered an impromptu eulogy of sorts, noting that the director had "departed with a final, powerful manifestation of his personality, an extreme outburst of will that we must respect." With the exception of one religiously-minded parliamentary deputy, it seems prominent Italians speaking in front of the cameras have understood and sanctioned his suicide. I hold it to be an example of personal fortitude I hope I will never have to emulate.