The Secrets of Great Christmas Pop Music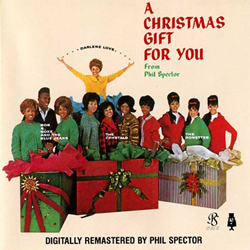 Abkco
By its nature pop music aspires to the inescapable. And by parasitically attaching itself to a ubiquitous holiday, Christmas-themed pop achieves this to immodest extremes. At least once and probably dozens of times this season you'll hear, for no good reason: Paul McCartney's "Wonderful Christmastime" (Paul famously claims to have written "Yesterday" in his sleep, which raises the question of when the hell he wrote this); Mariah Carey's "All I Want For Christmas Is You" (in what will be this article's only foray into the theological, perhaps there's a reason most humans don't have five-octave vocal ranges); and of course Bobby Helms' "Jingle Bell Rock," a song so stupid, so boring, so spiritually poisonous that to even describe it feels unethical.
A Christmas Gift for You from Phil Spector, released on November 22, 1963—the same day as the Kennedy assassination, in a perverse and thoroughly sacrilegious accident of history—leads the counterargument that it needn't always be this way. Recorded at the zenith of Spector's "Wall of Sound" period, Christmas Gift is the greatest holiday album ever made, an exhilarating and almost militant rebuttal that excess and kitsch aren't always guilty pleasures but sometimes truly profound ones. The Crystals' "Santa Claus Is Coming To Town" features a Hal Blaine drum part that would make John Bonham blush, exploding a novelty song into a rock and roll classic (both Michael Jackson and Bruce Springsteen would later appropriate LaLa Brooks' thrilling hesitation into the first syllable of "SAN-ta"). The Ronettes' "Sleigh Ride," with its infectiously vacuous "ring-a-ling-a-ling" background chorus, boasts no fewer than five key changes and a performance from the incomparable Ronnie Spector that seems to turn the phrase "sleigh ride together" into a sexual euphemism. The only "classic" Christmas carol on Christmas Gift is "Silent Night," nominally included here as a final track that's actually a spoken "thanks" from Spector "for giving me the opportunity to relate my feelings of Christmas through the music that I love." (The fact that Spector is Jewish makes this strangely perfect.)
The sheer exuberance of Spector's Christmas Gift is the gold standard for Christmas pop and has rarely been approached since. Stevie Wonder's 1967 album Someday At Christmas has some moments of real beauty and one moment of absolute transcendence in "What Christmas Means To Me," an irresistible Motown teenage dance romance barely dressed up as a holiday song. The Funk Brothers rhythm section grooves with edgy precision, and seventeen-year-old Stevie sings with all the buoyant and precocious energy of, well, a kid on Christmas.
That same year, perhaps emboldened by the modest success of Sgt. Pepper's Lonely Hearts Club Band, the Beatles released "Christmas Time (Is Here Again)" as a year-end exclusive to members of their fan club. As songwriting goes it's not exactly "A Day In The Life," but "Christmas Time" pinpoints that disingenuous line between pious and profane that's at the heart of both the Christmas industry and the pop industry and shapes it into its own objet d'art, and hearing the best band in history at the height of its powers gleefully bang its way through something this stupid is a gift in itself.
In 1968 Clarence Carter unleashed "Back Door Santa," a funky-as-hell bit of lascivious suggestion that doesn't have a lot to do with Christmas but is today best known by its prominent sample in Run-D.M.C.'s "Christmas In Hollis." "Christmas in Hollis" is probably still the most famous example of Christmas-themed hip-hop (an admittedly slight sub-genre), although Run-D.M.C. were passing their prime when they made it in 1987 and today it sounds cloying, the Queens of "Hard Times" and "It's Like That" bleached into a winter wonderland. De La Soul's "Millie Pulled a Pistol on Santa," on the other hand, from 1991's De La Soul Is Dead, uses the department-store Santa as a metaphor for falseness and betrayal in recounting a father-daughter relationship destroyed by incest, rape and revenge. It's David Sedaris meets David Lynch, neither the stuff of Hallmark cards nor holiday radio but a powerful and haunting piece of music nonetheless.
In fact, much of the best Christmas pop isn't festive at all, and instead subverts the clichés of the holiday and reveals their underside. Joni Mitchell's "River," a piece of music so beautiful it's almost embarrassing, opens with a piano reharmonization of "Jingle Bells" and a vague-but-pointed reference to "cutting down trees" before revealing itself to be a song about loss and regret, a reminder that the holidays can be as much about who's not there as who is. "I made my baby cry," sings Mitchell, and the phrase shivers with naked directness.
In 1984, noted Joni-phile Prince released "Another Lonely Christmas" as the B-side to "I Would Die 4 U." Surely one of the strangest and most transfixing pieces of Christmas pop ever written, "Another Lonely Christmas" tells the tale of a love affair between the singer and a young woman with a taste for banana daiquiris who dies of an unspecified illness on Christmas day, all against a musical backdrop of ravishing grandeur that evokes the Wall of Sound filtered through late-1970s David Bowie.
"Another Lonely Christmas" can't be streamed online, but by all means seek it out on iTunes or elsewhere, particularly the seven-minute "extended" version that boasts a sexually explicit second verse (of course it does).
The maximalism of "Another Lonely Christmas" bears the legacy of A Christmas Gift for You from Phil Spector and brings us finally to that album's penultimate track and the greatest Christmas pop song of all, Darlene Love's "Christmas (Baby Please Come Home)." If the majority of Christmas Gift is joyous camp, "Christmas" stands in the ranks of "Be My Baby," "Then He Kissed Me" and "You've Lost That Lovin' Feelin'," Spector productions that rewrote the possibilities of pop and begat works with titles like Pet Sounds, Sgt. Pepper, and My Beautiful Dark Twisted Fantasy (couldn't resist).
"Christmas" unfolds as a one-sided dialogue between the singer and an unspecified missing person, "Baby It's Cold Outside" recast first as melodrama, then desperate tragedy. Love was easily the most gifted of Spector's vaunted collection of female vocalists, a singer of dimension and drama whose full-throated melisma anticipated Aretha. "If there was a way / I'd hold back this tear / But it's Christmas Day," cries Love in the song's final verse, and the potential meanings in that "but" are so numerous, so achingly complicated that the song becomes the apotheosis of its genre at the very moment that it transcends it. It's a perfect record, and if you catch it on the radio for all of its two minutes and 52 glorious seconds you'll realize it's one of the rare parts of this season that you wish lasted longer, and happened more than once a year.