The Secret History of Captain Hook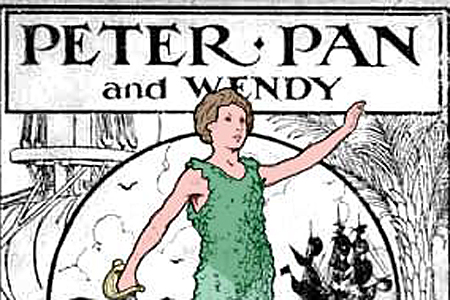 Wikimedia Commons
The holidays typically lead one home. Then, quite often, to the memories of one's childhood. And then onto the stories thereof.
This year, I found myself digging into the notes and bits that surround my favorite Christmas story, Peter Pan, which was staged in London each December early in the 20th century. Amid the digital wandering, I made an unexpected discovery: Eton—the world's most esteemed high school—is not only the alma mater of Prince William and Prince Harry; of Prime Minister David Cameron and 18 of his predecessors[1]; but also of Captain James Hook, commander of the Jolly Roger.
A pirate whom J.M. Barrie descried as "cadaverous and blackavised, his hair dressed in long curls which look like black candles about to melt." A man whose real name, if revealed, would "set the country in a blaze."
Hook's Eton, with its tailcoat dress code and five hundred years of blue-blood lineage, is an intriguing place. The name, for many Brits, is synonymous with privilege. And its traditions and arcane wall game, an amalgamation of rugby and soccer played against a brick wall and found nowhere else in the world, make it is as close to Hogwarts as mortals and Muggles will likely find.
Yes, James Hook, or Jas., as he is now known to have referred to himself, was an old Etonian, and a Pop[2] at that. From Eton we can make sense of Hook's reverence for good form; his "distinguished slouch;"  and, Barrie wrote, the fact that "[h]e was never more sinister than when he was at his most polite, which is probably the truest test of breeding."
Indeed, Hook's dying words in the play are "Floreat Etona": "May Eton flourish," the school's crested motto.
In 1927, more than two decades after the story was put to page, Barrie was invited to Eton to give a lecture. The prompt, as given by the provost a month prior, was to refute the statement: "James Hook, the pirate captain, was a great Etonian, but not a good one."
The lecture is here; and it is magnificent.
Barrie takes the tone of an investigative reporter or prosecutor-judge, dutifully presenting the facts he has found. "We should not even know that he had been an Etonian but for the statement 'Eton and Balliol' in a work that is probably unreliable," he told his young audience, referring to his own writing. Balliol being a college of Oxford, and the one that Hook purportedly attended.
Barrie's inquiry unearths books Hook withdrew from the library while at Oxford, "all of them, oddly enough, poetry, and mostly of the lake school;" and a curious medical record indicating that Hook, when hurt on the football pitch, had 'bled yellow. And that "after the fatal affair" with Peter Pan, "a search made in the cabin of his floating hulks brought to light that throughout the years of his piracy he had been a faithful subscriber the Eton Chronicle. Hundreds of copies of it, much thumb-marked, were found littering his bunk."
But the magic of the speech comes after Barrie has built his credentials as an investigator, as he describes the fateful return to Eton by a man who loved his school dearly. A man who knew his own legacy was more damning to the school than perhaps anything else in its past.
Barrie's chief source, we learn, was an old Etonian, a man who remained tethered to Windsor—as some alums tend to do—unable or unwilling to venture out. One night, wandering the campus after lights out, G.F.T.Jasparin, the informant, came upon Hook, dressed in the coattails and silk hat of an Etonian, and sitting atop the school's wall.
"[N]ever, I say, could I have conceived a Colossus so shrunken," Jasparin recounted to Barrie. "It was mournfully obvious that he was gazing with peeled eyes through the darkness of his present to the innocence of his past, from the monster he had become on the Spanish Main, to the person he had been at Eton." 

Hook, there atop the wall, where only members of the Eton Society might sit--though Hook was such a member, a Pop--was confronted by a bobby in the night.
"Are you a Pop, Sir?" the policeman asked huskily, for he knew that every stone in the wall was listening. The Solitary not only lowered his hook, but, shocking to relate, hid it behind his back. After an agonizing struggle, "No," he said. Once a Pop always a Pop, but for the honour of Eton Society, he denied his proud connection with it.

The solitary had merely to slew around his right arm to end the fellow, but for the honour of the school, he humbly got off the wall-his wall.


Hook was seen later that night by others on campus. And it is clear that he had returned to tear his records from the Eton Society's logs. And that, not long thereafter, the captain died. A will, returned to his aunt Emily by a landshark of Rio, left all his belongings to Eton; the school's governor refused the marauder's pillagings.
Barrie weaves together the sights and traditions of Eton, and as magnificent as his words are on the page, we are left to imagine what Eton's first hundred  felt that July evening, as this knighted playwright brought his character to life in a way never witnessed before or again; there is something altogether terrific about a writer furthering his creation with the spoken word.
Closer to present day, there was J.K. Rowling's frustrated announcement that Albus Dumbledoor was gay. And J.R.R. Tolkien made a habit of giving further depth to characters in letters to his fans. Crafting elaborate back story is not altogether extraordinary, but rendering it from the podium, before live audience, is something wonderful.
Perhaps, for Barrie and the Llewelyn Davies children who inspired his story[3], the characters never belonged on the page; nor to the confines of fiction.
In 1960, Peter Davies, by then a celebrated publisher, threw himself in front of a train in London's Sloane Square station. He had com refer to the play as "that terrible masterpiece." Michael Davies, quietly Barrie's favorite of the boys by several accounts, drowned mysteriously while in his first year at Oxford. George was killed in 1915, in World War I. D.H. Lawrence, the English novelist and Barrie's contemporary, wrote in a letter following Micheal's death that "J.M. Barrie has a fatal touch for those he loves."
Much has been made of Barrie's relationship with the boys. He became their guardian once both parents died, actually altering Sylvia Llewelyn Davies' will to such effect. He sent all but one of the boys to Eton, the nobility of romanticism of the place capturing him like so many others.
The most recent popular work to tackle the relationship was the film Finding Neverland. The  homely Scotsman was certainly no Johnny Depp, and the film neglects that Barrie found his way into the family's life well before Arthur, the father, had died in 1907. The relationship between the two men was certainly complex; Arthur, a struggling lawyer whose cancer left half of his face mangled; Barrie, a wealthy and renowned playwright whose fortune was made on the imaginations of Arthur's sons.  
 
For many, the final verdict on Barrie's relationship with the boys comes from Nico, the youngest of the Davies boys and the one most fully raised by Uncle Jim. I "never heard one word or saw one glimmer of anything approaching homosexuality or paedophilia," he wrote, and "had he had either of these leanings in however slight a symptom I would have been aware. He was an innocent—which is why he could write Peter Pan."
 
When Peter Pan, the Boy Who Wouldn't Grow Up was first staged at the Duke of York's theater in December of 1904, no one knew what to expect; the entire process had been shroud. London's theater goers, Andrew Birkin notes in his biography of Barrie, "had been subjected to a bombardment of 'problem plays,' concerned with social criticism and steeped in gloom,' over the preceding years."
"When a curtain rose to reveal a dog preparing a small boy for his bath, it was greeted with stunned silence—followed by a gasp of astonished delight."
"For the rest of the of the evening," Birkin writes, "the elite of London society, with few children among them" that night, "succumbed as one to Barrie's spell."
Peter Davies was smothered beneath the weight of Barrie's tale, but it has given life to countless children around the world. And I thank the Llewelyn Davies boys for the story; and Barrie, for refusing to confine their story to page.
Happy holidays. 
 

[1]  The count of Old Etonian prime ministers is either 18 or 19, depending if one includes Earl Waldergrave, who failed to form a government at the King's request in 1757.
[2] Pop is the nickname of the Eton Society, the most exclusive club in the school; although the tradition has faded, they were previously the only boys allowed to sit atop the school wall. George Davies, white at Eton, was a member, as was Prince William.
[3] Barrie, in his introduction to the Peter and Wendy, dedicates the work to "The Five." He writes, "I made Peter by rubbing the five of you violently together, as savages with two sticks produce a flame. That is all he is, the spark I got form you."