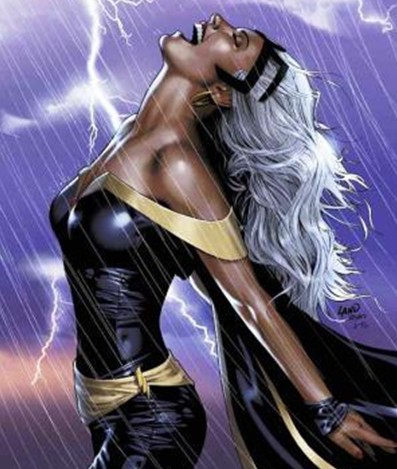 We talked some yesterday about the epic canvas of Marvel during the Jim Shooter years. I think one of the major disappointing aspects of Marvel on the big screen is the serial inability to convey that epic scope on to the big screen. I can't tell if this is because of the shortcoming of budgets or story-telling. Think about the rather tacked-on depiction of the Dark Phoenix saga, or Galactus at the end of the last Fantastic Four.
I think about Storm in the
X
movies whose signature was a melodramatic head-cock, and compare that with Ororo—the goddess—soaring among the clouds. Leaving aside the fact that the casting of Halle Berry is as much a hate-crime as a cinematic crime, it just doesn't hold up. You'd think movies—with all the medium has at its disposal—would be able to improve upon the comic books. But again more isn't better. Anyway, I got to thinking about this watching the
Thor
trailer, which
just looks woeful
. Props to casting Idris Elba as a Norseman, but these cats look some dudes from Darkon playing on blue screen.
This isn't an exact comparison, but the one movie I've seen pull this off—impeccably—is the
Lord of the Rings
series. The beautiful
Beacons of Minas Tirith
scene really gives that sense of how small people make big things happen.