The Most Underrated Movies of 2010
From "The Green Zone" to "The Oath," a look at the films you should have seen this year but probably didn't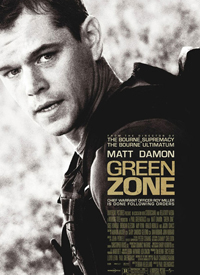 Universal Pictures
As 2010 comes to a close, the deluge of Top 10 lists is finally slowing to a trickle. Of course, there are Top 10's for every conceivable thing—for instance, the "silliest calls" received by police dispatchers in Chatham-Kent, Ontario—but year-end list-making seems to be a particularly hallowed tradition for film critics. The website Movie City News even tallies up a master list by assigning point values to the individual rankings made by notable critics; indieWIRE and The Village Voice conduct massive polls.
A whole lot of worthy films get recognized both as idiosyncratic passion picks and consensus favorites in this annual list assault, but just as many inevitably get lost in the shuffle. And many of those have long since made their way to home video. Never a better time, then, to consider a few rentable films that haven't received their due in the past month's best-of-the-best clamor.
In addition to being a critical nonstarter and a full-on commercial disaster upon its release, Paul Greengrass's Green Zone has been cited in nary a Top 10—though the critic J. Hoberman did give it an honorable mention. I've stumped for the kinetic thriller on this site before, and, given the state of its reputation, I think it's worth doing again. The film's combination of belated war-in-Iraq outrage and perhaps by now over-familiar shaky-cam makes it appear at first glance slow-witted than it really is. Green Zone is not a mere collection of fashionable political and aesthetic poses, but rather an immersive investigation into the vagaries of fact-finding, starring a wonderfully no-nonsense Matt Damon.
Regrettably, it often seemed during the year that was (barely is?) that the only documentaries receiving considerable media attention were those directed by the insanely prolific Alex Gibney (who's behind Casino Jack and the United States of Money, Client 9: The Rise and Fall of Eliot Spitzer, etc.—and is also an Atlantic correspondent and the brother of Atlantic features editor James Gibney) or in his break-it-down front-page style (Inside Job). Michael Palmieri and Donal Mosher's October Country is a heavily stylized portrait of a family—Mosher's own family—and so about as far from strictly reportorial as it gets. Hard luck is old hat for the Mohawk Valley, New York, residents depicted in this affecting documentary. Palmieri and Mosher follow them for one year, from one Halloween party to the next. This would make a terrific, if not terrifically cheerful, ring-in-2011 double feature with Mike Leigh's Another Year, currently in theaters.
But the most unjustly overlooked documentary of the year is Laura Poitras's The Oath, which takes as its subject Osama bin Laden's former personal driver, Abu Jandal, a walking contradiction par excellence. The Yemeni cab driver's ability to talk out of both sides of his mouth has over the last decade made him both a friend to the FBI and a mentor to budding jihadis. And he happens to be the brother-in-law of Salim Hamdan, of the landmark Supreme Court case Hamdan v. Rumsfeld, a legal-wrangling thread that Poitras also follows, capturing along the way the sheer strangeness of Guantanamo.
The Oath has its admirers—it received, for example, seven citations in the Voice poll—but that it didn't make a bigger splash continues to perplex me. Sure, 2010 brought documentaries (Sweetgrass, which records the backbreaking work of Montana sheepherders) and quasi-documentaries (the totally beguiling, totally unclassifiable Portuguese film Our Beloved Month of August) as stunning, but neither seemed as poised to enter the conversation as The Oath: Here is a superior film about the prosecution of the so-called War on Terror that never lapses into polemics. Its aesthetic achievement is nearly commensurate with its hot-button relevance. The access gained by Poitras, to both people and places, is remarkable. Thankfully, The Oath is available on home video, as well as to stream "instantly" for Netflix subscribers, so hopefully 2011 brings it more supporters.