'The A-Team': The Golden Globes' Most Egregious Oversight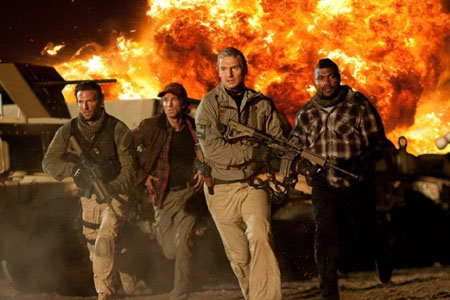 20th Century Fox
The Hollywood Foreign Press Association accidentally threw down a gauntlet this week when it announced the nominations for the 68th annual Golden Globes. In nominating Alice and Wonderland, Red, and The Tourist—as well as a token sort-of musical, Burlesque, and an actual comedy, The Kids Are All Right—for Best Motion Picture, Comedy or Musical, the body was probably doing everything in its power to ensure that stars like Johnny Depp, himself nominated for his performances in both Alice and The Tourist, were in attendance at the big show, airing January 16 on NBC.
But the amusing unintended consequence of these left-field nominations was that Globe voters seemed bent on radically redefining what constitutes a screen comedy: an action film, perhaps, one with a certain insouciant edge and without any overly intrusive themes; or expensive studio product that's purely escapist in the sense that it allows viewers to slip out of full consciousness and into a feature-length stupor. Leave the LOL repartee (The Social Network, The King's Speech), shock gags (Black Swan), and off-the-wall non sequiturs (The Fighter: "What kind of dog is that? Is that a cocker spaniel?") to the dramatic category.
There has been much discussion this week about the Globes' snubbing of the Coen brothers' True Grit, as well as Mike Leigh's Another Year, neither of which garnered a single nomination. But considering the HFPA's bold redistricting of their comedy category, the feature-film adaptation of the 1980s television series The A-Team—available this week everywhere but Netflix (it debuts there on January 11)—also suddenly appears to be a glaring oversight.
For all its high-octane shenanigans, The A-Team apparently had a whole lot going for it in the Comedy or Musical category: Like Red, it's an action thriller that contains jokes. Like The Tourist, it underperformed at the box office. Like Alice in Wonderland, critics generally didn't care for it. And, like all of the above, it stars a number of very famous people whom you would likely welcome to your cocktail party were they to gate-crash it (Liam Neeson, Bradley Cooper, Jessica Biel)—though admittedly none of them are awards-show reaction-shot royalty. While The A-Team flirts with knowingly lame ethnic stereotypes and sometimes seems to pardon its arch-villains' souped-up chauvinism (because it contributes to the overall brashness), the PG-13 film isn't hugely objectionable. For good measure, it's also co-written and directed by a one-time critics' favorite, Joe Carnahan, who made the solid Detroit-set dirty-cop drama Narc (2002) before reinventing himself as a purveyor of proudly lowbrow ensemble mayhem with Smokin' Aces (2007).
And comeback stories always help awards eligibility, right? The A-Team is a good deal more tolerable than Smokin' Aces—though it is equally as convoluted. The film follows the exploits of Hannibal Smith (Neeson), Faceman Peck (Cooper), B.A. Baracus (Quinton "Rampage" Jackson), and H.M. Murdock (Sharlto Copley), an elite unit of durable cut-ups fighting the good fight, but somehow always running afoul of the law. In the movie everybody's scrambling to recover U.S. Treasury plates that have made their way into Iraqi hands. There are a number of routine reversals concerning the allegiances of Captain Charissa Sosa (Jessica Biel), Peck's former flame; the alpha-male security contractor Pike (Brian Bloom); and CIA agent Lynch (Patrick Wilson).
Better not to worry too much about plot mechanics, though. After all, the film's credo is "Overkill is underrated," planning-phase words spoken by Hannibal that also appear to sanction the entire film's deployment of noise and confusion for their own sake. This bonehead maximalism results in two eye-popping effects sequences—one featuring a parachuting tank, the other a large-scale port diversion involving projectile shipping containers—and a whole lot of filler incident that's mind-numbing in a not altogether unpleasant way. In other words, The A-Team is high comedy.