The 10 Most Annoying and Ubiquitous Holiday Songs
A list of the music we're least excited about hearing this month—and a meditation on what makes it so irritating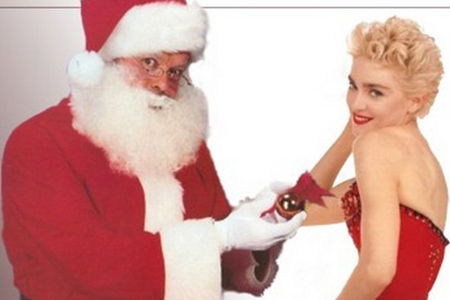 Warner Bros.
It might sound curmudgeonly to say you hate certain holiday songs, but please understand that our disdain grows from love: We love many traditional holiday standards (think "White Christmas" by Bing Crosby or, ahem, "The Little Drummer Boy" by Bob Seger), so we're dismayed that they're joined in the rotation by Paul McCartney's "Wonderful Christmastime" or "Santa Baby" by Madonna—grating familiars that we'll be hearing every year between Thanksgiving and Christmas until we shuffle off this mortal coil.
Taste in music is of course subjective, so we don't begrudge your possible antipathy towards the aforementioned Seger song (a certain wife despises it) or John Lennon's "Happy Xmas (War is Over)" or "Feed the World (Do They Know It's Christmas?)." But when it comes to omnipresent holiday songs, those don't approach the 10 Most Annoying and Ubiquitous. Mind you, there are worse holiday songs in existence than these we're about to discuss, but you can probably navigate the season (if not your life) without hearing the likes of John Denver's "Please Daddy (Don't Get Drunk this Christmas)." But can you make the same claim about Dan Fogelberg's "Same Old Lang Syne"? If so, you're a unicorn who dances between the rain drops.
Unless you remain home during the month of December and do all your holiday shopping online (which is antisocial and rather depressing), you have to give yourself up to the minefield of mood-altering song possibilities emanating from your car radio (which you can somewhat control) or from mall sound systems and Starbucks holiday CDs (which you can't). No matter what you do, you probably will not be able to avoid those songs that irk you the most—the ones with half-baked lyrics, bad jokes and Paul McCartney's synthesizer. Just know that you're not alone in your hate.
10. "Same Old Lang Syne" by Dan Fogelberg (1981)
Let's be honest, when we're driving alone we all sing along to certain songs we'd never acknowledge knowing while in the presence of others. Maybe "Same Old Lang Syne" by Dan Fogelberg is one of those songs for you; and maybe it'd be for us, too, if not for a few confounding lyrics. Dan sings about running into an old lover in the grocery store on Christmas Eve. Later they will get a six-pack of beer and drink it in her car. They'll drink a toast to innocence, they'll drink a toast to now. But first they have to make it out of the grocery store. As Dan sings, "We took her groceries to the checkout stand/The food was totaled up and bagged." Never has such an act of minutiae been the beneficiary of such songwriting largesse. The food was totaled up and bagged? We're not sure why that had to be put to music, but thankfully the next line doesn't discuss whether they chose paper over plastic.
9. "Where Are You, Christmas?" by Faith Hill (2000)
Faith Hill is a beautiful singer, and not the type of woman who'll stand by idly when some stranger is getting overly familiar with her man. She earned many people's respect when she chastised a female fan, mid-concert, for groping her husband, Tim McGraw. She sounded reasonable and in the right. Unfortunately when she sings, "Where are you Christmas?/Why Can't I Find You?" she sounds like a crazy person asking after an imaginary friend.
8. "Grandma Got Run Over by a Reindeer" by Elmo and Patsy (1979)
This song is hilarious when you're 10 years old, when the ridiculous, violent death of a grandparent can elicit as many laughs as accidental flatulence. Later, however, you pay closer attention to the lyrics and realize that grandma got run over because she stumbled into the road after mixing eggnog with her meds. Who needs cautionary tales with their Christmas carols? Not us.
7. "Santa Baby" by Madonna (1990), recorded first by Eartha Kitt in 1953
The hyper-sexed Madonna is a caricature of herself here, sounding like a greasy spoon waitress shaking her tail feather for tips. Ditzing it up to get what you want is acceptable to a point (according to the Mad Men ethos). But even Betty Boop thinks this rendition is too cartoonish.
6. "The Chipmunk Song (Christmas Don't Be Late)" by The Chipmunks/David Seville (1958)
This song, along with "Grandma Got Run over By a Reindeer" and "All I Want for Christmas is My Two Front Teeth," should be confined to school pageants—and only school pageants in which real, live chipmunks demonstrate the ability to carry a tune. Alvin and the boys sing, "Want a plane that loops the loop/Me, I want a hula hoop/We can hardly stand the wait/Please Christmas, don't be late." Yes, Christmas, don't be late. Otherwise the Chipmunks might send Faith Hill out to find you.
5. "The Hanukkah Song" by Adam Sandler (1996)
Respect is due when a song comes along that is so funny, irreverent and outside the norm that it becomes a holiday staple. That said, the "Chanukah Song" contains cultural punch lines—O.J. Simpson, in particular—that seem more dated with each passing year. Few film comedies hold up to countless viewings, and Sandler's song isn't exactly the musical equivalent of Monty Python and the Holy Grail.
4. "I Saw Mommy Kissing Santa Claus"—recorded by several artists, including John Mellencamp (1987)
Let's concede that the Santa Claus in this song is probably supposed to be daddy dressed up as old St. Nick, and that mommy is not in fact stepping out on daddy with a fat jolly elf. Adults might deduce that, but kids—especially kids who still believe in Santa Claus—certainly do not. So at best this song is making light of kids' innocence and naiveté and cramming their heads full of confusing sexual images. But yeah, there's nothing cuter than a choir of school kids singing about possible adultery at the Christmas pageant, now is there?
3. "Last Christmas" by Wham! (1984)
Far be it from us to denigrate cheesy holiday songs. After all, there's something inherently cheesy about nearly all of them. But this song by Wham! (a band that unabashedly had an exclamation point in its name) is one cheesy depressing sigh.
2. "The 12 Pains of Christmas" by Bob Rivers (1990)
"The 12 Days of Christmas," the original, has its annoying aspects, including trite repetition and nonsensical lyrics. But it's more than 200 hundred years old, and we respect anything with that kind of longevity. Such respect should not be extended to "The 12 Pains of Christmas," a song parody written by Bob Rivers. Like you, we normally adore song parodies, as they're the height of creativity and a forum for rapier-like wit. Actually that's not true; they're the complete opposite, as evidenced by Rivers' opus, which includes these lyrics: "The seventh thing at Christmas that's such a pain to me: The Salvation Army/Facing my in-laws/Five months of bills!/Sending Christmas cards/Oh, geez!/I'm tryin' to rig up these lights!/And finding a Christmas tree."
1. "Wonderful Christmastime" by Paul McCartney (1979)
Paul McCartney is one of the greatest songwriters of all time, but someone should have hidden the synthesizer when he started working on this concoction. From the abstract, lazy lyrics—"The mood is right/the spirit's up" (which might have a place in a Viagra ad campaign)—to the cloying refrain of "Simply having a wonderful Christmastime," this synthesizer-infected song is worse than anything Ringo Starr ever did. And that's accounting for the film Caveman.