'Modern Family': A Mall, a Mommy Forum, and a Middle School Dance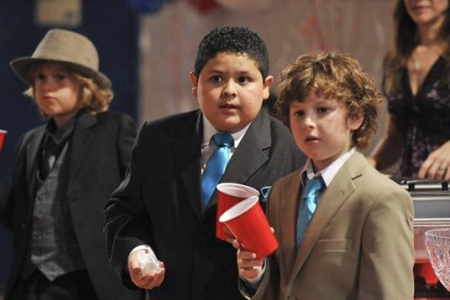 ABC
This week's episode takes us through some monumental turning points for our favorite TV family: Jay and Phil try to teach the young boys what it means to be a man on the night of their school dance, Claire realizes that maybe being Gloria is hard, too, and Mitch and Cam realize that their daughter may not be the perfect angel they thought her to be.
An emoticon doesn't make it okay. Cam and Mitchell look for advice on a "mommy forum" after they realize that Lily has been biting other kids on the playground. One woman posts about putting a pinch of pepper in her child's mouth: "She cried and cried, but she never bit again. Smiley face," Mitch reads. "Oh, well, a smiley face make s it okay. "'I waterboarded our toddler. LOL!'" exclaims Cam.
Don't hate her 'cause she's beautiful. Claire goes at Gloria again this episode, this time over organizing the school dance. Previously always her "one thing" (wasn't Halloween her "one thing"?), Claire now finds herself having to plan the dance and share the spotlight and respect of the other moms with Gloria, who has volunteered to be a co-chair. But the other moms' positive response to Gloria's table arrangements and the affection of the school janitor push Claire over the edge, leading to a heart-to-heart in the school bathroom and a reconciliation speech fit for 7th grade. It's hard being pretty, y'all.
Even Phil has a breaking point. Jay's back to questioning Phil's masculinity after he refuses to pick a fight with a driver who stole his parking spot, saying it's a bad example for the boys. Later, Phil lets another man cut ahead in line at a department store checkout line, which sets Jay off; he blames his son-in-law for their long wait, driving Phil to go search for socks in an effort to cool off. However, when's he's unexpectedly sprayed by a cologne salesman (Mitch and Cam's friend, Longinus, no less), we see our beloved, lovable and always-calm Phil finally lose his cool.