Mariah Carey's Christmas Special: 5 Highlights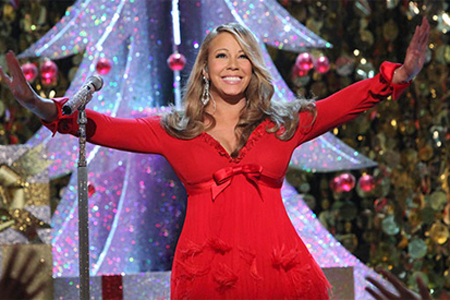 ABC
The holiday spirit was in full swing last night as Mariah Carey debuted her Christmas special on ABC, "Mariah Carey: Merry Christmas to You." Featuring both old favorites from her now classic 1994 holiday album, Merry Christmas, and her new album, Merry Christmas II You, the special also boasted a special duet between the singer and her mother. Taped at the Orpheum Theater in Los Angeles in November, the show was more than just an entertaining holiday romp; it was an affirmation of five major things:
1.) The diva belt is back
That famous five-octave range? What seemed like a distant memory surfaced yesterday as if not a day had passed since she'd last busted out the ol' whistle register. We got glimpses of her trademark vocal runs over the years, but they were hard-earned and rare—bits of her old voice shining through on "Through the Rain" and "We Belong Together." Just as you could feel the momentum building, preparing yourself for her to burst into her strong, full-bodied belt, she'd slip back into the husky, sexy, hushed coos and whispered singing that had become her M.O. post-Tommy Mottola (or post-Butterfly, if you prefer). So rare were these bits of Mariah Carey: The Voice, you began to wonder whether she'd lost it and didn't have the heart to break it to us.
But last night, Carey—looking the happiest that she possibly ever has—belted her huge heart out. Her voice was fuller and stronger than ever, giving fans the unbridled voice she'd been keeping away—voluntarily or not, we're not quite sure—for the last ten years.
2.) We meet the woman who gave life to Mariah Carey
Mother Patricia Carey, an opera singer, joined her daughter onstage for their duet of "O Come All Ye Faithful/Hallelujah Chorus." Anyone curious about the woman who helped create and give Mariah Carey to the world might have been half-expecting an over-the-top, flamboyant, glamorous caricature of a woman, but Patricia Carey is in fact just a really classy lady with a huge voice. While sometimes Mariah is criticized for valuing vocal acrobatics and the physicality of singing rather than emotion, it's easy to see where her controlled and precise technical prowess comes from after seeing her powerhouse showdown with her mother. That last note was everything.
3.) Her new Christmas album is actually good. Really.
On "O Holy Night," one of the diva's personal favorites, she brought the crowd to its feet cheering. THIS is Mariah; the same Mariah the public marveled at in the early 90s—the curly-haired beauty who took our breath away with "Emotions." Now, almost 20 (!) years later, we see the once famously-controlled young talent singing onstage, married and with child at 40, performing with the veteran ease that probably comes from knowing that no other solo artist has produced more No.1 singles than you. Carey also performed some of her new original holiday songs, including the silky smooth "When Christmas Comes," a fun and simple R&B joint fit for a holiday party soundtrack. Other highlights included "A Charlie Brown Christmas" and the (expectedly) joyful "Joy to the World," as well as American Idol judge Randy Jackson joining the singer onstage for "Here Comes Santa Claus/Housetop Celebration."
While her live rendition of Merry Christmas II You far surpasses its studio incarnation, the album is a thankfully safe, but wholly enjoyable and fun collection of new material and old favorites.
4.) She does crazy right
GLITTER! No MC holiday special would be complete without a shining, glimmering set; her hair lightly blowing in the fabricated wind!
During "Joy to the World," Mariah was in top diva form: pinky up as she clutched her crystal-encrusted microphone, walking around stage in her black glimmering trademark baby-doll dress, head-tilted as she belted. She produced the mixture of her classic dainty , innocent angel and the old-school strength and pain we used to see. Mariah's always had a taste for excess, but not in the same way other celebrities do. Her crazy manifests itself in the true sense of what one would imagine a prima donna to be: crazy tour riders, lying on a couch on the Home Shopping Network, glitter everywhere, complaining about sporting a moustache in her (critically acclaimed) portrayal of a social worker in Precious. She likes champagne, and she's done some crazy things like make Glitter and push out an ice cream cart in her hot pants on TRL. But she's not known for drug abuse or promiscuity or any of the truly ugly, sad byproducts of being a successful star.
5.) She reminds us of what a diva is, and why she's the last one standing
What's a diva? Lady Gaga is not a diva. Rihanna is not a diva. A diva is a larger-than-life personality, yes; a woman with charisma beyond measure, but more than anything, she's a voice, and above all, THE voice. She doesn't need fancy stage setups, props, pyrotechnics, elaborate costumes, or statement music videos. She doesn't need to be racy or controversial or reference obscure art scenes and design influences. For the true diva, it's just her and the microphone, standing on stage, singing her heart out and in turn making yours jump right out of your chest. Mariah is not by any means the only diva, but she's definitely the only still-relevant, functional diva. Dear Whitney's been in and out of rehab and reality television, while Cher and Celine have (for the most part) been hiding out in Vegas. Meanwhile, the young crop of power voices are busy running around with their heads chopped off trying to rule the world. By the way, Lady Gaga may have created a strong army of loyal "Little Monsters," but Mariah Carey had given her fans a pet name way before it was cool, affectionately referring to her following as her "lambs."
Christina Aguilera is probably the closest artist from the post-Carey generation to resemble a diva; she certainly has the voice, and she could possibly position herself into the role in time, but for now she's playing with the bells and whistles until she realizes that, really, all she needs to do is this.
For now, though, Mariah Carey sits happily atop the Diva throne, reminding everyone that not many people can captivate and command an audience without moving an inch quite like her and that sometimes less is more. Except when it comes to glitter, bling and falsettos. In that case, more is always more.