K.D. Lang Sings 'Mr. Grinch' on 'Glee': The Good, the Bad, the Puzzling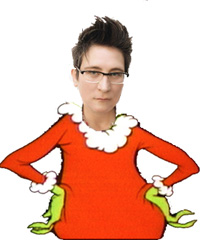 MGM Television/Warner Bros
Last night's episode of Glee featured an extended homage to How the Grinch Stole Christmas, complete with Sue Sylvester reenacting the film's famous "Youre a Mean One, Mr. Grinch" musical montage. But who was singing as Sue the Grinch slinked around destroying decorations and stealing presents? It was unclear during the episode—even we didn't realize it at first--but a quick search this morning found that it was none other than kd lang who performed the song.
Unbeknown to nearly everybody, the Grammy-winning icon was featured in a completely unheralded guest spot in a Glee song—what's good, bad, and puzzling about the silence surround her appearance?
The Good:
When is a kd lang appearance ever a bad thing? In fact, one now wonders if the '90s staple is on the cusp of a (welcome) career comeback, considering this Glee voice cameo follows a wrenching rendition of Leonard Cohen's "Hallelujah" that stole the show at the 2010 Winter Olympics Opening Ceremony.
The Bad:
The producers of Glee had kd lang sing a song for their show, yet they create absolutely no hoopla about it? Even 30-second guest spots by Josh Groban have garnered months of press coverage in the past; surely an entire song performed by lang warranted at least some promotion. Her name was not even mentioned in the episode, making the decision to use her on the track a wasted opportunity. Think of the comic gold: Jane Lynch's Sue Sylvester is embodying the Grinch while kd lang sings along. The writers could have built up to that moment by referencing the singer through out the episode—perhaps by joking about her typically boyish appearance and oft-ridiculed haircut during one of Sue's frequent barbs about Will Schuster's hair?
The Puzzling:
Yes, yes, having kd lang sing "You're a Mean One, Mr. Grinch" was kind of wonderful. But why in the world was she singing it? In post-episode reflections, most viewers were debating whether it was Sue's voice on the recording. Or was it Coach Bieste? Maybe Brittany singing the song would make sense because of her Cindy Lou Who storyline. The point is, there were a myriad of in-house options of Glee characters who could have appropriately, plot-wise, performed the track. To say that kd lang singing the song is random is an understatement. It's downright puzzling.