'I'll Be Home for Hannukah': The State of the Jewish Holiday Song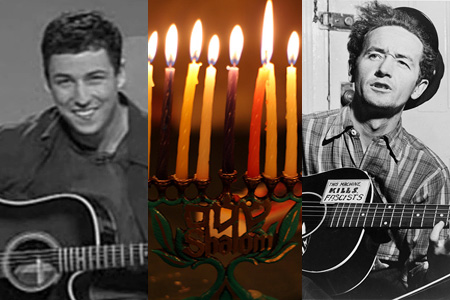 NBC/Flickr/Wikimedia Commons
The South Park boys said it best. It's hard to be a Jew at Christmas. For weeks, it seems like Christmas is all anybody can talk about. Every shopping mall has gaudy lights and a Santa. Every sitcom has a "very special" Christmas episode, every billboard is festooned with red bows and jingle bells. Every house has a big, pretty tree—except for yours, of course. Sometimes it feels like the whole month is one, long Christmas party that you have accidentally crashed, and the fact that it's called a "Holiday party" for the sake of inclusiveness only makes being there that much more awkward.
Sure, there's Hanukah (which starts tonight). The holiday coincides with Christmas, making it easy for American Jews to treat the festival as a sort of surrogate Yuletide—a way that Jewish people can share fully in the joy (and angst) of the Christmas season—except for the slight technicality of not believing in the Christian faith. But Hanukah feels like a substitute.
Every American Jew has had the experience of being wished a "Merry Christmas," and not quite knowing the polite response. Gently explain that you are Jewish and so don't celebrate the holiday—pretty Grinchy in itself and you will almost inevitably get a tentatively offered "Happy Hanukkah" in return. There's no way to avoid feeling like you are getting a consolation prize or some sort of lesser proxy. It's like showing up for a big turkey dinner and then being told that you have to eat Tofurkey.
Other than occurring around the winter solstice, though, Hannukah and Christmas don't have very much in common. One celebrates the birth of Christianity's savior, the Prince of Peace. The other commemorates a war—the Maccabean-led victory over the Hellenizing forces of Antiochus IV, and the subsequent reconsecration of the Second Temple. During the latter, the Talmud teaches, a single day's worth of sacred oil miraculously burned for eight—giving us a holiday that lasts eight days and an observance centered around lighting stuff on fire.
There is a tendency for Jews to joke about Hannakah. To make light of the festival, forgive the wordplay, is as intrinsic to the holiday as getting little pieces of gold foil stuck between your teeth. That's natural. Chanukah isn't a major event on the Jewish calendar, like Rosh Hashanah, Yom Kippur, or Passover, and it certainly isn't nearly as central to Judaism as Christmas is to Christianity. The close proximity of Hanukah to Christmas, though, makes comparisons unavoidable, and it seems like the overwhelming majority of Hannukah-based humor is derivative—based on comparisons to Christmas, most often self-deprecating, whether it be Jon Stewart on A Colbert Christmas, or the classic Jon Lovitz character "Hanukkah Harry" from Saturday Night Live. In fairness, and with apologies to the good folks of MLD, sleigh rides and wassailing are way more fun than spinning a little wooden top. And, frankly, a jar of oil burning a few days longer than expected doesn't really rank at the top of the miracle scale. Not compared to, say, a virgin birth.
This tendency to spoof extends to holiday music, where many of the songs supposedly about Hanukah are nothing but spoofs of well-known Christmas tunes. "'Twas the Night Before Hanukkah," for instance, is a rote, but bouncy, piano jazz remake of the famed kids' poem. "The Hannukah Rap," by L.L. Cool Jew is another Night Before Christmas remix—with a heavy debt to Run-DMC's still fresh-sounding Christmas in Hollis. "Ruben, the Hook-Nosed Reindeer" spoofs his better-known cousin using a Yiddish lexicon and a litany of only occasionally offensive stereotypes. It goes on and on.
It stops with The LeeVees, a New York City-based band formed by Adam Gardner of Guster and Dave Schneider of the Zambonis, expressly to create more original—and more listenable Hanukkah music. Their 2005 debut, Hanukkah Rocks, includes some very solid, quirky indie pop, like Gelt Melts and Goyim Friends—all free from borrowed melodies or motifs. The LeeVees even dare delve into the holiday's most provocative issues with "How Do You Spell Chunnukkahh?" Observant readers may have already noticed that the holiday's name has been spelled several different ways in this essay—a silent protest against this unstandardized spelling that will continue until someone, somewhere makes a decision once and for all on many K's, how many N's, and whether we are using the Ch.
Adam Sandler's accomplishments stand alone. "The Hannukah Song" began as a short guest segment on Weekend Update. A little acoustic ditty written for those who "feel like the only kid in town without a Christmas tree," the song was a gargantuan smash—an instant holiday radio staple, and a viral classic before anyone knew what "viral" meant, that spawned second and third version, plus a full-length animated feature.
Improbable as it may seem, Adam Sandler is one of the most important figures in American Jewish history. No other entertainer has done what he has—not Jerry Seinfeld, Larry David, or even Woody Allen—whose films forced us to reassess the definition of a leading man. Not even Groucho Marx—who first brought the rhythms and inflections of Yiddish into English, and almost single-handedly invented the American comic voice. No one but Sandler has so successfully combined being Jewish with being cool.
Not all Hanukah songs are silly, though. The three special Hebrew blessings for Chanukah have continually been set to different scores throughout the centuries. The traditional Maoz T'zur or "Rock of Ages," uses a very old Jewish liturgical poem or piyyut. In more contemporary times, Ocho Candelikas, written by the remarkable Flory Jagoda, is probably the best known Hanukah song to embrace the rich Sephardic/Latino tradition.
Not so well known is that Woody Guthrie, the great Dust Bowl balladeer, spent a lot of time in Brooklyn, married a Jewish woman, and became very close to his mother-in-law, a well-known Yiddish poet named Aliza Greenblatt. Woody even wrote songs for parties at the local Jewish community center—one of them being the lovely "Hanukkah Dance." That same folk tradition produced the more popular, but much more hamhanded "Light One Candle," by Peter, Paul & Mary.
A few Chanukah songs have been around long enough to count as classics. "Hanukkah, Oh Hanukkah" has been recorded by dozens of acts. So has "I Have a Little Dreidel". Not to be confused with the perplexing nugget, "Dredel" by Don McLean, and also known as "Dreidel, Dreidel, Dreidel " it's been covered by everyone from Barenaked Ladies, to the heavy metal act Gods of Fire, the jam ban moe., and the US Air Force Concert Band.
Erran Boaz Baron Cohen, composer and brother of Sacha Baron, reprises those songs and more on a remarkable 2008 release. Songs in the Key of Hanukkah, a multi-artist collaboration, blend straditional songs, in Hebrew, English, Yiddish and Ladino, with cutting-edge elements of Electronica, Rock, Reggae and Hip-Hop.
Beyond that, really, the pickings get slim. Especially compared to the wealth of wonderful Christmas music—songs like "I'll Be Home For Christmas," "Silver Bells," "The Christmas Song," and, of course, the immortal "White Christmas." That's no surprise, really. For most of the 20th century, American-Jewish songwriters were devoting their energies to projects besides writing Hanukkah songs. Namely, in writing the Great American Songbook, Including the chapters on Christmas—including every single one of the Yuletide classics mentioned above.