'How I Met Your Mother': The Baby Drama That Wasn't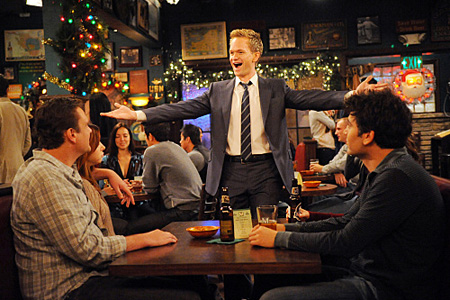 CBS
On this week's How I Met Your Mother, the group members reevaluate their own lives in light the report that Lily is pregnant. Introspection is inevitable in the immediate aftermath of hearing the good news of friends, according to narrator Ted. With the pressure of knowing that Lily and Marshall are maturing faster than the rest, Robin questions her own career path, debating whether or not to take a Vanna White-esque role on the Alex Trebek-hosted game show Million Dollar Heads or Tails, or an unglamorous research associate position for a respectable network news show. Barney's asks himself why he feels like "he is on the outside of awesome looking in," and tries to decide whether he should spend his enormous holiday bonus on a diamond-encrusted suit, or donate it to charity.
In discovering that Lily is not actually pregnant, Barney and Robin both choose the less mature option (the diamond suit and game show job, respectively). Even Lily and Marshall were secretly panicking over the prospect of raising a child and were somewhat relieved when they found out the truth. But as the group is standing outside a movie theater screening It's A Wonderful Life, and in an unexpected burst of frustration and care, Ted scolds his friends for being too scared and self-interested to take the serious job, to give to those in need, and to have a child. And it works.
We've seen the characters go through this sort of thing before. After all, HIMYM is a show about urban thirtysomethings—of course most of the plots are going to revolve around big "what am I doing with my life" questions. What makes "False Positive" different is the focus on the necessity of Best Man-like friends—the kind of friends who can tell you when you're being an unfocused idiot, who will remind you of your real goals and potential, and who will tell you to just get over your cold feet and marry the girl already. As the last episode of 2010, "False Positive" seems to set us up for a grand return to Ted's life when the show picks up in 2011. Although a sweet episode for the holidays, Ted was just too suspiciously selfless.
But the best part of the episode wasn't the moral—it was an Oprah parody.
From Jason Segel's emotional excitement to Neil Patrick Harris shouting about velour track suits, remote control helicopters, the Barney's Favorite Things segment was 80 seconds of joy.