Golden Globe Nominations 2011: The Good, the Bad, and the Puzzling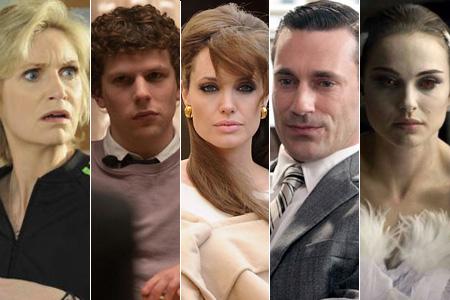 Fox, Fox Searchlight, Columbia, AMC
The 2011 Golden Globe Award nominations, which honor both film and television, were announced this morning. The British film The King's Speech won seven nominations, the most nods of both mediums, while The Fighter and The Social Network received six nominations each.Glee topped all other television series with five.
The Hollywood Foreign Press Association, the organization that votes for the awards, is known for their peculiar and outside-the-box nominations (due to separate comedy and drama categories, it's not unheard of to see, say, Beyonce Knowles nominated alongside Meryl Streep—as they were in 2007 for Dreamgirls and The Devil Wears Prada, respectively). The organization is also notoriously star-crazy, yielding A-list nods that otherwise are absent from the other awards shows throughout the season. So what's good, what's bad, and what's puzzling about this year's nominees?
The Good:
The supporting actor and actress film categories contain several surprises, yet welcome ones. While Jesse Eisenberg (The Social Network) and Natalie Portman (Black Swan) have been racking up Best Actor and Actress trophies so far on the awards circuit, their supporting counterparts are welcome additions to their races. As The Social Network's tragic foil, Andrew Garfield certainly belongs alongside Christian Bale (The Fighter), Geoffrey Rush (The King's Speech), and two more pleasant surprises: The Town's Jeremy Renner and Michael Douglas, for his brilliant return as Gordon Gekko in Wall Street 2. Mila Kunis's daringly uninhibited ballerina in Black Swan joins The Fighter's Amy Adams and Melissa Leo, The King's Speech's Helena Bonham-Carter, and—another surprise—Animal Kingdom's Jacki Weaver.
It's always surprising to see what comedic performances are recognized by the Globes, since they are typically overlooked everywhere else. Anne Hathaway and Jake Gyllenhaal are unlikely to be recognized elsewhere for Love and Other Drugs, but deserve their Globe nods for pulling off the tricky balance between the sweetness and schmaltz that you expect from romantic comedies. Similarly, Emma Stone's breakout role in summer's surprise teen comedy Easy A is the kind of winning performance you won't see honored anywhere else.
On the TV side, AMC dominates the nominations, and for good reason. Mad Men, Breaking Bad, and The Walking Dead scored series nods. Katey Sagal receives her first major awards nomination for her riveting performance as matriarch of a corrupt biker family in Sons of Anarchy, and it's been a long time coming. In the world of comedy, Glee and Modern Family are the big winners, and we wouldn't have it any other way.
The Bad:
Just because the full title of the category is Best Motion Picture-Comedy or Musical doesn't mean you have to nominate a song-and-dancer. The moldy cabaret cheese of Burlesque belongs nowhere near a category that counts the brilliant indie comedy The Kids Are All Right as a nominee. And just as the Globes' affinity for nominating celebrities can be a good thing (Douglas), it can also be patronizing. The classification of the Angelina Jolie/Johnny Depp thriller The Tourist as a comedy is suspect enough, but that the disappointing snoozefest received nominations for Best Comedy and for each of its actors is criminal—especially since it came at the expense of I Love You Phillip Morris' Jim Carrey, How Do You Know's Reese Witherspoon and Paul Rudd, and Made In Dagenham's Sally Hawkins. Even nods for Eat Pray Love and Julia Roberts would be less of a groan.
The Puzzling:
Hawaii Five-O is about two cops, McGarrett and Danno, partners in fighting crime. Scott Caan is undeniably the surprise of the fall TV season as Danno, as charming as he is intense, but why is his nomination in the supporting category? And why is at the expense of Breaking Bad's brilliant Aaron Paul? While it's great that the Globes' are honoring buzzy new TV series—The Big C is a deserving addition to the comedy line-up—does Piper Perabo from USA's silly-fun crime drama Covert Affairs really deserve a nod over True Blood's Anna Paquin, Friday Night Lights' Connie Britton, or Damages' Glenn Close?
No nods for True Grit or Winter's Bone on the film side is surprising, considering the two films have been staples of the critics' awards thus far.
There were plenty of other deserving nods to call out—Ryan Gosling and Michelle Williams for Blue Valentine, Temple Grandin and Claire Danes, Julia Stiles for Dexter. See the full list of nominees here.