'Glee' Does Christmas: Cheesy but Charming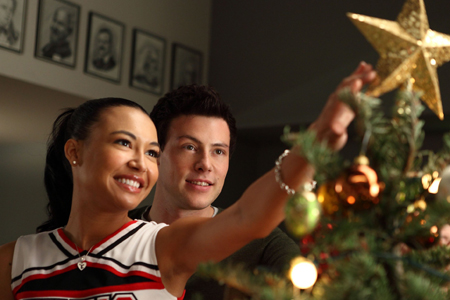 Fox
The holidays hit the halls of McKinley High on last night's "A Very Glee Christmas," finding Finn on a crusade to spread some seasonal cheer, Sue on a Grinch-like mission to rig the staff Secret Santa exchange, and Artie channeling Miracle on 34th Street when he discovers how truly childlike his girlfriend really is ("Yes, Brittany, there is a Santa Claus.").
To help make sense of the episode, we have a panel of musical theater and pop culture buffs—Meghan Brown, Patrick Burns, and Kevin Fallon—to provide their takes on how realistic the show feels, how well the romances develop, and of course, how good the musical numbers are.
Here's what they had to say:
Meghan Brown (co-founder of the Giraffe Hunt Theater in Los Angeles): Disclaimer: I have huge sappy feelings for Christmas TV in general, and this week's episode of Glee was no exception. There were carols! And Santa hats! And Jane Lynch was the Grinch and stole all the presents but in the end New Directions sang the Whoville song, and through the power of music CHRISTMAS WAS SAVED!
(OK, so maybe I'm getting a little carried away...)
Kurt's sweetly sexy duet with Blaine was near-perfect, moving their inevitable romance forward a few millimeters. Though the message behind "Baby It's Cold Outside" is a little fishy ("Heading home? Here, have some SPIKED PUNCH with your coercion!"), the vocals and choreography gave Chris Colfer and Darren Criss a real chance to shine.
I feel supreme ambivalence about Brittany's recent rise to prominence. Heather Morris is hilarious and incredibly talented, but I'm not sure how many more "look how dumb yet kind-hearted Brittany is" plotlines I can take. Last week it was a magic comb, this week it was Santa Claus. Next week it's the Easter bunny? More dancing, less believing in things that aren't real.
Kevin Fallon (writer and producer for The Atlantic's Culture channel): "A Very Glee Christmas" fits right in with the season's other holiday offerings. It made Christmas seem horribly lonely and depressing (thanks, Rachel, strolling through fake flurries in your sad Mary Tyler Moore hat). It captured the season's omnipresent romance ("'Baby It's Cold Outside' was romantic, right? Or was it just creepy?). In its effort to touch on every Christmas cliche, the episode even restaged one of the most famous holiday stories of all time, The Grinch. And just like all the Whos down in Whoville saved the day by singing out their indomitable Christmas spirit, those spunky New Directions kids caroled their way to a salvaged holiday.
That's not to say that borrowing from the season's most notable (and, really, cheesiest) Christmas movies was necessarily a bad thing. Opening with "The Most Wonderful Day of the Year" was a clever wink to those who recognized the song from Rudolph, sung in the film by the inhabitants of the Island of Misfit Toys (because the Gleeks are also misfits...get it?!). Even Artie's (practically shark-jumping) Christmas miracle at the end borrowed from a holiday classic—remember "Put One Foot in Front of the Other" from Santa Claus is Coming to Town?
In fact, the entire episode played like one of those Hallmark made-for-TV movies, except the actual characters sang the backround music for the sappy montages. The ending may have come tied in a perfect, Sue Sylvester-trimmed bow, and it may have been sickly oversweet and dripping with enough schmaltz to make your heart grow four—not just three—sizes. But that's exactly what you want at Christmastime—it's why we gorge on batches of calorie-stuffed sweets; it's why we stomach the constant barrage of Christmas music, no matter how annoying the songs may be. You come to expect it from the holidays, and you even enjoy it. Ditto with Glee.
Patrick Burns (writer, composer, and star of the original one-man-musical, From Foster Care to Fabulous): This week's episode is filled with Christmas wishes, dashed Christmas goals achieved in the 11th hour, and Christmas songs to warm your insides faster than a mug full of wassail.
A solid plot builds a strong foundation for the musical numbers this week. Brittany believes in Santa Claus and Sue is the Grinch...brilliant! The glee club wants to help homeless children and Artie works as hard as he can to maintain his girlfriend's beliefs. Holiday episodes tread a dangerous line between sweet and saccharine, but this episode splits the difference perfectly.
Coach Bieste's performance as the Santa Claus bearer of harsh reality was quite moving. It's nice to see her get to show her acting chops and refreshing to see her character's vulnerability.
"Baby It's Cold Outside" was adorable, but when are those two going to kiss already? They've been building up to it for the entire season. Seriously. They're wearing matching outfits and singing romantic winter duets. If that doesn't do the trick, I don't know what will.
Past Glee panels:
'Glee': Sectionals Bring Out the Best in Everyone
'Glee': Two Weddings and an Anti-Bullying Message
'Glee': Gwyneth Paltrow Brings Fun Back
'Glee' Takes On Katy Perry, Gay Bullying
Why Did 'Glee' Do 'The Rocky Horror Picture Show'?
'Glee': Hitting a High Note, or a Sophomore Slump?
'Glee' Gets Religion, With Mixed Results
'Glee': Britney Spears Meets Britney S. Pierce