'Epic Mickey': Can a Video Game Revive the Disney Icon?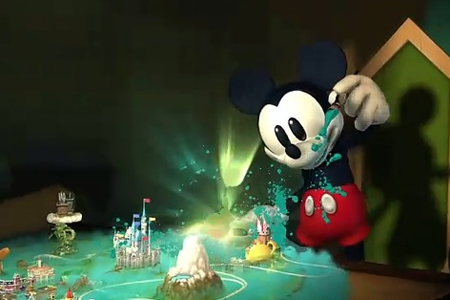 Disney Interactive Studios
It's easy to forget that there was a time when Mickey Mouse wasn't Mickey Mouse. There were no watches, no commemorative hats, no ice-cream novelty treats or coked-out starlets who got their starts hanging out with him on television. In 1928, he was just a hasty replacement for a rabbit with budget issues. And for some reason, he stuck.
Now of course, Mickey is barely Mickey either. The cartoon character himself—mischievous, clever, and resourceful—has faded before an icon that seems to have come to stand as much for American cultural globalism as fun and happiness.
While Mickey the character has only starred in a handful of cartoons in the modern era since his heyday in the 40's, Mickey the icon has only become more ubiquitous. He appears in art, Rammstein songs, and South Park. In 2008, and Islamic Sheikh even issued a Fatwa against him.
He may mean different things to different people, but it would seem that he means something to more or less everyone.
"For the sheer power of the graphics," sculptor Ernest Trova once said, "Mickey Mouse is rivaled only by the Coca-Cola trademark and the swastika."
But now, with their new video game, Disney Epic Mickey, Disney is trying to reclaim their mouse and recapture some of the magic that made Mickey who he was to begin with. But in order to make Mickey the character relevant to a generation who grew up with Nickelodeon while being true to his cartoon history, they decided to do something drastic.
In the beginning of the game, Mickey is thrust into the Wasteland: a dystopian Disneyworld built where the forgotten characters of Disney's past go to live. It features a nightmarish "It's a Small World After All" ride where boats float through toxic paint thinner, a half ruined town that houses rough drafts of early-century characters and a mountain made of discarded Mickey memorabilia.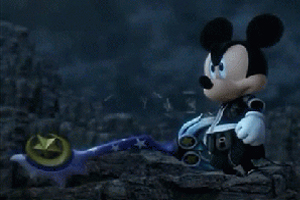 Disney Interactive Studios
Clarabelle Cow, a sort of a Bovine Olive Oyl who was a Disney mainstay until 1942, gets so excited when she sees Mickey that she pulls out old photographs form her heyday to show him. Mickey doesn't remember.
But above all the other classic characters sits Oswald the Lucky Rabbit, the embittered Disney Mascot that disappeared from in 1928 when his round-eared younger brother took his place.
Epic Mickey plays like a competent, classic, Banjo Kazooie-style platformer, with an injection of the choice-based RPG elements director Warren Spector became famous for with cyberpunk shooters like Deus Ex and System Shock. The industry legend seemed a strange choice for a Mickey game, but he brought to it a professionalism that ensured that the game would be treated like an AAA title rather than some licensed crap.
Mickey is armed with paint and thinner, which he can use to restore the Wasteland or break it apart. Those two sides to our hero—construction and destruction—are at play throughout the game as the gamer decides whether or not to nobly protect his forgotten cartoon brethren or just screw with things. In the game, those choices allow for constant variability and engaging storytelling, but it means that the developers sacrifice control of their main character, and so Mickey remains elusive. Maybe he is the playful sadist that twisted barnyard animals into playing Turkey in the Straw in 1928, or maybe he's an upstanding citizen, friendly, helpful and honorable.
Just like before the game, it can be hard to tell.
According to Disney, Epic Mickey was step one in a grander scheme of theirs to reinvigorate their ailing mascot and revive the impishness and vigor that made him so popular to begin with. But for all the early hype about a re-imagined mouse, Epic Mickey is a journey into the past, not the future. Spector, a self-admitted Disney nut, has made a celebration of Mickey, but it feels more like a swan song than a re-brand.
It's appropriate that some of the most engaging parts of the game aren't in the main world but in the side scrolling mini-levels the developers put in for transitions—each one is based off of a classic cartoon, from Steamboat Willie on forward. The visuals in these levels—grayscale or color, depending on the era—are arresting, and the simplistic gameplay compliment the slapstick cartoons, and it's in these sections where the developers love for their material shines through.
And for some of the evocation of Disney excess in the game, it is a love letter to an old world that starred a fuller idea of a character that rarely appears alongside his icon. Even Oswald seems to love Mickey in spite of himself. He's built a house for him in the Wasteland, where the game suggests Mickey will go too, once he's forgotten. There may be a part of him already there.