'Community': The Joy of Christmas and College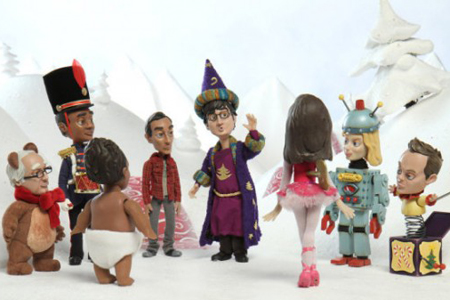 NBC
Community often makes the point that fetishizing college, whether as the best years of your life, or as a totem of your worth. But in the past few episodes it's clear that for Abed, at least, college has provided him with support and outlets for his interests he hasn't found elsewhere—and may have a hard time finding in the wider world, where guys who talk to you about Farscape at bars are really just trying to pick you up. In last night's Christmas show, which payed substantial homage to Norman Juster's The Phantom Tollbooth, Abed learned the true meaning of Christmas, and we learned a thing or two as well, including:
1. Wizardry is a great research method for psychology journals. When Professor Duncan learns that Abed's blacked out his morning and comes to see the whole world in stop-motion animation, he turns to therapeutic hypnosis and teleportation to guide Abed to a confrontation with his disappointment that his mother is moving on to a new life. The only hitch in his plan? A teleporting Troy and Annie, whom Duncan warns "You are tampering with a highly delicate book deal. I mean, human being."
2. Christmas is for everyone. In Abed's Christmas fantasy, the Menorah Mountains border Jehovah's Witness Bay, and Bjork is the setting on the train spedometer that rushes him and his friends to Christmas. Abed and his friends may celebrate the holiday as pagans, with Jewish-Christian household rivalry, with violent video games, or with avoidance, but everybody needs to be with somebody, and Christmas is an excuse.
3. Wreath-wearing Christmas pterodactyls are awesome. While most of us might not want to spend our entire lives in Abed's fantasy worlds, there are definitely some things it would be worth importing—and more to the point, people like Abed let us fulfill our dreams of eating animated cookies or following magic tunnels to secret worlds.