Christmas Lessons From Aaron Sorkin, 'The Office,' 'Glee,' and More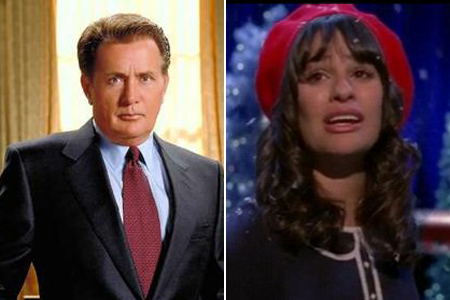 NBC/Fox
Television at Christmas time isn't the same without an Aaron Sorkin series on the air. There may be those who criticize his cutesy fast-paced dialogue, smug characters, and propensity for turning his scripts into "teaching moments," but when it comes to holiday episodes, Sorkin is a master like no other. As a loyal viewer of Sports Night, The West Wing, and, for that ever so brief period, Studio 60 on the Sunset Strip, one of my favorite Christmas gifts each year was the reliably stellar television events—yes, for me, these were events—that Sorkin would produce.
He had a knack for capturing a holiday spirit in the lives of these politicians and TV executives, and then make it resonate in our own worlds. Along with the comedy and heartwarming nature of reconnecting with friends and relatives, Sorkin always also acknowledged the tragedy and hopelessness that inevitably haunts the holidays. But more than that, like the best Christmas stories of our time, there were always lessons: vignettes that capitalized on the paradox of the season, one that mixes generosity with capitalism, to remind us of the way we should be living our lives.
Take The West Wing's strongest Christmas offering, "In Excelsis Deo," for example. Toby is contacted when a homeless man—a Korean War vet—dies in the cold; the man was wearing a jacket Toby had donated to Good Will. Moved to find the man's next of kin, Toby discovers that the his son is also a veteran, and also homeless. Angered by the situation, Toby uses his White House influence to organize a proper military funeral for the man. When chastised by the president because his actions may have set a precedent for all veterans, Toby replies, "I can only hope so."
Studio 60 on the Sunset Strip was an admittedly uneven show, but "The Christmas Show" was one of the 2006's best-written episodes. Bit by the holiday bug, Matt decides to put on an entire Christmas-themed episode of the series' central late-night sketch program. He's met with unanimous derision from his jaded crew, who gleefully go about debunking Christmas legends. But when Matt devotes an entire five minutes of the broadcast to allow out-of-work New Orleans musicians perform a wrenching version of "O Holy Night," the Scrooges are silenced. Even in the face of hopelessness and devastation, the musicians use their platform to trumpet faith, optimism, and the necessity for good cheer...especially in the worst of times.
Then there's Sports Night, whose Christmas episode, "The Six Gentleman of Tennessee," is a seasonal reminder of the people who affect our lives even without us noticing.
While Sorkin is full steam ahead on the Oscar train, there is certainly a void left on television in his absence, particularly at this time of the year. That doesn't mean, however, that some of this year's holiday-themed TV episodes aren't worthy successors to the Sorkin throne. Here are seven holiday lessons from some of The Atlantic's favorite TV series.
30 Rock
There's no escaping awkward family encounters at Christmas time, so you might as well embrace them.
Attempting to avoid the drama and arguments at her family's Christmas party, Liz stays back in New York to spend the day with Jack and his family. But as the Donaghy Christmas dinner devolves into a airing of grievances and competitive arguing, Liz learns that family tension is as much a part of the holidays as "Jingle Bells" and mistletoe, and hops a train to visit her loved ones. If you're going to argue with somebody, it might as well be with your own, and it might as well be at Christmas time.
Community
The true meaning of Christmas is family...of all kinds.
Abed has a psychological breakdown that turns himself and his Greendale friends into Claymation characters reminiscent of the classic holiday TV specials. He becomes obsessed with finding the true meaning of Christmas, and, worried for his mental health, the crew plays along for the journey. When it becomes clear that Abed's Christmas crisis was triggered by his mother's desire to spend the holiday with her "new" family, it becomes clear to Abed—and his friends—that Christmas is meant to bring family together, but that family may not necessarily be your blood.
Raising Hope
Acts of kindness are greater gifts than the year's hottest toy.
Jimmy spent his childhood watching his father operate a black market for each Christmas' hottest toy, while he ended up with lame, cheap gifts. Determined for his own newborn daughter to actually get the popular gift for once, Jimmy saves money and jumps through hoops to make sure it happens. At the same time, Jimmy's mother's one wish is for her new granddaughter to play baby Jesus in the Living Nativity. When no one shows up, Jimmy uses the doll he had paid so much for to bribe a crowd to watch his mother's show.
Glee
It comes without ribbons! It comes without tags! It comes without packages, boxes, or bags!
Sue Sylvester pulls a Grinch and steals Christmas: all the Secret Santa gifts, all of New Directions' decorations, all the packages. But when the glee club rallies to continue raising money for a holiday charity—by singing of course—Sue sees that their holiday spirit wasn't rooted in the pomp and circumstance of the holiday, but in the kids' desire to spread the season's cheer.
The Office
Thoughtful gifts are the best ones.
Anyone who's watched The Office over the past six years has been charmed by Everyman Jim's adorable talent for thinking of thoughtful Christmas gifts. Now that she's married to him, Pam wants to return Jim the favor. She nervously asks her co-workers' opinions about the comic book she spent a year creating for Jim, The Adventures of Jimmy Halpert, and gets nervous when they think she crafted the gift because she was poor or had no better ideas. But they were wrong; when Jim opens the comic, the way his face lights up is an aww moment for the ages.
The Middle
No use in simplifying Christmas—just make sure you have extra storage space.
While digging around the basement for boxes of Christmas decorations, Frankie and Mike Heck discover all the "have to have" gifts they bought for the children the previous year thrown amongst the boxes, still unopened. Worried that they don't appreciate the true meaning of the holiday, Frankie declares a Simple Christmas, where gifts, decorations, and celebration will be scaled down and family time and thoughtfulness increased. But when the grandparents arrive and spoil the kids rotten anyway—and the kids actually bond over their loot—Frankie learns that the holiday has a special power to bond families, even if it isn't simple.
Mad Men
Behave yourself at your office party.
The staff of Sterling Cooper Draper Pryce may have been partaking in holiday libations in the '60s, but the cautionary tale of their Christmas party is still relevant today. Roger's is forced to bury his disgust when a client gets too drunk, Don forgets his keys on the way home, and his secretary looses inhibition and sleeps with him—and spends the next several episodes spiraling towards a breakdown. The lesson here: go easy on the egg nog.