Christian Bale's Many Physical Transformations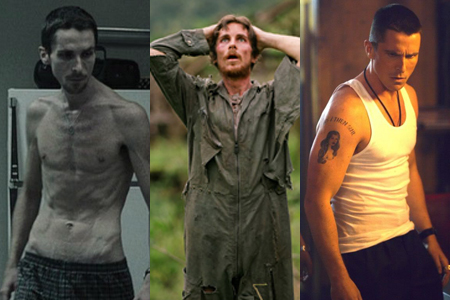 Filmax/MGM/Crave Films
The gritty-inspirational sports bio The Fighter opens in limited release today, hoping to get some fans in its corner before it expands to theaters nationwide on the 17th. The film, directed by David O. Russell (Three Kings), has long been a passion project for its star, Mark Wahlberg, but most of the advance buzz centers on supporting turns by Melissa Leo and Christian Bale. It makes particular sense that Bale would earn a statue for playing Dickie Eklund, a former welterweight whose crack addiction has compromised his status as the Pride of Lowell, Massachusetts. While the actor is probably most famous for donning the Batsuit—and, of course, for berating the cinematographer on the set of Terminator Salvation—his most striking work has traditionally come in smaller films in which he plays wiry, short-fused men on the run.
Bale pulled off the most alarming physical transformation of his career, a feature-length exposed-rib demonstration, for 2004's The Machinist, written and directed by inveterate genre tinkerer Brad Anderson. It's all the easier to fixate on Bale's physique because the film—an overcast wrong-man noir with a deeper-than-usual vein of existential torment (Kafka and Dostoevsky tomes lie around the apartment of Trevor Reznick, Bale's disoriented factory worker, and there's likely also a copy of Knut Hamsun's Hunger stashed away in there somewhere)—devolves steadily into bonkers-for-the-sake-of-bonkers, not unlike a certain new release starring Natalie Portman.
Still, it must be said that Bale makes the most of the not-so-meaty role, conveying Trevor's internal struggle through panicked insomniac stares and death-row shuffles (everyday clothes hang over his frame like an ill-fitting prison uniform). Would it be possible for a better film to evoke Kafka's "A Hunger Artist" without drawing more parallels to the emaciation of its lead actor than to the plight of its protagonist? Maybe, but I'm not entirely sure.
Bale also seems to be vanishing into thin air over the course of Rescue Dawn, Werner Herzog's 2007 fictionalization of his earlier documentary Little Dieter Needs to Fly (1997). Bale's character, Dieter Dengler, endures a much more literal captivity than does Trevor Reznick: Shot down over Laos during the Vietnam War, the Navy pilot winds up in a bamboo prison camp. Dengler leads his frayed-nerve, bushy-bearded fellow inmates (including Steve Zahn and Jeremy Davies) to a successful escape, but, as ever in Herzog, the jungle proves to be the true obstacle.
In the context of the German director's body of work, Rescue Dawn is minor stuff, but it's an involving survival story that also offers Bale's most carefully calibrated work in gonzo-gaunt mode. There's something sarcastic about his wild-gestures incarnation of the war hero Dengler, but it comes off less as an act of disrespectful showmanship than a canny way of keeping more conventional man-against-the-elements narratives at arm's length. Survival in Rescue Dawn is not primarily a matter of uncommon willpower—though Dengler has that, in spades—but a fluke of circumstance.
Harsh Times (2005), the directorial debut from Training Day scribe David Ayer, was released in between The Machinist and Rescue Dawn, but any survey of Bale wild-outs must necessarily end with it. In the film, the PTSD-stricken Jim Davis (Bale's character, not the creator of the beloved comic strip Garfield) reunites with his slightly more levelheaded best friend (Freddy Rodriguez). Together they ride around L.A. raising hell—talking about beers, and then drinking them; acquiring drugs, and then smoking them; stealing guns, and then selling them—until people begin to discuss aloud how crazy Jim is, to his face, at which point he starts pointing a pistol at everyone who's near and dear to him.
Characteristically, Bale turns in very good work in a very tricky role—though throughout he does, distractingly, pronounce "dude" as if there were an umlaut crowning the "u"—but the supporting players leave something to be desired. What makes Harsh Times funny is the overwhelming sense that Bale is running amok in a movie that he wasn't supposed to be in in the first place; it's a matter of context, which at least in part explains why none of Jim's bursts of fury has become a YouTube sensation—they aren't nearly as amusing without the shooting-the-shit buildup.
Anyway, it's good to see Bale entering the scrappy-loose-cannon ring again with The Fighter, after grunting his way through a number of summer blockbusters. He's already been formally rewarded for it—both the National Board of Review and the Washington D.C. Area Film Critics Association named him Best Supporting Actor.