'Breaking Myself Into Small Defeats'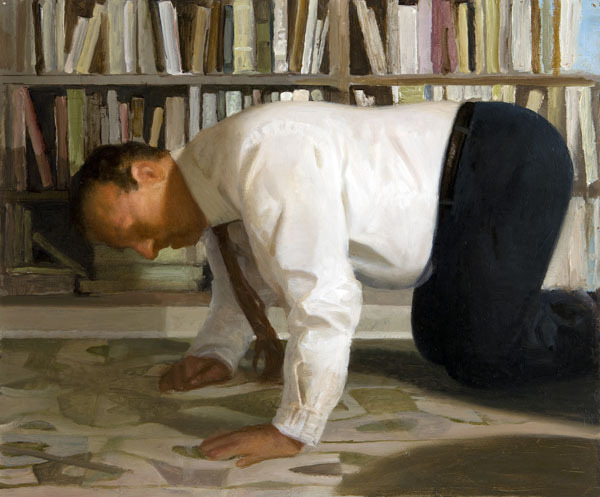 The Falling Down Song




               Here I am

with one foot on a floating platform

       breaking myself into small defeats--

   I'm the ghost of a money-changer

      & halo of flies, half-moon of false teeth

  unable to bite bread. Please

 go & tell no one you've seen me under the cypress,

     a fool-hearted footstool,

        termites in my two

            sad wooden

                legs,

sawdust in my black leather shoes.
Based on my affection for Mircea Suciu's work, Breakerbaker was nice enough to recommend 
Vincent Desiderio's work
. As with a lot of stuff I'm into these days, I really lack the vocabulary to tell you why I like it. Part of it is not knowing much about art, and the other part is simply not seeing enough. What I can say about this piece, Suciu's "The Funeral" is what I've said about comic books, and hip-hop before--I enjoy the unknown, the spaces and caverns left for my imagination to do its own exploring.
Much of what I see these days is just so terribly explicit. Every romantic comedy wears itself on its title (
The Proposal
,
The Back-up Plan
, and so forth.) as though we simply want to see beautiful people filling out roles the contours of which we've already been assured of. I'm not picking on rom-coms here, it's just a favorite genre of mine, and so I notice it.
But I look at this and I'm moved by the inability to see the father's eyes, his attire (corporate downsizing?) by the potential meaning in his girth (heart attack?) I really have no idea. And it's sort of beautiful to have no idea.
Anyway, this is a total amateur--a professional amateur. at that--thinking out loud. Anyone who knows more about art, or about Desiderio is welcome to chime in. Evidently, I can catch him at the Met.