Beyond Radiohead: Video Games One-Up the Pay-What-You-Want Model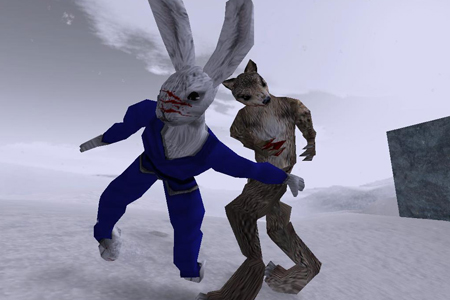 Wolfire Games
On a pay-what-you-want Internet, the results tend to shake out one of two ways. You have big-name Radioheads and Nine Inch Nailses, whose fanbases are happy to chip in for new "free" albums, and you have every other artist holding up virtual hats like hobos along the information superhighway.
The gimmick alone isn't golden by default. So how come a four-man video game company is launching their second pay-what-you-want super-sale today? Blame it on their simple, successful twist: They make it social.
This May, the Humble Indie Bundle dished out a pack of five underground computer games—each created by tiny, 3 to 5 man teams—to 140,000 buyers, who in all paid over $1.3 million dollars. The games were sold without any digital rights management hurdles—no online activations, no serial codes—which are normally used to block piracy.
As a result, players really could have paid nothing to get these games. More than a few did. But the Bundle's creators, San Francisco's Wolfire Games, say their 75 percent sale rate eclipses many other similar deals. Their success came because they celebrated their customers, grouped them in a competitive fashion, and called out to their greater consciences with a charity option attached to every purchase.
"The real thing we're fighting in terms of [our bundle's] value is the facelessness of it," Wolfire COO John Graham says. "On the Internet, everybody's anonymous. How do we make people feel like they're a part of something larger, and give generous people credit for what they're doing?"
After rounding up a set of underrated, underground games, including the adorable, award-winning puzzle hit World of Goo, Wolfire sent press releases to gaming websites. Once a few thousand sales poured in, the company crunched the early numbers and blared them to shoppers. A few examples: Linux users chose to pay far more than Windows users. Gmail users paid twice as much as Hotmail users. Gift-givers were stingier than those who bought games for themselves.
"Once they could see the breakdown, I think more people felt like cheapskates," Graham says. "The average donation price rose for the rest of the promotion."
Buyers could also tap a few sliders so that their purchase price went in part to games-related non-profits. One of those, Child's Play, donates new toys and video games to children's hospitals all over the country; the other, the Electronic Frontier Foundation, has successfully litigated on behalf of many digital rights issues, from the Sony rootkit scandal to Apple's attempts to out anonymous online journalists.
"There's something unique about reaching out directly to the community in a transparent way that also happens to raise money for charity," Graham says. "This feels like a social way to make purchases, and it lets each individual express his or her opinion about what's going on instead of mandating a fixed price."
Today, the Humble Indie Bundle 2 launches with an even higher quality roster of underground video games (and the same non-profit partners). Braid, arguably the most intelligent video game of 2009, leads a pack of indie award-winners like the hand-drawn point-and-click adventure Machinarium and the new-agey space rotation game Osmos. One of the titles, Revenge of the Titans, is tucked into the bundle as a surprise world premiere. That game has been in development for years, and its creators are risking its launch sales on shoppers who could pay one penny each.
The way John Graham sees it, thanks to the Internet, a game maker isn't doing things much differently with a conventional launch: "The consumer can already say no to a fixed price, download a game on BitTorrent, and pay zero." He figures the Humble Indie Bundle raises awareness, simplifies the process for honest buyers, and gives them a social outlet to make the purchase that much more significant. (This year, the site's shopping cart also includes a tip button to cover the site's bandwidth and overhead; essentially, shoppers can pay what they want in order to pay what they want.)
In the meantime, John says that if the last bundle is any indication, he won't be sleeping for two weeks. For the last sale, only he and one other Wolfire employee were around to process 140,000 purchases, and he predicts more for the Christmas season. His solution, fittingly, sounds pretty humble.
"We'll see if the other developers will be able to lend us aid," Graham says. "And some awesome super-users in the community might help us answer e-mails, too."