BCS Games: Your Guide to the College Football Postseason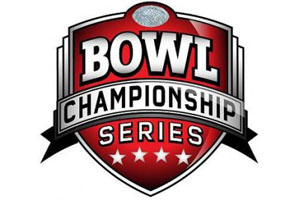 NCAA
"It's the most wonderful tiiiiiiime of the year..."
That's right, it's college football's bowl season. The only major American sport to have a postseason that includes teams with no chance at winning a championship (in this case, only two out of 70 bowl participants have a shot), bowls are nonetheless a hallmark of the holiday season and a chance for millions of alumni to reach into the past and dredge up some school spirit. Here's what to watch for in the 2010-11 bowl lineup (all times Eastern).
P.S. The full names of the bowls, with sponsors, are included purely for amusement.
Must-Watch Game (non-BCS edition): MAACO Las Vegas Bowl, No. 19 Utah vs. No. 10 Boise State, 8PM Dec. 23, ESPN
Boise State lost out on a second straight BCS game and a $10 million payday after its shocking overtime loss to Nevada last month. But the Broncos can lock down yet another top 10 finish with a win over Utah, which has won a remarkable nine straight bowl games. The clash of the two best non-automatic qualifier programs not named TCU should favor Heisman Trophy finalist Kellen Moore and Boise State, provided they can shake off their late-season disappointment and come to play.
Player to Watch: Justin Blackmon, wide receiver, Oklahoma State
The best wideout in the country takes his talents to San Antonio in a Dec. 29 Alamo Bowl clash with Arizona. How good is Blackmon? The sophomore appeared in 11 of the Cowboys' 12 games this season (missing the other because of a one-game suspension due to a misdemeanor DUI charge). Blackmon had a minimum of 105 yards receiving, one touchdown and a catch of at least 29 yards—in every game. And he's going up against an Arizona team that lost its last four games. Look for Keyshawn Johnson-like stats from the future top-10 draft pick.
Most Evenly Matched Game: AT&T Cotton Bowl, No. 17 Texas A&M vs. No. 11 LSU, 8PM Jan. 7, FOX
At first blush, this game looks like a mismatch. LSU was a top-five team for most of the season, while A&M wasn't even the second-best team in the Big 12's South Division. But the Aggies are on a tear of late, riding into the Cotton Bowl on a six-game wining streak that includes victories over Oklahoma and Nebraska. The Tigers, meanwhile, were denied a BCS bowl appearance by Arkansas, which exposed major holes in the LSU defense in a 31-23 win. A&M will keep it close and could easily score just enough points to pull out a nail-biter.
Most Likely Blowout: Bridgepoint Education Holiday Bowl, Washington vs. No. 18 Nebraska, 10PM Dec. 30, ESPN
Nebraska was a national championship contender into November and fell one or two plays short of winning the Big 12 title game. Washington was 3-6 at one point and squeaked by 2-9 Washington State in their final regular-season game just to become bowl eligible. Oh, and Nebraska beat Washington 56-21 in September, hounding highly touted quarterback Jake Locker into a truly horrific performance (4-20, 71 yards, two INTs). Even if the Cornhuskers sleepwalk through this game, they're winning by three touchdowns. If they come angry about their missed BCS opportunity and determined to inflict punishment, it could get really ugly.
Honorable Mention: Tostitos Fiesta Bowl, Connecticut vs. No. 7 Oklahoma
Don't get me started on an unranked team that lost to Rutgers and Temple making the BCS. Let's just agree it's a crappy system and move on.
Most Intriguing Matchup: Hyundai Sun Bowl, Notre Dame vs. Miami, 2PM Dec. 31, CBS
Back in the 80s, these two played three memorable games in three years in what were dubbed the "Catholics vs. Convicts" contests. Now they are both programs in disarray with a combined 12-10 record this year and only one coach between them (Miami fired coach Randy Shannon after the regular season). This will likely be the depressing contest where the "look back" montages are more interesting than the actual game.
Honorable Mention: Outback Bowl, Florida vs. Penn State
For the coaching matchup alone. What a study in contrasts: 84-year-old Joe Paterno on one side, 46-year-old and twice-retired Urban Meyer on the other.
Team to Watch: Nevada
The Wolf Pack and their "Pistol" offense burst onto the national stage when they upset Boise State, they've shown they can beat power-conference opposition with a 52-31 win over California earlier this year, and Colin Kaepernick is the best quarterback you've never heard of. Nevada can (and should) become the latest non-AQ school to score one for the little guy with a win over aggressively mediocre Boston College in the Kraft Fight Hunger Bowl on Jan. 9.
Must-Watch Game (BCS edition): Rose Bowl Game presented by Vizio, No. 5 Wisconsin vs. No. 3 TCU, 5PM Jan. 1, ESPN
Wisconsin's power running attack meets a TCU defense that allowed a total of 23 points over a six-game stretch in midseason. On the other side of the ball, Horned Frogs' quarterback Andy Dalton will face a Badgers' defense that has been good enough to win but can be scored on. After its second straight undefeated regular season, TCU was again left out of the BCS Championship Game and forced to grumble that their only chance to win it all seems to be a playoff system. Now they get their chance to hang with the big boys. This game also wins the Most Disturbing Insertion of a Title Sponsor Into a Venerable Bowl Game award.
Best Game: BCS Championship Game, No. 2 Oregon vs. No. 1 Auburn, 8:30PM Jan. 10, ESPN
The best national title game in recent memory was Texas' 41-38 thriller over USC in the 2006 Rose Bowl that included a Pantheon performance from Vince Young, the Longhorns' mobile quarterback. This year's championship could see that many points by halftime, a mobile quarterback will be just as important, and the game could be just as good. Heisman Trophy winner Cam Newton may have been shrouded in scandal for much of the year, but if he can lead Auburn to the title this season will go down as one of the best in college football history. Oregon will rely on elite running back LaMichael James as it carries the hope of non-Southeastern Conference schools everywhere (an SEC school has won the last four national titles). Auburn's defense should disrupt the Oregon rushing attack just enough to give the Tigers the edge, but with the Ducks' Blur offense on display, this one may go down to the final seconds.
The pick: Auburn 48, Oregon 44.