'30 Rock' Deals With Its Daddy Issues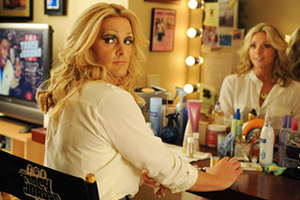 NBC
If people watched 30 Rock for social commentary alone (and it's a good thing we don't), then yesterday's episode clearly advocated for mental health care and positive male role models. Which, come to think of it, isn't too bad for an irreverent primetime comedy.
Everyone seemed to have something they needed to get off their chest, whether they wanted to or not. Liz is having issues with Carol, which leads to Kenneth—Liz's unwitting therapist (he takes her insurance!)—digging up his past and talking with Jack, who tries to crush Kenneth's problems with his "mind vice" and inadvertently stirs up some of his own repressed past.
Like so many stories of therapy, childhood traumas are brought to the fore, each one dealing with the male figures in our characters' lives. Santa Claus betrayed Liz by not giving her a CB radio so she could track gas prices, Kenneth ate Harold, his father-pig, and Jack recalled the mockery of his father, Jimmy Donaghy.
Also, Tracy has to deal with being an important male figure in the life of "Donald, my son who's two years older than me," a failed entrepreneur. (His ideas include opening a microbrewery that serves frozen yogurt called Microsoft and a Times Square theme restaurant called Staples). Jack encourages Tracy to pull his support of Donald's businesses, but Tracy changes his mind in the end. You know things are bad in Rockefeller Center when Tracy, in his unconditional support of his "son", is the best male role model we have. It takes all kinds, I suppose.
Best random quote that has nothing to do with the show's plot: "I'll trust you to fairly divide up our panties." –Paul, Jenna's boyfriend