'30 Rock' Christmas Episode: 5 Best Scenes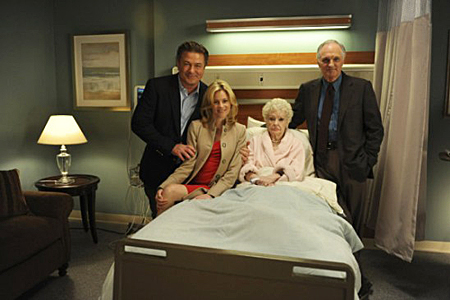 NBC
On this week's 30 Rock, just as Kenneth says, laughter is the best medicine—laughter, great one-liners, and some pretty hilarious scenarios are our gifts from the TGS crew. The best I can do for you all, as we head into the holiday season, is to package these nicely for you to enjoy.
1. Avery, true to form, has decided to not tell anyone at NBC that she is pregnant. In order to accomplish this, she carries around large objects.
2. In response to Jenna moping about missing the New Queer's Eve party (and Paul), Liz goes to Paul to let him know that Jenna's doing poorly. Liz's presence at Paul's place of work provokes some confusion.
3. Tracy, who feels like he must be serious in the wake of his Golden Globe nomination, goes to a women's shelter to screen his depressing nominated film. Luckily, Kenneth talks him out of it.
4. Liz, who, among other things, shares a love of panty hose with Jack's mother Colleen, goes to inform Colleen of Jack's ploy to create a most awful holiday (Christmas!) dinner. Jack reveals his unorthodox architect.
5. And then, the biggest present under the tree from 30 Rock this holiday episode—Jenna and Paul have the exact same costume idea for the NQE party, and it is spectacular.
Best random quote that has nothing to do with the show's plot: "He got me a kidney from Elvis Costello!", Milton, Jack's father