2011 SAG Award Nominations: The Good, the Bad, and the Puzzling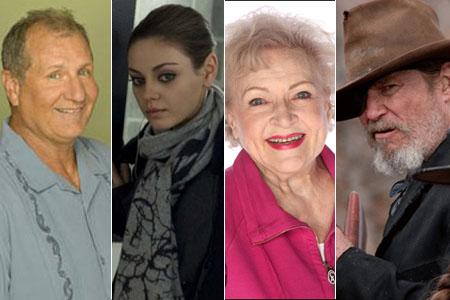 ABC/Fox Searchlight/TV Land/Paramount
The 2011 Screen Actors Guild Award nominations were announced this morning, with performances from Black Swan, True Grit, Glee, and Modern Family scoring major nods.
Several actors whose Oscar hopes seemed to be lost causes are also suddenly back in the race with their surprise SAG nominations. So what's good, bad, and puzzling about this year's list (including Betty White's two bids, which are good, bad, and puzzling all at once)?
The Good:
After being the only adult actor from Modern Family who failed to receive an Emmy nomination, Ed O'Neil receives his first major accolade for his role on the ABC series. The Modern Family ensemble is an embarrassment of riches; it's nice that each member is getting due recognition (Ty Burrell and Sofia Vergara also won SAG noms, Eric Stonestreet received a Globe nod Tuesday, while Julie Bowen and Jesse Tyler Ferguson joined all three with Emmy nods this year as well). And considering the SAG TV acting categories combine lead and supporting performances, it was shrewd to nominate Glee's shining supporting players Chris Colfer and Jane Lynch over their more wooden leading counterparts (Matthew Morrison and Lea Michele).
Following his snub by the Globes earlier in the week, Mark Ruffalo makes a welcome return to the Supporting Actor race with his nod for The Kids Are All Right, while Mila Kunis has defied pundits all over the Web by securing yet another major Supporting Actress nod for her turn in Black Swan. That both of their films made into the Ensemble race signals their support among actors—a major block of the Oscar-voting population. And after its perplexing shut-out from the Globes, True Grit redeemed its Oscar hopes with SAG bids for Jeff Bridges and the young Hailee Steinfeld.
The Bad:
This year's Best Actress race boasts an atypically deep field of strong contenders, with a different crop of five showing up in each organization's list of nominees. Hillary Swank's turn in Conviction, however, has been consistently ignored, hinting that she was out of this year's race. It's a major surprise that she's turned up in the SAG list over hopefuls like Michelle Williams (Blue Valentine), Julianne Moore (The Kids Are All Right), or Another Year's Lesley Manville. Swank turns in a decent performance in Conviction, but the film's real star is Sam Rockwell as her tortured, imprisoned brother, and he missed out on a nod.
It's becoming increasingly frustrating that perennial nominees like Mariska Hargitay, Hugh Laurie, and Steve Carell show up on the short list for TV awards year after year, lazy nods for actors whose performances pale in comparison to what they once were—and don't measure up to the exciting turns given by newer actors in their genres. Friday Night Lights' Kyle Chandler and Connie Britton, Breaking Bad's Aaron Paul, Amy Poehler (Parks and Recreation), and Joel McHale (Community) are all once again egregiously overlooked, as is the brilliant, broadly talented cast of Nurse Jackie in the Comedy Ensemble category.
The Good, the Bad, and the Puzzling:
Betty White's unlikely career explosion (not exactly resurgence, as she never really left) is one of the year's most welcome entertainment stories. Her comic timing is nearly unmatched and sharp as ever, and she handles herself with a humility and grace that's rarely seen in Hollywood. On her show, Hot in Cleveland, she pulls out her now-classic Betty White shtick: old lady wanders into a scene, says something suggestive, raises an eyebrow, and then exits. The bit is in full force on Hot in Cleveland, and quite funny—especially played against seasoned sitcom vets Jane Leeves, Wendy Malick, and Valerie Bertinelli. The show itself is a throw-back to the classic sitcom days, with its unit set, live studio audience, and telegraphed punch lines, and it's refreshingly enjoyable in the simplicity of its intentions: "We're going to tell an obvious joke, and you're going to laugh at it."
With such a beloved cast, it's not exactly surprising that the show received an Ensemble nomination. And calling Betty White, who was honored last year with SAG's Lifetime Achievement Award, undeserved would be like punching a bunny rabbit in front of a toddler. But with such wide-range talent in television comedy these days, it's hard not to be a little miffed that Cleveland's moment is at the expense of Pawnee's, Greendale's, or, hell, even the residents of Cougar Town's.
Here is the full list of 2011 SAG Award nominations.