Wild Flag: Music's First All-Female Supergroup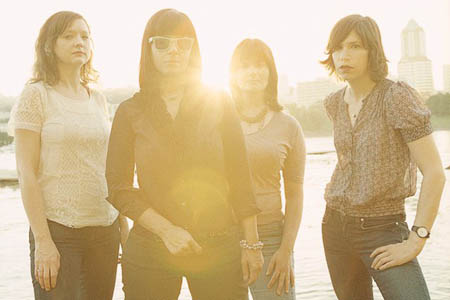 facebook.com/WILDFLAG
In rock music, the "supergroups"—formed by already-famous rockers—that dominate the public eye ,are the domain of men. You could call that a matter of stats—more fellas than ladies in bands, and the dudes' club of rock keeps numbers that way—but something doesn't add up. I have rocked out to too many women in my young life. Yet I can't find any female equivalents to bands like Monsters of Folk or Them Crooked Vultures... at least, beyond the "Lady Marmalade" video or The GTOs.
From the sound of it, Wild Flag didn't come together with any intention—or awareness—of creating the first all-woman rock supergroup. It was a convenient accident for some of indie rock's monarchs: two-thirds of the legendary Sleater-Kinney, Mary Timony from mid-'90s standouts Helium, and Rebecca Cole of the renowned psych-pop outfit The Minders. They'd all shared bills—or joined each other's side-project bands—over the past decade-plus. As recently as this February, all four had free time to spare and made a decision to return to the stage as a quartet.
With only a few weeks' public notice and no MP3s to their name, Wild Flag launched a west coast, small-venue tour this past weekend. I lucked into a ticket for the Seattle gig, which had been sold out before I even knew it'd gone on sale, and as soon as I arrived, I squeezed into the front row of the 100-capacity club to join a starry-eyed flock of the old bands' fans.
Wild Flag did everything they could to lower those expectations. Guitarist and singer Carrie Brownstein reminded the crowd that this was their third-ever gig. She gasped at the size of the stage: pretty pesky, yet absolutely huge compared to the night before, when they had "played on a drum riser" at a tiny club in Olympia, WA, her old band Sleater-Kinney's birthplace. As the Seattle set wore on, Brownstein smiled and noted, "It's nice to learn how to be a band in front of an audience."
Weird stuff to hear from a gang of modern rock legends. Before the set, former Sleater-Kinney drummer Janet Weiss could be heard pounding out lengthy fills on a practice kit in the dressing room. Timony proved as epic a guitar player as ever, filling out solos with finger taps that never sounded cheesy, and Cole's duties on keyboards blended equal parts soul, jazz, and rock to do Garth Hudson proud.
In Brownstein's case, the humility made sense. Sure, she kicked ass as a member of Sleater-Kinney, but always in the shadow of Corin Tucker's booming voice. In spite of Wild Flag's pedigree, nobody in the new band has a voice like Tucker's to hide behind.
It wasn't until Sleater-Kinney's final album, 2005's The Woods, that Brownstein began to take command; her leading role on the tense single "Entertain" was enough to make fans wonder where she might've taken the band if they'd continued.
Fast forward five years, and she has come into a bandleader role kicking and screaming. But she hasn't been dragged. Brownstein high-kicked, strutted, and hopped all over the small Seattle stage while belting out a number of new, original songs, unfurling a moxie that had only bristled in her Sleater-Kinney days. She and Timony traded off lead vocal duties through the night, assumedly for songs each had written, and Timony's proved as reserved and patient as the material from her 2007 record The Shapes We Make, only with Brownstein around to set fire at the ends via crunchy riffs. Conversely, Brownstein's songs were built to explode from the start, particularly the memorable, red-faced "Racehorse," which saw Timony and Brownstein match up as guitar soulmates. Really, each song saw the duo switch off between a classic-rock yin and a punk-rock yang as befit the momentum, with Weiss and Cole adeptly steering the meltdowns.
Supergroup, sure, but Brownstein was the flag-bearer, proven most aggressively by the Patti Smith cover at night's end. Brownstein put her guitar down—she used to always keep it around her waist—and kicked over not one but two mic stands while screaming "it's wi-ild, wi-ild, wi-ild!" in a roof-raising cover of "Ask the Angels." Timony's songs were shining, and even Weiss stepped up for a jaunty lead-singing moment, but the most impressive songs of the night were Brownstein's, continuing the classic-rock-upheaval of The Woods that I was worried had been lost to years of downtime. From the sound of it, Wild Flag has set those Woods on fire.
The only knock I could think of was that the set sounded like Timony and Brownstein had brought their own songs in, rather than the band writing together (with a few amazing exceptions). That's a common knock against supergroup bands, though, so I suppose they've made it. Expect an album next year.