Why Does '30 Rock' Keep Ripping Off 'Sex and the City'?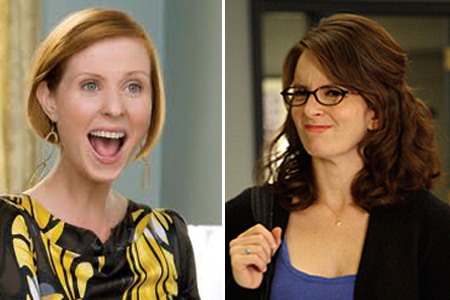 HBO/NBC
John Slattery guest stars on a beloved New York City sitcom as a handsome politician with strange bathroom preferences.
Sound familiar? It describes the plot of last night's 30 Rock, where the Mad Men star played a tea party-esque candidate who wears a diaper in one of his campaign ads. But it also sounds a lot like the storyline of an episode that aired 10 years ago on another Manhattan-focused comedy: Sex and the City.
Slattery had a two-episode arc during the show's third season, when he played a candidate for city government who dates Carrie, the series' protagonist, until they break up over his interest in bedroom urination.
This is just the latest plotline 30 Rock has borrowed from Sex and the City. The NBC show has repeated numerous story arcs from its HBO predecessor—most of them dealing with the trials and tribulations of being a single woman in New York City. Here, a list of 30 Rock-SATC overlaps:
Boss mistakes straight single woman for a lesbian In the first season of Sex and the City, high-powered lawyer Miranda Hobbes gets set up with a woman at a work softball game. But Miranda isn't gay. Nevertheless, she tries to make it work with Sid, giving her a big kiss at the end of the episode. No dice: Miranda is definitely straight.
An episode in 30 Rock's first season follows the same pattern: soon after he becomes her boss, Jack Donaghy tells Liz Lemon he's going to set her up with someone special—who turns out to be a woman. Like Miranda, Liz tries to muster attraction to Gretchen, but it doesn't work.
Single woman has difficulty buying apartment High-powered lawyer that she is, Miranda decides to buy her own apartment. But despite her excellent job and clean credit record, everyone from her real estate agent to her bank can't believe she wants to buy when she doesn't have a man in her life—and that she'll be able to cover the mortgage without help from her father.
Liz also attempts to buy her own place as a gesture of her own professional success. But she runs into problems as well: the co-op board of the building she wants to move into also is suspicious of a single woman as a tenant.
Single woman has anxiety about dying alone in apartment No sooner does Miranda move into her new apartment than she nearly dies in it. While eating Chinese alone one night, she starts choking on a piece of food and has to administer the Heimlich maneuver on herself to avoid asphyxiating.
30 Rock repeats this storyline nearly identically in its first season. Liz is eating a microwave dinner when she realizes she can't breathe. And she survives by giving herself the Heimlich.
Single woman has very predictable takeout habits Miranda orders Chinese food so often the woman who answers the phone at her local restaurant knows her order by heart: Chicken with broccoli, brown sauce, brown rice, and cold noodles.
Same deal on 30 Rock: Liz's favorite sandwich shop can finish her "meatball sub, extra bread" order before she's done speaking.
Insecure single woman can't believe hot man wants to date her After Carrie gets mugged in a season three episode of Sex and the City, the handsome detective assigned to her case develops a crush on Miranda. But being an insecure single woman, Miranda can't believe he's actually interested in her. So she drinks herself into oblivion on their first date, leading him to believe she's an alcoholic, and thereby sabotaging their relationship before it could even begin.
In 30 Rock's take on this theme, Liz and her blonde friend Jenna meet two guys in an elevator: one attractive, one nerdy. Liz and Jenna both assume the nerdy one is interested in Liz and the cute one is interested in Jenna, but the opposite turns out to be true. Liz can't accept the fact that such a handsome man would be into her, so she runs out in the middle of their first date. It turns out she was right to feel uncomfortable about his interest in her, though not for the reason she thought: they later discover they're cousins.
Woman centers major life decision around the Brooklyn Bridge In the first Sex and the City movie, Miranda has moved past the days of eating Chinese food alone in her apartment—she's married with a kid and a house in Brooklyn. She also has a husband who's cheated on her who she only agrees to take back after he meets her at the Brooklyn Bridge.
30 Rock makes an explicit reference to this SATC storyline in an episode from the third season: Liz is dating a man she's not sure is right for her, but she agrees to give it a try if they both show up at the Brooklyn Bridge at the same time.
And Miranda isn't the only Sex and the City character to prefigure 30 Rock storylines: both SATC's Samantha and 30 Rock's Jenna are flamboyant blondes who inspire drag queen impersonators, and Samantha's anxiety over dating a shorter man predates Liz's short-lived relationship with a much shorter man in season three.
So is 30 Rock actively plagiarizing Sex and the City? Of course not. The show has a creative and dynamic writing team that acknowledges its meta references to other pop culture touchstones, from Night Court to The Today Show to, yes, the Sex and the City movie.
Instead, the overlaps offer more proof of an argument others have made before: that Liz Lemon is the most frustratingly predictable, one-dimensional character on 30 Rock. The Tracy Jordan character looks like the stereotype of an irresponsible, uneducated black entertainer—until we learn that he's a devoted family man who only pretends to be illiterate so he can avoid boring rehearsals. Jack Donaghy seems to fit the bill of a heartless Fortune 500 executive—until we see his cookie jar collection, and his love for his mother, and his excitement over having a daughter. Liz, on the other hand, never breaks out of her own stereotype: she's always written as the pathetic, over-worked, under-sexed single woman whose story arcs are just warmed up sitcom cliches.
Sex and the City let Miranda grow up—by the end of the series she had a baby, then a husband, then a house in the former no-man's-land of Brooklyn. And the writers managed to make those transitions humorous rather than sappy: she gets poop on her face while changing a diaper and proposes to her husband while they're both half-drunk on beers and almost gets lost on the way out to her new borough. Here's hoping 30 Rock continues to follow in Sex and the City's footsteps by allowing Liz to grow up as well—and keep us laughing while she does.