'The Summer After Malcolm'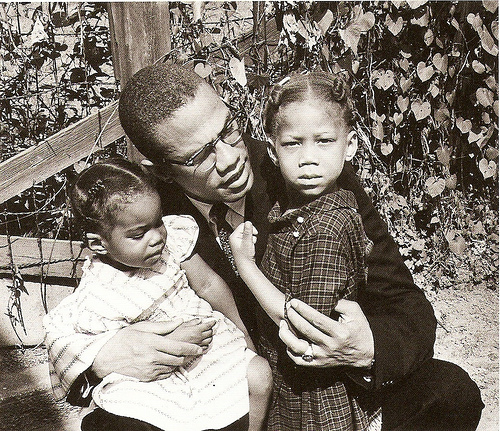 I think if I had to name one person who most influenced my writing, it would probably be Larry Neal. My writing is defined by utter failures. Failing as an MC in my teen-age years, and failing as poet in my late teens and early 20s. I learned a lot writing awful rap lyrics, and only slightly less awful poetry. From Larry Neal I learned to rage against geometric perfection.
Larry Neal, one of the leading lights of the Black Arts movement, did not write perfect poems. Some of his stuff is downright ugly, but he also puts together some of the most beautiful images I've ever read, and had a touch for the personal that I think escaped a lot of his peers in the movement.
I think his piece "The Summer After Malcolm" demonstrates that touch.  What I always loved about this piece is the way it personalizes the loss of Malcolm. It scorns didactic praise of ideology, instead simply telling you what Harlem felt like after Malcolm's death. It then morphs into a love poem, and the misery of losing Malcolm mixes with the misery of losing something much closer.
Check it out, after the jump. But read it out loud. The ending is a dagger.
The Summer After Malcolm




The summer after Malcolm, I lost myself in a jet stream of mad

words, acts, goading bits of love memory. Like that. It was a cold

bitch. I mean the pain. Dig, all summer long, I could see Malcolm's

face drifting with the sound of Harlem children. Old men played

checkers on the blocks running between Seventh and Eighth. And

yes, there was the sweating night. The wine smells and

hallways were screaming women. Angry the way the breeze came

off from the river. Angered to, by the rustle of soft murmuring

silhouettes in the dark park. Child of demon lover, I grappled with

ancestral ghosts. It was Smokey Robinson's summer, the hip falsetto,

Missed you baby. Missed her small and awkwardness, the brown

walk, soft spots in the dark of her. Night turns on its edges. Dig, it

was a still clinging that robed sleep those summer nights.

Remember baby. Under the beat, music spiraling over us, under 

the beat, and O how we clung and took that lovely, lovely, very mellow,

But that summer after Malcolm marks my phase in time. After 

Malcolm, the seasons turned stale. There was a dullness in the air for

awhile. And you had gone, and there was a lingering beauty in the

pain. Now there are scraps of you here and there in the backwash

of my mind. And check this: lurking between odd pages in a book

of blues, your handwriting in red ink...