'Sarah Palin's Alaska': The Politician as Reality TV Star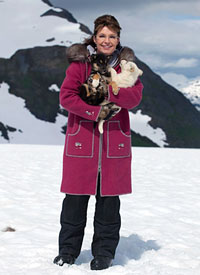 TLC
When it comes down to it, I know former Alaska governor, past vice-presidential candidate, and current conservative media star Sarah Palin about as well as Real Housewife of Atlanta, nose-job haver and sometime anti-domestic violence advocate Nene Leakes. I know Nene's post-breast reduction bra size, and I know that Sarah wears Spanx. The nasty details of Nene's divorce spill out into the same kinds of publications that air nasty rumors about the state of Sarah's marriage. Nene wants to be an entertainment reporter. Sarah wants—well, what she wants is a speculative industry.
Sarah Palin's Alaska, the family's sharply produced, diverting reality debuting this Sunday on TLC, may not earn its star policy or environmentalist bonafides. Instead, the show is best judged by reality television standards. Alaska is undeniably gorgeous, and I say that as someone who spent a week last summer being stunned by the Aleutian islands. But the real appeal of the show isn't its quasi-conservationist message. It's the messenger, and the chance to see the messenger at home, among her famous-in-their-own right family.
In the first episode, that family—particularly the Palins' younger, less-exposed daughters Willow and Piper—make an for an appealing supporting cast.
"My mom is super-busy, she is addicted to the Blackberry," Piper announces prior to a salmon-fishing trip in bear country, nailing a parody of her mother pecking away on her smartphone. In another moment, she calls her mother "Sarah," to needle her, and later roars enthusiastically at a bear who gets a little too close to their fishing boat, even as her mother warns her "If you hook the bear, he would get ticked off."
With Bristol (and perhaps conveniently, her son) out of the house in the first episode, Willow gets to be the source of the standard complement of teen-hijinks jokes. "This gate, it's not just for Trig, it's for no boys allowed upstairs" Sarah declares when Andy, who appears to be Willow's boyfriend, comes over for a visit and finds himself blocked by a safety gate for Palin's two-year-old. "You can text her up there."
Even Joe McGinnis, the investigative journalist who moved next door to the Palins, and who has sent a cease-and-desist letter to TLC over use of his image in the pilot episode of the show, ends up as a kind of wacky next-door neighbor, an Arctic Wilson, obscured by the Palins' fence. "I would think at the end of the day, he's going to be bored to death," Sarah tells the audience, before telling his daughter: "He was stuck inside writing an ugly book. See, we one-upped him, Piper. We had a lovely day."
McGinnis isn't the only political part of the show, of course. Sarah asks Todd whether tax changes would affect his hiring decisions before filming a Fox News hit in her home studio. It's a testament to the show's success as a reality show that it's a little jarring to see her back in a political setting, reacting resentfully when a producer wishes her luck before a spot with Bill O'Reilly. The poufed, coifed hair's there in every scene, but it's mostly offset by fleece and windbreaker material, the small vanity of a busy mother rather than the armor of a political warrior.
But the best part of the first episode of the show is a moment divorced from both Palin's political career and from her family. Hiking part of Denali with Todd and a guide, Sarah freezes on an escarpment of crumbly (but, it must be admitted, not terribly steep or high, stone). And she really freezes. According to the TLC captioning, it takes her 45 minutes to get up that section of rock. The woman who has made herself internationally famous for tough catch-phrases, whose blog posts are interpreted like koans, dissolves into a fear-spiked babble.
"Oh, God help me. I'm scared...That's scarier than I thought. Holy jeez....I'm so scared I can't even move. Oh, God. Help me Lord," Sarah moans. "I just don't like heights. I was so cocky. I'm being punished for it. I don't know if I can do this."
Our reality stars are our modern dancing bears. Sarah Palin may have styled herself a Mama Grizzly, who believes her show lets her dance to her own tune. But in an era of manicured and manipulated reality television, Sarah Palin's Alaska is good entertainment precisely because of its pettiness and sweet family humor, its innocently prurient look at a very famous family. This may not be the sum of Sarah Palin, and the show may not aid her potentially-extent presidential ambitions. But if all else fails, Sarah Palin has a second career waiting for her as a Real Housewife of Alaska.