'Modern Family': Guns, Growing Pains, and En Vogue
This week's episode focuses on an 11-year-old's mid-life crisis and other aging dilemmas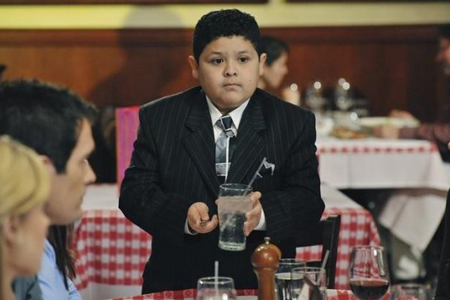 ABC
So, on this week's Modern Family, Manny has a midlife crisis at age 11. At first, his panic is surprising: He never cared about kid stuff, so why should he start now? But then good old (like, 50-year-old) Manny pulls through, acting like the middle-aged man stuck in that pre-teen Latino boy's body we know and love. Like any man struggling with aging, Manny feigns interest in the stuff all the youngsters like to do, like mixing soda flavors together and making prank phone calls. And, like any man struggling with aging, he pretty much sucks at cool young kid stuff.
While Manny resists the inevitable, Gloria runs around the house searching for her lost keys while Jay criticizes her absentmindedness. She spends a majority of the episode screaming and flailing. While Gloria's angry Colombian act is usually amusing, this week's show milked that tactic a little much. Unlike other episodes, which balanced Gloria's temper with her endearing affectionate side, this was all about the yelling and the thrashing. However, watching a sexy Latina woman shoot a BB gun at her son atop his inflatable pool toy was an incredible image. Otherwise, Gloria's shimmies and ever-prominent bosom overshadowed her lines.
Before Manny's birthday party, Cameron chases Mitch across a mall as they search for a gift, criticizing Mitch as he rushes through shopping and therefore life. You'd think that Mitch's months-long preparation to participate in a flash mob dance of "Free Your Mind" would smooth things over with Cam, but it only made him jealous. Mitch can't seem to win. Cam first complains that he isn't spontaneous enough, but after Mitch's heartwarming "love letter" to his partner, Cam accuses Mitch of cheating "in the worst way. You danced without me Mitchell."
Get over it, Cam. Besides, if you'd danced with Mitchell, we wouldn't have gotten to see the gem of the show: Cam attempting to dance and then settling for lip-synching.
The Dunphys also tackle growing up, as Claire and Phil race to Manny's dinner. Claire channels her young fun side with Luke, while Phil accepts that his kids have grown beyond family camp.
Everyone learns a little something about growing up in this week's episode—besides Gloria. She just learns about guns. And man, she sure has good aim.